A small dog crate is a shelter for dogs weighing under 25 lbs. to stay or take a quick break. These additions are perfect for enhancing your dog's resting satisfaction while keeping it safe and sound in the process.
These kennels come in various forms and sizes, and it might be a little confusing to choose. So, we have reviewed and listed the best small dog crates that are just perfect for their size, functionality, and price. Let's dive into it.
Editors' Picks: Top Small Dog Crates
7 Best Small Dog Crates: Review
IMAGE
PRODUCT
FEATURES

1. Life Stages LS-1624DD Double Door Folding Crate (Best Overall)

Best value for price to features
Sets up in seconds
Secure two-door feature
Has a roller to protect floors

2. MidWest Homes for Pets Dog Crate (Best Inexpensive)

Cost-effective price tag
Made of metal for durability
Easy assembly & portable design
Includes carrying handles

3. New World Folding Metal Dog Crate (Best Foldable)

Foldable interface for easy transport
Durable metal material
Secure slide-bolt latches

4. MidWest iCrate Starter Kit (Best Kit)

All-in-one dog crate for convenience
Ergonomic fleece pet bed
Includes dog bowls
Four roller feet for protecting floors

5. Carlson Pink Secure and Compact Single Door Metal Dog Crate (Easiest to Clean)

Washable steel pan for easy cleaning
Foldable for portability
All-steel construction for durability

6. Casual Home Wooden Pet Crate (Best Chew-Resistant)

Wood construction resists chewing
Pinewood material for increased durability
Has a native minimalistic look

7. Midwest Homes for Pets Ultima Pro Crate (Most Durable)

Thick steel construction for optimum durability
Includes free divider panel
Convenient two-door configuration
Foldable for easy storage
1. Best Overall: Life Stages LS-1624DD Double Door Folding Crate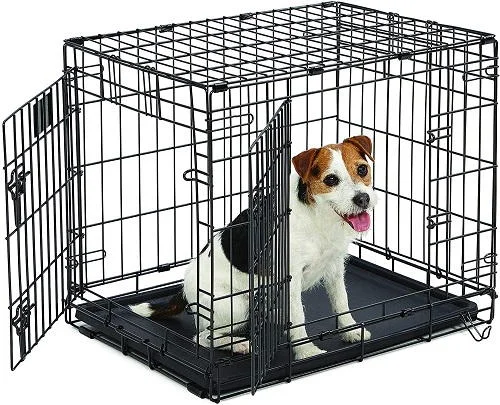 Size: 24 in.
No. of doors: 2
For dogs: 11-25 lbs.
Item weight: 18 lbs.
Looking for the best all-rounded crate for your dog? The Life Stages LS-1624DD is just perfect for its size, durability, and functionality. This 24-inch small dog crate hits the sweet spot for 11 to 25-lb. small dog breeds with two heavy-duty front and side doors for your dog's safety and security.
This product is secured with patented rounded side clips, which eliminate sharp edges that other crates may have, as well as slide-bolt latches for enhanced sturdiness.
Its roller feet protect floors from scuffs and scrapes, so you do not have to worry about your dog crate possibly damaging your floor when you move it around.
Also, the crate itself is made of a strong, foldable wire gauge, which makes it convenient to set up and dismantle.
However, the wire gauge is coated with acrylic satin, which may catch some scratches over time. The dog pan is made of cheap plastic as well.

---
2. Best Inexpensive: MidWest Homes for Pets Dog Crate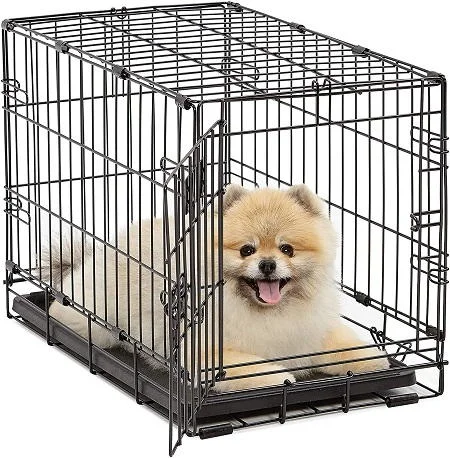 Size: 22 in.
No. of doors: 1
For dogs: 7-12 lbs.
Item weight: 10 lbs.
For an all-inclusive solution, the MidWest Homes for Pets Dog Crate is our best inexpensive small dog crate. It provides a cozy, hassle-free shelter that caters to your dog's innate den instincts.
This crate includes a free divider panel and a sturdy dog tray for added functionality and durability. Also, the product's carrying handles are conveniently included for easy carrying.
The MidWest dog crate is easy to assemble, requiring no tools at all for setup and dismantling. It folds flat as well for convenient storage and travel.
Lastly, the product is equipped with roller feet to protect hardwoods, tiles, and other scratch-prone surfaces.
On the other hand, the metal clamps of this product might be a little hard to operate, and you might need some force to open and close them.

---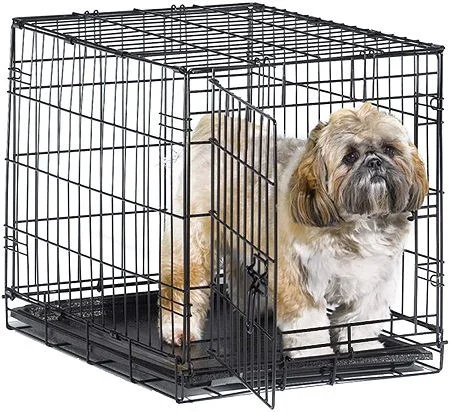 Size: 24 in.
No. of doors: 1
For dogs: 11-25 lbs.
Item weight: 12.5 lbs.
The New World Folding Metal Dog Crate showcases its innovative collapsible configuration, which makes it the best foldable crate on this list. It assembles easily without requiring extra tools and folds flat for convenient storage and transport.
This product is fully equipped with two heavy-duty slide-bolt latches for enhanced durability and keeping your dog inside it safely.
Also, the crate has a leak-proof detachable plastic pan included in the package, which secures your dog in place. Owners can remove this pan if cleaning is needed.
The New World crate comes with an all-metal cage, which makes it durable when carried around.
However, since the pan is made of plastic, it might catch scuffs.

---
4. Best Kit: MidWest iCrate Starter Kit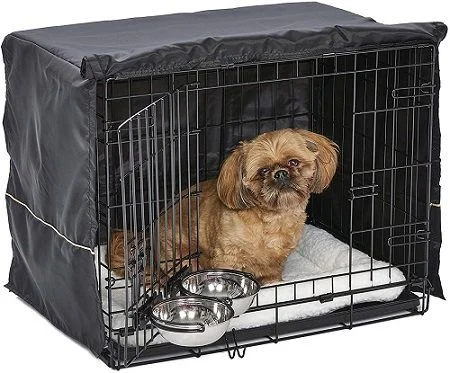 Size: 24 in.
No. of doors: 2
For dogs: 13-25 lbs.
Item weight: 13.9 lbs.
Our pick for the best kit is the MidWest iCrate Starter Kit, which comes with extra features other than just a dog crate. Aside from having two doors for accessibility, this all-in-one product comes with two bowls for feeding and drinking.
The crate itself also comes with a divider panel, carrying handles, a removable dog tray, and four roller feet to protect floors from potential scratches.
Another feature of this product is the inclusion of a dog bed, which can be found at the bottom part of the crate. The bed is made of fleece for extra comfort and easy cleaning.
The only disadvantage of this product is the integrity of the cage, so you might want to take extra care.

---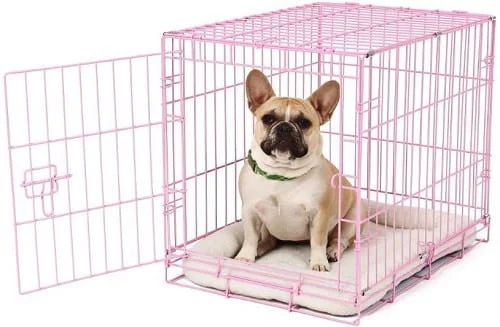 Size: 24 in.
No. of doors: 1
For dogs: 13-25 lbs.
Item weight: 13.9 lbs.
Do you want to have a crate with little to no hassle in cleaning and maintenance? Carlson Pink Secure and Compact Dog Crate is the easiest to clean, thanks to its detachable bottom tray and its simple architecture.
The product's all-steel construction adds to its overall durability due to wear and tear and is easy to sanitize as well.
The portability of the Carlson dog crate is spot-on, thanks to its fold and go system. This feature makes this product ideal for storage and transport.
This dog crate's door is constructed in a simple way, with a secure locking system for your dog's safety. Additionally, it has a spill-proof pan to contain dirt and other impurities.
The only downside of this product is the absence of rollers, which might lead to floor scratches.

---
6. Best Chew-Resistant: Casual Home Wooden Pet Crate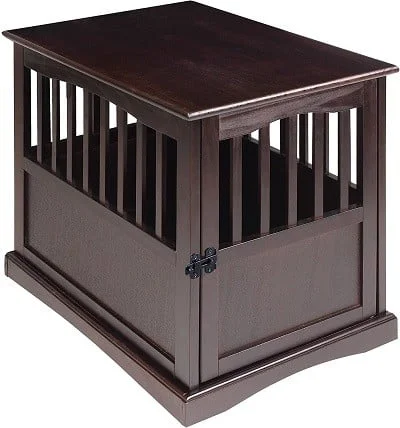 Size: 27.5 in.
No. of doors: 1
For dogs: 25 lbs.
Item weight: 28.25 lbs.
Having a problem with your dog continuously chewing on random surfaces? Our pick for the best chew-resistant product is the Casual Home Wooden Pet Crate because of its all-wood composition and high-quality varnish coating. Also, it is completely free from any toxic substances.
The end-table design of the Casual Wooden crate gives it a native look, making it a perfect blend with light and easy assembly. Additionally, owners can take advantage of the space provided at the top part of the crate, which can hold up to 120 lbs. of weight.
The lockable gate of this dog crate is made of solid wood for increased durability and longevity. Aside from that, this product is known for its abundant airflow, thanks to its open side slats and mission-style design.
However, this wooden crate is intended to be stationary, so portability might be a problem. Additionally, the base of the crate has no rollers.

---
7. Most Durable: Midwest Homes for Pets Ultima Pro Dog Crate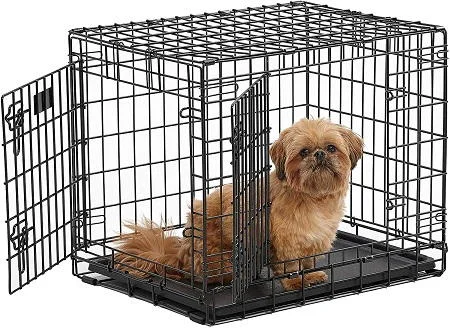 Size: 24 in.
No. of doors: 2
For dogs: 20-25 lbs.
Item weight: 22.1 lbs.
If you have a strong or aggressive dog, you might like Ultima Pro for maximum durability. This heavy-duty steel crate can last for several years of continuous use, making it a preferred choice amongst several small dog owners.
The whole crate can be set up and fold down flat in seconds with no tools required, allowing this product for easy storage and portability.
Additionally, this product has two doors from its front and right side backed up with side-bolt latches for easy accessibility, convenience, and security.
Another feature of this crate is a free divider panel to adjust according to the dog's size and feet with rubber endings to protect floors.
On the other hand, the plastic pan might wear over time, so you might want to watch that out.

Other Recommended Small Dog Crates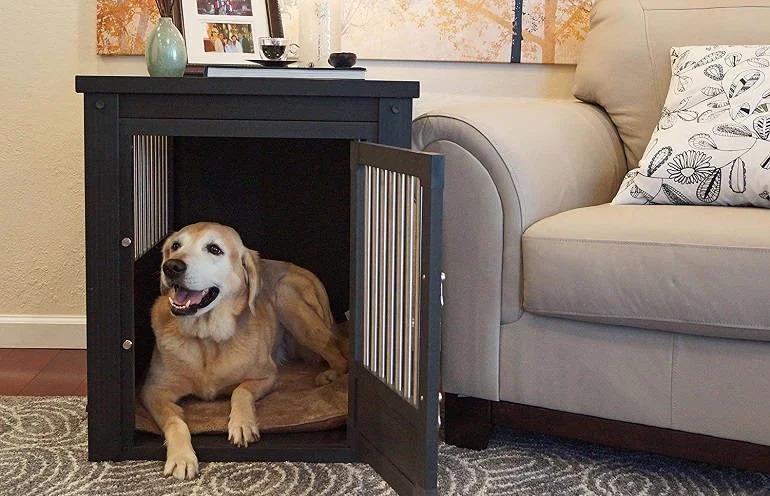 8. Carlson Pet Products 6002 DS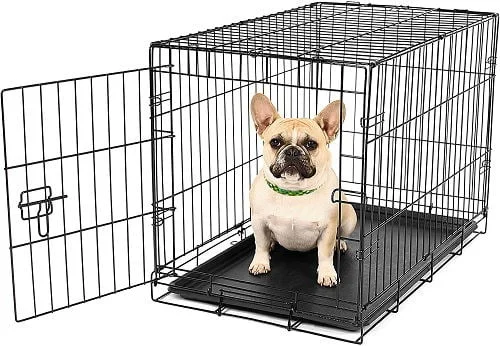 To achieve a safe, den-like environment for your dog, we recommend getting the 6002 DS. It features a single door at the front for easy entry and exit for your dog. The overall weight of the product is 5 lbs., which is comparatively lighter compared to other products in the market.
This product is completely foldable for portability, storage, and car travel. Additionally, this small dog crate includes a removable and washable black pan, which makes cleaning and maintaining a lot easier.
Also, this crate has a securing lock system for your pet's safety and an all-metal cage for enhanced longevity.
Key Features:
Single door access
All-metal foldable cage
Secured lock points
Removable dog pan

---
9. Petmate ProValu Double Door Wire Dog Crate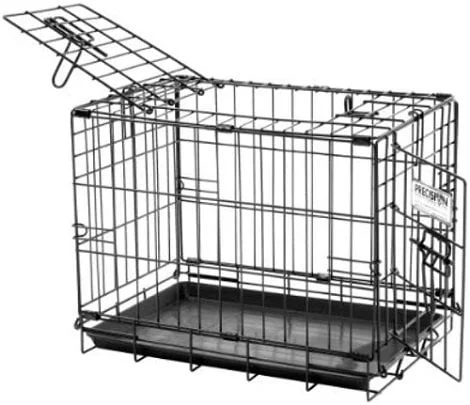 For an inexpensive choice, the Petmate ProValu small dog crate might be for you. This product has two doors for separate entrances, offering easy access and simple placement of the doors.
This product is fully adjustable and foldable for easy storage and portability. Also, a five-point precision lock system is included to secure the crate and doors in various room layouts.
Aside from these, the crate comes with a removable plastic pan for simple and easy cleaning. The two handles to make carrying a lot easier as well.
Key Features:
Double-door, metal-coated architecture
5-point patented lock system
Break-resistant pan
Carrying handles

---
10. MidWest Home for Pets Ovation Folding Dog Crate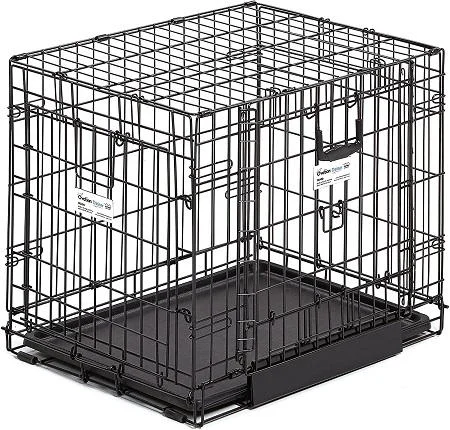 Crate-training your puppy might be a hassle, and you may need the essential tools for that. The Ovation Folding Dog Crate is a great selection if you wish to crate-train your dog. It features a front door for training puppies and small dogs and a garage-style side door after your puppy is crate-trained.
The crate's strong metal steel construction secures it in place when used. Also, owners will be able to lift the handle and lay the door on top of the crate for easy access.
The included divider panel allows the owner to adjust the size of the dog crate while your dog is still growing. Additionally, a leak-proof acrylic pan is added for easy cleaning and maintenance.
Key Features:
Garage-style side door
All-metal construction
Divider panel
Leak-proof acrylic pan

---
11. New Age Pet ecoFLEX Pet Crate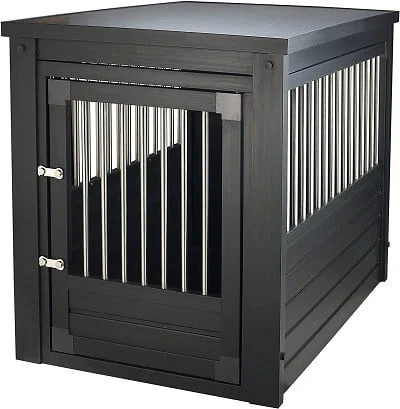 Some small dog crates are made of toxic substances, which are harmful to your dog's health. For an eco-friendly option, we recommend getting the ecoFLEX pet crate. This is a stylish crate that acts like a dog crate and an end-table at the same time.
This product is an elegant way to keep your pet safe while disguising it as a fashionable piece of furniture. Also, the ecoFLEX composition does not absorb moisture and odors, ensuring absolute longevity and zero toxicity.
The crate's stainless-steel spindles and latches make locking more secure and stable, while its tabletop can be used to place table lamps, picture frames, books, and more.
Key Features:
Unique, stylish design
Non-toxic ecoFLEX material
Stainless-steel spindles and latches
Secure tabletop

---
12. Internet's Best Double Door Small Dog Crate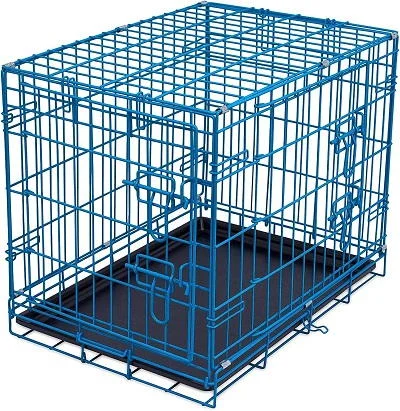 Are you looking for a portable choice? The Internet's Best Small Dog Crate features a complete foldable configuration for ease of transportation and storage. It is geared with two steel doors located at the front and the side of the crate for easy access and security.
It is made of sturdy wire steel for small dogs who scratch, dig, or bite a lot through kennels, further preventing damage and contributes to the crate's longevity.
Also, this crate comes with a leak-proof plastic pan for hassle-free cleaning, and a handle used for carrying the crate around.
Key Features:
Reinforced wire steel
Leak-proof dog pan
Carrying handle
Foldable configuration

---
13. Petmate Puppy Crate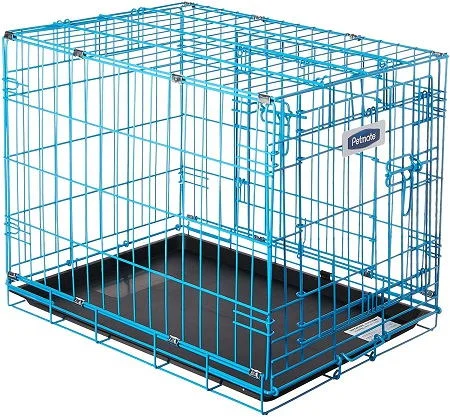 As a dog owner, you should house-train your pet to keep them out of trouble when they are home alone. The Petmate Puppy Crate has a secure double-latch and multiple door access, making it the perfect tool for housetraining your dog.
This small dog crate requires no assembly, as it folds flat for easy transport and storage.
The product has a 5-point door lock system that eliminates any visible gaps in the top, sides, and middle parts of the door, ensuring the security and safety of your dog.
Other features include a powder coat finish for preventing rusts and moisture, a removable pan for easy disposal of impurities, and a divider for adjusting as your dog grows.
Key Features:
Rust-resistant finish
Secured lock system
Detachable pan
One divider

---
14. Diggs Revol Small Dog Crate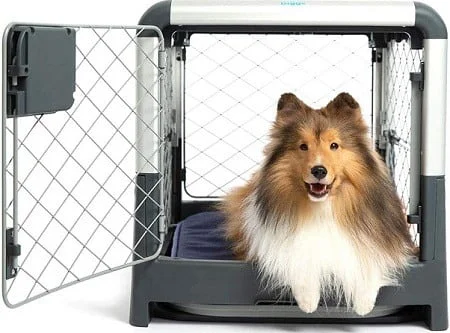 If you are always on the go, you might like the Diggs Revol Small Dog Crate. This crate completely collapsible that is easy to fold and carry around. Also, it is equipped with wheels and a carrying handle for more mobility.
This product boasts its signature three-door configuration located at the side and top of the crate for added accessibility. Additionally, a divider is included so the crate will adjust to the growth of your dog.
Additionally, it is equipped with mesh wires made of high-grade aluminum and reinforced plastic, which contribute to the overall durability and reliability.
Key Features:
Aluminum-plastic blend
Pet divider
Wheels
Carrying handle

---
15. Unipaws UH5060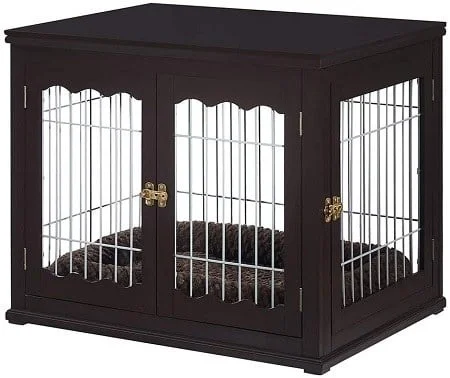 The Unipaws UH5060 is a small dog crate and a beautiful piece of decor at the same time. Its aesthetic look is ideal for small dog owners who are looking for ergonomics and functionality.
The durability of this product is enhanced, thanks to its metal enclosure bars. Also, it resists the chewing of small dogs for long periods of time.
The product's durable end-table allows for additional storage space, and its comfy cushion and ventilation access enhance the dog's resting satisfaction.
Key Features:
Elegant design
Metal enclosure
Cushion
Reinforced top

How to Buy the Best Small Dog Crates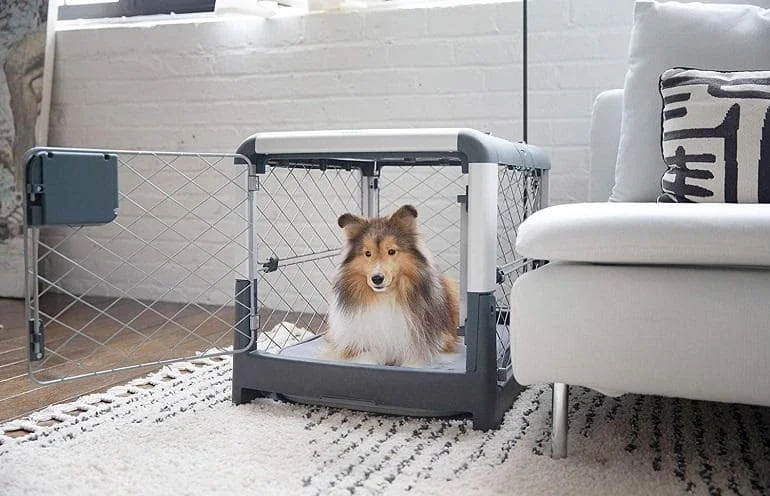 1. Purpose
Since every single dog crate has its specific features, knowing the purpose of purchasing a small dog crate is an important process.
Am I going to use this crate for training, temporary shelter, or a complete alternative? Do I need a portable dog crate or just a stationary one? These are just some of the most commonly-asked questions to know the purpose of buying the best dog crates for puppies.
2. Dog Size and Age
You might always want to buy the dog crate of the right size if you have a small dog since you do not want to splurge on expensive, overly-large crates.
As for age, older dogs tend to lay down a lot. If this is the case, you might want to look for a dog crate with additional features such as a dog feeder, or perhaps a comfy cushion at the base of the crate.
3. Temperament
Different dogs behave differently, and this is a crucial factor to consider. In fact, this is one of the determining factors whether you should buy a dog crate or not. Some dogs do not prefer being isolated in a closed space, so keep that in mind.
4. Build Quality
Purchasing a small dog crate is a good idea, but selecting one with the impeccable build quality is better. If you want to make the best out of your money, it is worth considering the quality of the construction of the crate that you are choosing.
Most of the best dog crates for small dogs available in the market are made of steel, varying from their coatings and the thickness of the material that is being used to build the crate. Some are made of reinforced wood for chew resistance. Hence, just look out for inferior, overpriced ones and stay away from them.
5. Design
The overall design of a dog crate might be a minor factor to consider, but this is simply not true. Aesthetics and ergonomics are some of the major purposes of having a great design of your crate. Besides, you would not want to have a bulky, non-foldable dog crate, wouldn't you?
When a dog crate is made perfect in terms of design, everything works in harmony from its looks all the way down to the functionality. Also, having a minimalistic dog crate cuts the cost!
6. Safety
Securing your dog in an enclosed space like a crate means that you want to keep it safe and sound all the time. However, there are dog crates out there that are poorly built, such as having sharp edges or flimsy panels. These inferiorities, when overlooked, might cause some potential accidents to your dog.
Ensuring that you pick the best small puppy crate from a reliable brand is something that you would want to go for. Remember, do not cheap out on sketchy crates!
7. Cleaning and Maintenance
Lastly, keeping your dog crate spic-and-span all the time promotes its reliability and longevity. So, choosing one that is easy to clean and maintain is what we recommend.
The best small dog crates have spill-proof pans, stainless steel grills, or varnish-coated wooden doors for easy cleaning. Ensure that you look for similar features, so you will not have a difficult time cleaning your crate.
Q&A
Should I Crate My Dog?
Crating your dog is actually a training process, as it fosters a sense of security and safety. Also, crate training helps you have greater peace of mind.
How Long Can I Crate My Dog?
It is advisable to crate dogs for nine hours maximum in the daytime, and eight hours during the night. Do not forget the needed walk in the afternoon.
How Do I Keep my Dog Calm in the Crate?
First off, never force your dog to go inside. It does not matter if you have the best small dog kennel when it does not want to use it. If your dog already inside, shut the door gently, and appease it by starting to give meals inside. If it doesn't work, make the crate itself comfier by putting toys or some cushion, or you might want to get a new crate.
Conclusion
It is worth noting that every small dog crate is built, designed, and used differently, even though they are all for petite dogs. All you have to remember is to know what you need and want, and you shall arrive at a product that is just perfect for you.
All in all, we recommend getting the Life Stages Folding Crate as the best overall small dog crate. Its foldable interface, floor protection, and double-door feature makes are just enough to be used as a comfortable, complete dog shelter convenience.
Meanwhile, the MidWest Home for Pets Dog Crate is the best economic option for you, thanks to its low price tag, decent durability, and easy assembly. Good luck with your next purchase!