Soft dog crates are temporary shelters for your furry buddies to sleep or take a break while on a trip. It consists of a delicate exterior like fabric or wool supported by a hard interior such as steel or acrylic tube.
These are perfect for traveling, and they can fit into small spaces, which makes them extremely portable and convenient to use. In this review, we have picked the best soft kennels in the current year available right now.
Top Soft Dog Crates by Editors
7 Best Soft Dog Crates: Review
IMAGE
PRODUCT
FEATURES

Amazon Basics 3-Door Collapsible Soft-Sided Folding Soft Dog Travel Crate Kennel, Large (24 x 24 x 36 Inches), Tan

1. AmazonBasics 12002 (Best Overall)

Foldable soft crate
Mesh doors & windows
Includes zipper closures & fastening straps

2. EliteField 3-Door (Best for the Money)

Larger than other 36-in. soft crate brands
Strong steel tubes & 600D fabric
Convenient mesh doors & accessory pockets

3. Noz2Noz Soft-Krater 667 (Most Durable)

Constructed by tight weaves
Heavy-duty waterproof mesh fabric
Rounded corners to protect home décor

4. Jespet 3-Door (Best for Travel)

Collapsible bars with springs
Compact architecture
Fleece bed for added comfort

5. Petnation Port-A-Crate (Easiest to Clean)

Water-resistant, machine-washable cover
Honeycomb perforated windows
Stainless steel frame endoskeleton

6. 2Pet Bone Window (Best Foldable)

Foldable lightweight steel tubes & panels
Comes with a top handle for carrying
Push-button mechanism

7. Go Pet Club AB18 (Most Lightweight)

2-lb. soft crate
Sheepskin mat is the lightest
Mesh door allows secure confinement
1. Best Overall: AmazonBasics 12002
Ideal for: Pets up to 70 lbs.
Size: 36 in.
Weight: 7.89 lbs.
Materials: Polyester
For an all-in-one soft kennel,

is what we recommend as the best overall pick. This is a versatile soft dog crate with impressive features for absolute satisfaction.
It comes with bone-shaped mesh windows on three sides for important ventilation and gives dogs a good view of the outside world. Also, you can use the crate's zippers and straps to securely open and close it.
This crate is equipped with a reinforced PVC frame that makes it intact and avoids adding unnecessary weight.
However, the side mesh windows are quite soft and inferior. The base of the crate is slightly unstable as well, so taking extra care is required.

---
2. Best for the Money: EliteField 3-Door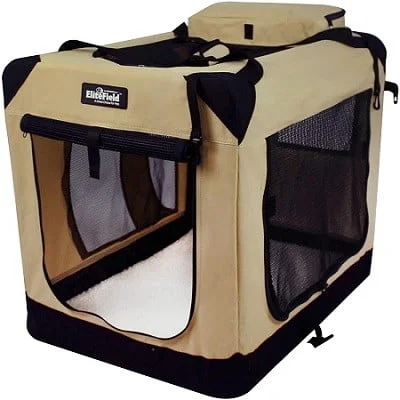 Ideal for: Pets up to 70 lbs.
Size: 36 in.
Weight: 14.57 lbs.
Materials: Steel, fabric
If you are looking to make the best value when purchasing a good soft dog crate, you should get the EliteField 3-Door. This is wider and taller compared to other 36-in. soft crates in the market, which makes it worth the price.
This product stands out as one of the most durable soft crates in the market, showcasing its strong steel tube as the frame and a high-grade 600D fabric as its outer shell.
For convenience and accessibility, this crate comes with three mesh doors and two pockets for storing your dog's essentials.
The EliteField crate is also known for its extra features, such as a free carrying bag for ease of transport and a fleece bed for added comfort to your dog.
Some of this product's drawbacks are its flimsy base and loose mesh sides.

---
3. Most Durable: Noz2Noz Soft-Krater 667
Ideal for: Pets up to 70 lbs.
Size: 36 in.
Weight: 8.76 lbs.
Materials: Vinyl
When it comes to durability, you should pick the Noz2Noz Soft-Krater 667. Regarded as one of the best fabric dog crates by most owners, this product showcases a tight weave construction for maximum sturdiness.
The outer crate is made with their signature heavy-duty mesh fabric that guarantees longevity. Also, it has rounded corners for additional protection.
It boasts an easy assembly design that anyone can set up in seconds anywhere without requiring any tools, which adds to the owner's convenience.
However, the side mesh panels might go loose over time, and some stitches on the base are a bit thin.

---
4. Best for Travel: Jespet 3-Door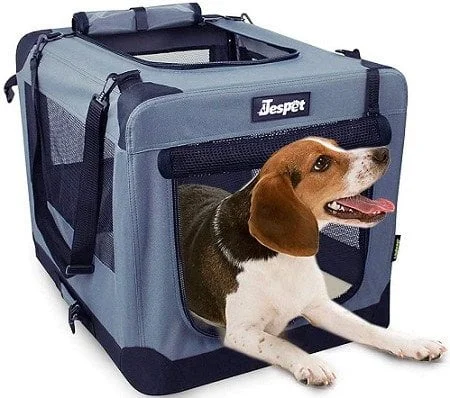 Ideal for: Pets up to 25 lbs.
Size: 26 in.
Weight: 7.3 lbs.
Materials: Steel, fabric
Having a soft dog crate while on a trip is the way to go, and the Jespet 3-Door is the best choice for travel. Made with a strong mesh cloth material, this crate is a must-have for travelers.
This product is reasonably durable for a soft dog crate, thanks to its sturdy metal frame fitted with flexible springs. Besides, you can collapse it when not in use, which saves some storage space.
The crate's visibility and airflow are excellent because of its mesh nylon walls, helping your dog feel a sense of protection and comfort.
Not only is it extremely portable, but also it comes with a comfy fleece bed for your dog to enjoy.
As for this product's disadvantages, its base is somewhat weak, and the nylon sides are easy to break.

---
5. Easiest to Clean: Petnation Port-A-Crate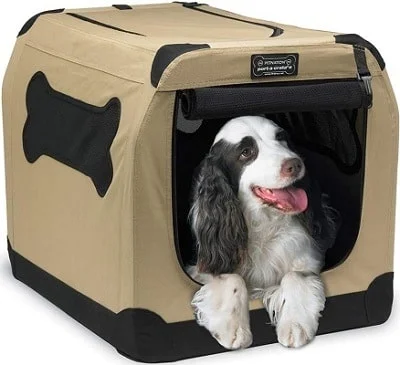 Ideal for: Pets up to 35 lbs.
Size: 28 in.
Weight: 8 lbs.
Materials: Steel, fabric
Keeping your soft kennel should be an easy task, so we suggest going for the Petnation Port-A-Crate if you want one that's the easiest to clean and maintain. Its water-resistant, machine-safe cover ensures a hassle-free cleaning experience.
This crate showcases unique-looking honeycomb mesh fabric panels that allow for optimum air-drying when washed.
Its stainless-steel frame that supports the soft cover allows smooth wiping. Plus, installing and storing this crate can be done in seconds, thanks to its smart folding design.
However, the Petnation soft dog crate has inflexible zippers and mediocre nettings.

---
6. Best Foldable: 2Pet Bone Window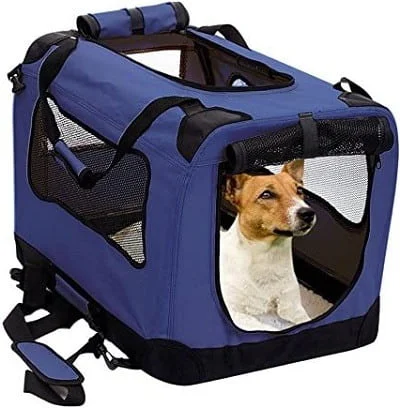 Ideal for: Pets up to 25 lbs.
Size: 24 in.
Weight: 6.79 lbs.
Materials: Steel, fabric
Being able to fold your kennel with ease is just satisfying. For the best collapsible dog crate, you should get the 2Pet Bone Window. This all-in-one product effortlessly sets up and folds flat in seconds because of its foldable tubes and panels.
Undoing the 2Pet kennel is made easy because of its signature push-button mechanism. Carrying the crate is made convenient as well, thanks to its inclusion of a top handle.
Unlike some low-grade soft kennels out there, this product is geared with Oxford 600D fabric variant that you can remove for easy cleaning.
As for its disadvantages, its base is not that stable, and there are no solid corners to support the whole crate.

---
7. Most Lightweight: Go Pet Club AB18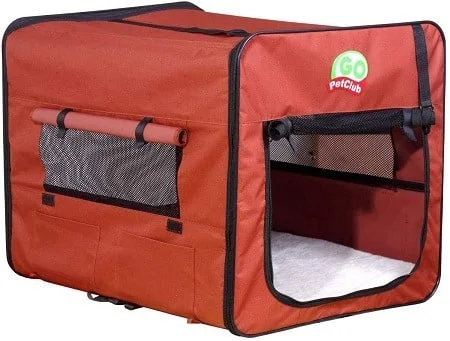 Ideal for: Pets up to 15 lbs.
Size: 18 in.
Weight: 2 lbs.
Materials: Wool
If you are looking for the best lightweight dog crate, consider checking out the Go Pet Club AB18. Weighing at 2 lbs., the crate's wool material makes it almost weightless while maintaining essential features.
This product comes with a sheepskin mat, which is regarded as one of the lightest inclusive dog mats in the market.
Also, its screen mesh door allows sheltered confinement for your dog, and the perforated windows support acceptable ventilation and visibility.
For added convenience to the owner, the AB18 comes with a carrying handle and a case.
However, the cover is delicate because of its composition, and its base is wobbly.

Other Recommended Soft Dog Crates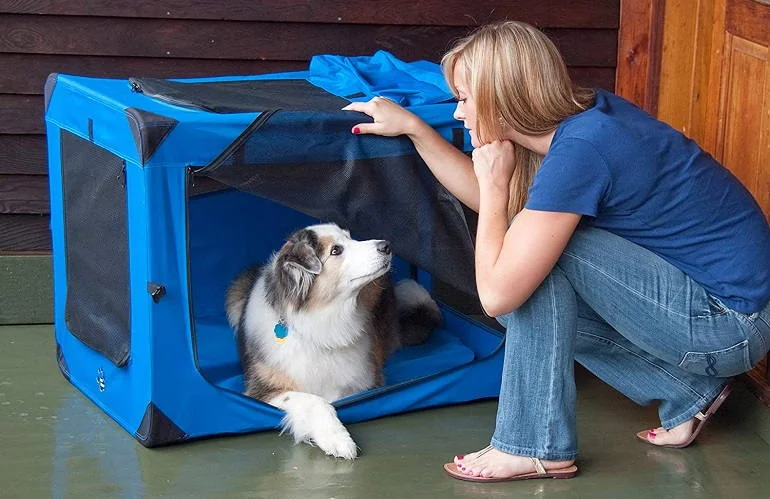 8. Arf Pets APSC0026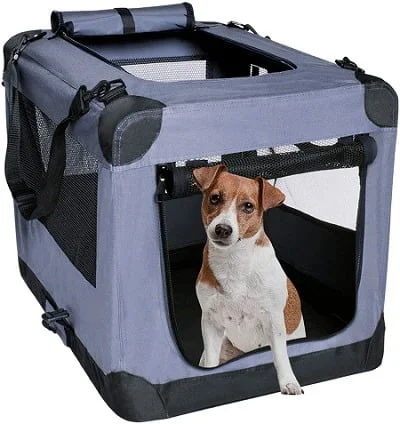 The best soft dog crate is great for indoors and outdoors, and the Arf Pets APSC0026 fits this spot. This crate showcases three entry points with ample ventilation for use in all seasons.
This soft kennel is fully-supported by a heavy-duty all-steel frame that ensures its longevity and resilience.
Finally, setting up this crate is intuitive and hassle-free, thanks to its inclusion of collapsible bars with retractable springs.
Key Features:
Great for indoor and outdoor use
Three-door configuration
Durable steel construction
Retractable spring-equipped bars

---
9. Petsfit Portable
Most dog owners go for soft dog crates for absolute portability, and that's where Petsfit Portable excels. This kennel is completely odorless and non-toxic to protect your best friend's health.
The crate has two doors and a wide entry point located at the top for easy placement and removal.
Also, you can use this as an open bed inside your home. The addition of mesh sides leads to more airflow, and its clips add extra security to the zippers.
Key Features:
Odorless and non-toxic
Top door access
Acts as an open bed
Well-ventilated and secured

---
10. Petsfit Travel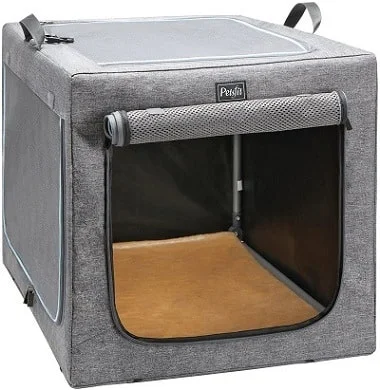 If you travel a lot and don't want to leave your dogs, Petsfit Travel might be for you. This soft dog crate is odorless and collapsible, which makes it perfect for traveling dog owners.
The crate is very soft yet sturdy as well, which was achieved by using a soft fabric material supported by a reinforced frame.
Another outstanding feature of this product is the patented screw-in design that holds the mesh parts of the crate in place.
Key Features:
Great for frequent travelers
Odorless
Lightweight and durable
Screw-in design

---
11. Pet Gear 3-Door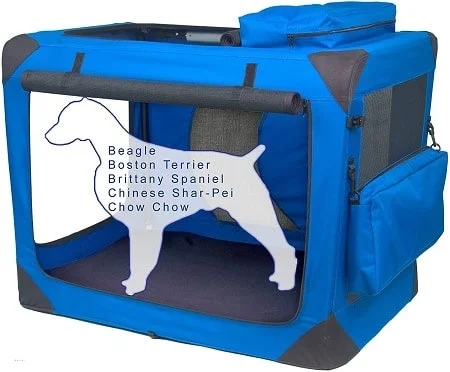 The Pet Gear 3-Door stands out as one of the most innovative soft dog crates out there, showcasing a button-operated mechanism for setup and folding.
Its strong internal steel tube frame supports the whole crate, which contributes to the overall integrity of the product.
Additionally, it has three doors for easy access, and its compact fold takes up little space to maximize portability.
Key Features:
Button-operated collapsibility
Strong frame
Three-door configuration
Compact fold

---
12. X-Zone Pet 3-Door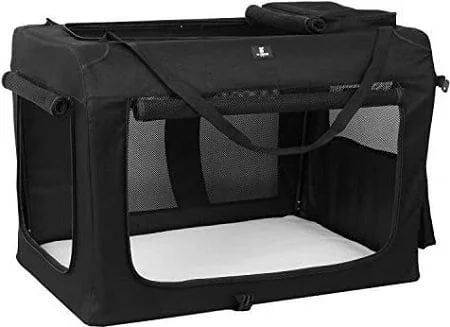 Many dog crates come up with unique security features, and X-Zone Pet 3-Door is one of them. This soft crate is equipped with self-locking zippers to prevent unwanted escape or sneaking out.
Setting up and dismantling this crate is a total breeze, and it requires no tools. The top handle and safety belts add to the ease of transport.
Other key features of the X-Zone crate include a durable 600D fabric material to ensure longevity and accessory pockets on the top and sides.
Key Features:
Self-locking zippers
Easy setup
Carrying handle and belts
Durable fabric material

How to Buy the Best Soft Dog Crates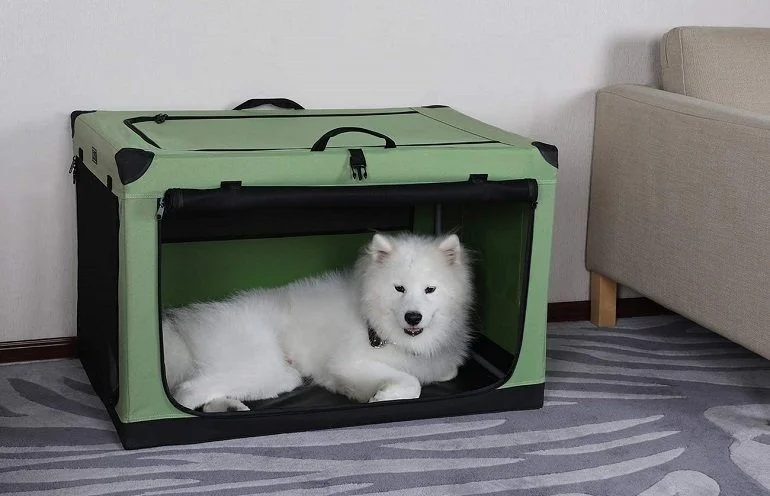 1. Size
There are a ton of soft dog crates out there in the market, and you need to know what size you are looking for. This crucial factor solely depends on the breed of your dog.
Large dog breeds such as the Boxer or German Shepherd usually need around 36 to 42 inches in crate size. Consider checking out AmazonBasics 12002 if you own a large dog.
Read More: The Best Small Dog Crates
2. Windows & Ventilation
When choosing a soft dog crate, you should check out its windows. Usually, soft kennels come with perforated windows with varying designs. To test the airflow, you may put your hand inside the crate and feel the air that goes through the windows.
We recommend getting the Petsfit Portable if you want to avail of a well-ventilated soft kennel.
3. Material
Soft kennels are known for being incredibly soft. They are usually made of wool or fabric supported by a solid frame such as steel or plastic tubes for added reinforcement. Often, steel tubes are more reliable than their plastic counterparts.
It is recommended to get a soft kennel that's supported by a metal frame, such as the Arf Pets APSC0026.
4. Easy to Setup and Storage
As a dog owner, having a soft dog crate that's easy to set up and store when not in use is an absolute delight. All soft dog crates are collapsible, but they differ in the way they install and dismantle.
Some soft kennels are quite hard to collapse, especially if they lack certain items such as Velcro tapes or locking zippers. Make sure to look for these features to have the best portable soft dog crate!
5. Comfort Mats or Beds
This feature might be a minor one, but it would not hurt to look for soft dog crates with beds, wouldn't it? Dog mats and beds provide extra comfort, warmth, and a den-like feeling to your dog when it stays inside the crate.
Most dog beds are made of wool, silk, or soft cotton to ensure your dog's satisfaction when in use. For a soft kennel with a great bed, we recommend the EliteField 3-Door for you.
Conclusion
Summing it up, we recommend getting Portable Folding Soft Dog Travel Crate Kennel as the best overall soft dog crate. This crate's folding mechanism, durable design, and secure zippers make it the definitive soft kennel that you can purchase in the market.
If you want to make the best out of your money, the EliteField 3-Door is for you. This kennel has the most reasonable price range with all the features to back it up.
For a portable choice, you should buy Jespet 3-Door. This is because it is made of flexible fabrics and collapsible bars attached with springs, allowing the crate to be folded for easy storage.