E-books are increasingly popular nowadays thanks to the many tech gadgets that make them so. A poll to show whether or not people prefer eBooks to real paperback books would probably see a wider audience go for eBooks and this is not so surprising.
Paperback books can be highly inconvenient even though there is a deep satisfaction feeling that comes with reading them. For instance, you can't just pick up your paperback book to read in certain situations, for instance in a transit bus. While this is not impossible, it can quickly get uncomfortable. The same goes for packing your paperback books when going on a vacation. Not only would you be using more luggage space, but there is also a significant chance of you damaging the book.
Top Book Scanners in 2023 by Editors
These problems of course are not present when you have the eBook format of the said paperback book. You can easily read it from the comfort of your smartphone screen. You can even get certain software to read the eBook to you using your device's text to speech feature.
Now, due to copyrights, we can't always find eBook copies of a paperback title for free on the internet. This can be quite sad especially if you have the paperback copy. The good news is you don't have to despair or spend extra money to purchase an eBook copy if you can't necessarily afford it.
Furthermore, you might just want to convert a bounded document to an eBook copy either to safeguard the book's content or for ease of use. For instance, if the said bounded document is in fragile conditions and can no longer be subjected to continuous usage each day.
The easiest and future-proof solution is to buy a book scanner. Now, this can be quite difficult. Even though the basic function of a supposed book scanner would be to obviously help you scan books, book scanners come in various brands, prices, shapes, etc. For instance, some book scanners come with a V-shaped cradle so that you can carefully scan every inch of a book page. While some are standard printers but come with some automated scanning features.
The implication of the wide variety of book scanners means it can be quite difficult to identify the best scanning device suitable for your book and scanning demands.
That said, this guide on the best book scanners 2023 would come in two sections:
- A review section that contains our top recommended picks of the best book scanners you can buy right now
- A buying guide section that discusses the nitty-gritty of buying and using a dedicated book scanner for your scanning works.
There would also be a FAQ at the end of this post so you can get direct answers to any questions you might have had while reading.
Keeping readers that came to check out our recommended book scanners for 2023, we would start with the review section. However, you can always quickly skip to here to learn everything you need to know about book scanners so you can make the best choice for your business.
Top 5 Best Book Scanner Reviews 2023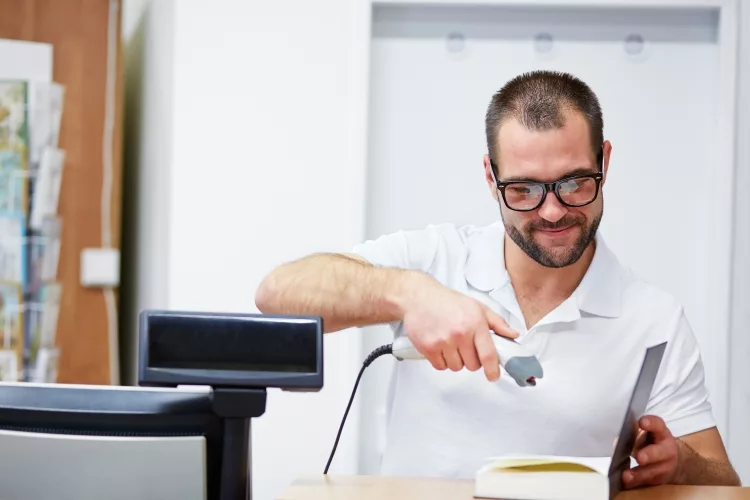 Whether or not you have an idea what to look for in a book scanner is entirely down to personal preference and user experience. If you are someone very keen on both, then you can't but read our buying guide.
However, if you are not so keen on user experience and are only interested in knowing the best scanners for books available on the internet, we got you covered.
1. Fujitsu ScanSnap SV600 Overhead book scanner - Link
Highlighted features
Incredible Scanning Speed of 27 ppm
Supports scanning of books as well adds other types of document
Compact
Scanning resolution of about 285 dpi
Quite expensive
One of the most reliable and best-selling book scanners on the market right now is the Fujitsu ScanSnap SV600.
It is an overhead scanner that is essentially a dedicated book scanner. You can even use it to scan 3D objects! Yes, that's how powerful this scanner is. As you would expect, the biggest downside is that it is priced very high.
Price asides, there is so much to love about the scanner. It is compact even when you factor in its overhead scanning unit.
One thing you would love about the scanner is how versatile it is. it comes with powerful scanning software that lets you customize and automatically correct any distortions, fingerprints, etc. that were captured while scanning.
It comes with a time mode that lets you scan in real-time. It also comes with a page-turning detection sensor so you don't have to manually select start before it starts scanning.

2. CZUR ET16+ Advanced book scanner - Link
Highlighted features
Incredible Scanning Speed of 24 ppm (This beats most of the scanners on this review hands down)
Supports scanning of books as well adds other types of document
High scanning resolution of 250dpi
Reasonably priced
The CZUR ET16 + is yet another overhead book scanner. This of course is not so surprising since overhead scanners are dedicated book scanners. What we particularly love about this scanner is the way it manages to balance good features without costing too much.
NOTE: Although the CZUR ET16+ is reasonably priced, it is still quite expensive but well worth every dollar.
It has a unique design that gives it a desk-lamp feel when it is not in use. However, the powerful beam on its overhead scanning unit means you don't have to worry about whether or not it would scan the entire area of the book's page.
Asides from scanning books, you can also scan 3D objects as well as other types of documents. It comes with auto-flatten features, OCR, and would perfectly run on Mac and Windows operating systems.

3. CZUR Aura-B Book Scanner - Link
Highlighted features
Amazing scanning resolution of 300dpi
Jaw-dropping scanning speed of 2 seconds per page.
Poor battery life despite being quite expensive
Enhanced OCR technology
Supports scanning of books, and other documents.
Comes with auto flatten and deskew features
Compatible with Mac and Windows operating system
Very easy to use, the CZUR Aura is an upgrade to the CZUR ET16+ book scanner. Although how true this is mostly down to user experience.
Not to bore you with details this scanner comes with all the features present on the CZUR ET16 + but improves on some of the features. For instance, it is foldable, unlike its Lamp-shaped predecessor. This means you can easily fold it down and store it when it is not in use.
When in use in poor lighting, the Aura-B comes with 32 LEDs so you can improve the scanned images. You can even use the LED lights to read! Yes, you read that right. It also works as a non-flickering, flare-free smart lamp.
It comes with a year warranty.

4. CZUR AURA X Pro portable book scanner - Link
Highlighted features
Works on battery
Compact and portable
Compatible with Mac and Windows operating system
Cheap
Cheap yet functional scanners are not easy to come by. The CZUR Aura X Pro is another entry from the brilliant CZUR brand. it comes with the patented scanning and flattening technology unique to CZUR scanners and can scan pretty fast.
It has decent OCR software that supports well over 186 languages. So you don't have to worry if the text language from the scanned image isn't in English. When it is not working as a scanner, it can also function as a desk lamp thanks to its 6 brightness levels.

5. CZUR Shine Ultra Smart book scanner - Link
Highlighted features
Ultrafast average page scanning speed of less than 1 second
Features CZUR's patented flattening technology that removes curved textures from scanned images due to the book's spine.
Comes with a year warranty
Can scan in high resolution, up to 340 dpi for A4 paper and 245 dpi for A3 paper
If you are in the market for an affordable yet powerful book scanner, the CZUR shine ultra is your best bet. It comes with tools that ensure you can scan without hassles or delays. It has a pretty amazing scanning speed and even comes with features that automatically remove curves from your scanned images, thus saving time! With this scanner, you can also easily convert your scanned images to editable PDF or even a WORD file thanks to its exceptional functionality.
Best Book Scanners Buying Guide: Everything you need to know
As a result of the wide array of book scanners, one can find both online and offline stores, a guide to finding the best option for you is only appropriate.
So what do you have to look for in any book scanner? Fortunately for you, we have just the right answers!
1. Consider the type of scanner best suited for your needs
When it comes to scanners for books, there are only two types of scanners you should be concerned with:
o Flatbed scanners: These types of scanners are not very suitable for book scanning. This is because, for the most part, you have to firmly press each page on the scanner's flat scanning surface. Even then, there is no guarantee whether or not the result would be poorly captured, incompletely captured, or not even captured at all. Some scanners might even capture your fingerprints onto the book page you are trying to scan.
As if that is not enough, forcefully using a flatbed scanner can damage the spine of your book. This is mostly because of the pressing and squeezing you have to do to get the scanner to completely scan the full page.
o Overhead scanners: These types of scanners come specifically made for scanning books. They have an overhead scanning lens that extends over the book being scanned so you don't have to worry about pressing the spine to get all the pages in contact with the scanning lens.
NOTE: This is not to say that such scanners do not come with their issues!
Both models of scanners can scan your books. However, how well it does the work is down to how powerful the scanner is. For instance, scanners with single one-shot cameras fixed to their frames are very bad for scanning books.
Regardless of the model you opt for, it is always best to go for one that has a clearly stated high-resolution camera lens and LEDs that are powerful enough to get the job done.
2. Compare the scanning speeds of scanners that meet your needs
The speed at which a scanner scan is very important to consider. This can be very important if you are trying to scan a ton of pages or documents at once. In which case, you will need a scanner that can scan fast and efficiently.
For instance, high-speed models are very useful for office use since they can handle large scanning work at a time. However, they are also expensively priced which does not make them a good pick for personal or home use.
So, try to compare the price of the scanner and its printing speed to see if it is worth the buy!
3. What is the Quality and image resolution of the scanner you intend to choose scans in?
Resolution is a very important aspect of scanning. This is because you can quite easily improve the quality of documents by scanning and reprinting them. The most obvious issue here is that one can't just use any type of scanner when trying to replicate the quality the original once possessed by scanning and re-printing.
4. Pricing and Features
Let's face it, pricing or cost of a product is one of the biggest and most important determinants of whether or not we would buy a product or not. One can be predominantly interested in buying a product but not be able to buy it cause there is not enough cash or funds to do so.
With book scanners, they come in different price ranges. You can see a book scanner for as low as $100. You can also see book scanners that price as high as a thousand dollars.
And as with most tech gadgets, the more expensive the model is the more features and user experience options it comes with. So, in other to enjoy a high-performance experience, you have to be ready to pay a premium for it.
One important feature everyone looks out for in a scanner is the Optical Character Recognition technology (OCR). This is a common feature nowadays in scanners but how accurate it varies from one scanner to the other. In case you are not familiar with the technology, what it does is allows you to convert texts present on images to an editable word file. Now to get high accuracy, you need a scanner that is powerful enough with bright lenses while scanning.
Hence, the more features a scanner or tech gadget, in general, comes with, the more expensive it usually is.
5. What type of software do you need to use this scanner?
This is quite important as most scanners come with their unique scanning software. Essentially what this software does is lets you edit or at least preview your scanned files before saving them.
The importance of such software is apparent in the fact that there are tons of scanning software on the internet. Each promising feature supposedly makes your scanning experience better. Some even come with paid subscriptions that you have to pay for in other to unlock and access.
Hence, another thing you quickly need to consider is the software compatibility of your scanner. Is it quite functional and would work with any scanning software? Does your scanner come with premium software that you have to pay to unlock its full features?
All these are questions you have to consider before making your decision to buy a particular book scanner.
6. Will you be dealing with other types of documents asides from books and bounded documents?
Do not be overly eager to purchase a book scanner just because it fits your pricing budget. What if it can scan books well but can be quite slow when it comes to single-paged office documents?
Do you intend to use other features on your scanners such as the option to send scanned work directly to other people or essential virtual storage?
The type of other documents you will be handling, their thickness, size, and shape have to be considered when buying a scanner.
7. Space available to fit the book scanner
As trivial as this might sound, you would be surprised at how uncomfortable it can be to use office or home-office equipment that you can't properly store. Will you have to manipulate the available space in your working space every time you want to use the scanner? Do you have to move the scanner from one place to the other whenever you are not using it?
There is so much to consider when it comes to space management in an office or a home.
It is only right that you go for a scanner that you can use without any need to manipulate the working space available to you.
How a Book Scanner Works for Kindle ?
A book scanner is a device that can be used to scan physical books and convert them into digital format. This can be useful for creating a digital library, or for making it easier to read books on a Kindle or other eReader device. There are a few different ways that book scanners work, but they all essentially involve taking pictures of each page of the book and then converting those images into a digital file.

Use a Flatbed Scanner
One popular method for scanning books is to use a flatbed scanner. This type of scanner can be found in many homes and offices, and it is relatively simple to use. To scan a book using a flatbed scanner, you simply place the book face-down on the scanner bed and press the "Scan" button. The scanner will take a series of pictures of the book, and then you can save those images to your computer.

Use a Handheld Scanner
Another option for scanning books is to use a handheld scanner. These scanners are designed specifically for scanning books, and they are small enough to fit in your hand. Most handheld scanners come with software that makes it easy to convert the images into a digital file, and you can then transfer that file to your Kindle or other eReader.
Use a Professional Book Scanning Service
If you want to scan a large number of books, you may want to consider using a professional book scanning service. These services will have high-quality scanners that can quickly scan a large number of pages, and they will also have software that makes it easy to convert the images into a digital file. Professional book scanning services can be expensive, but they can save you a lot of time if you need to scan a large number of books.
Using a USB Cable to Transfer It to Your Kindle
Once you have your digital file, you can transfer it to your Kindle or other eReader using a USB cable. Most Kindle devices come with a micro-USB port, so you should be able to connect the two devices without any problems. If you are using a different type of eReader, you may need to use a different method for transferring the file.
Begin Reading It
Once the file is on your Kindle or other eReader, you can begin reading it just like any other book. You can turn pages by tapping on the screen, and you can use the arrow keys on your Kindle's keyboard to navigate through the book. If you come across a word that you don't know, you can tap on it and then press the "Dictionary" button to look up the definition.
Highlight or Take Notes
If you want to highlight or take notes in a book, you can do so by tapping on the "Highlight" or "Note" buttons. You can also add bookmarks by tapping on the "Bookmark" button. To return to your last page, just tap on the "Back" button.
Delete It From Your Kindle or Save It for Later
If you are finished reading a book, you can either delete it from your Kindle or save it for later. To delete a book, just press and hold down the "Home" button for five seconds. To save a book, just tap on the "Menu" button and then select "Archive."
Keep for Later
If you want to keep a book on your Kindle for future reference, you can do so by tapping on the "Keep for Later" button. This will save the book to your Amazon account so that you can access it from any device that has an Internet connection.
Loan Option
You can also loan books to other Kindle users by tapping on the "Loan" button. To accept a loan, just tap on the "Accept" button. The book will be sent to the person's Kindle who requested the loan, and they will have 14 days to read it before it expires.
If you want to return a book, just tap on the "Return" button. The book will be sent back to the person who loaned it to you, and they will have 14 days to read it before it expires.

Benefits of Using a Book Scanner
Save Time
One of the benefits of using a book scanner is that it can help you save time. For example, if you are looking for a specific piece of information in a book, you can use the scanner to quickly find the page that you need. This can be especially helpful if you are trying to research something or if you are trying to find a specific passage in a book.

Save Money
Another benefit of using a book scanner is that it can help you save money. If you purchase a lot of books, it can be expensive to keep them all organized. However, if you use a scanner to scan your books, you will be able to keep all of your books organized without spending any extra money. Additionally, if you need to sell some of your books, you can use the scanner to create a digital copy of the book so that you can sell it online.
Protect Your Investment
Finally, using a book scanner can help you protect your investment. If you have valuable books, it is important to protect them so that they will last for many years. By scanning your books, you will be able to create a backup of the book so that if something happens to the original, you will still have a copy. Additionally, if you want to loan your book out to someone, you can use the scanner to create a copy of the book so that they can return it when they are finished. This way, you will not have to worry about losing your investment.
Types of Book Scanners
There are two main types of book scanners: flatbed and rotary. Each type has its own advantages and disadvantages.

Flatbed scanners
Flatbed scanners are the most common type of scanner. They are typically less expensive than rotary scanners, and they can scan a wide variety of materials. However, flatbed scanners can be slower than rotary scanners, and they may not be able to scan very large books.
Rotary scanners
Rotary scanners are more expensive than flatbed scanners, but they can scan much faster. They are also better suited for scanning large books. However, rotary scanners may not be able to scan some types of materials, such as delicate papers or photographs.
Expert Tips for Scanning with Your Book Scanner
If you're looking to get the most out of your book scanner, then you'll want to make sure that you're scanning with it correctly. Here are a few expert tips to help you get the best possible scans:

1. Use the right settings
Depending on the type of book you're scanning, you'll want to adjust the settings on your scanner accordingly. For example, if you're scanning a thinner book, you may want to reduce the resolution so that it doesn't take as long to scan.

2. Don't move the book too much
Once you've placed your book in the scanner, try not to move it around too much. This can cause blurring or other issues with your scans.

3. Scan in batches
If you're scanning a lot of pages, it's best to do them in batches. This will help you avoid overloading your scanner and causing issues with your scans.

4. Check your scans regularly
Make sure to check your scanned images regularly to ensure that they're coming out correctly. If there are any issues, you can adjust the settings or re-scan the pages.

5. Keep your book scanner clean
Periodically clean your book scanner to prevent dust and other debris from buildup and affecting your scans.

Following these tips will help you get the most out of your book scanner and produce high-quality scans.

FAQs about Book Scanners
1. Is a book scanner different from a normal scanner?
Yes, there is a considerable difference between a dedicated book scanner and a normal document scanner.
The first difference that comes to mind is the glaring difference in build. Dedicated book scanners often have their scanning lens extending overhead. That way it can capture the full page of a book without issues. This is not to say a normal flatbed scanner won't be able to scan a book. however, there is a larger margin for error and problems to occur with the scanning process.
Also, you can't but consider all in one printers - i.e. printers that come with different functions asides from the typical printing capability. Such printers can scan, fax, and act as copiers when necessary. One can also consider them as normal scanners, but only just. What this means is that they do not have the capabilities and necessary features to scan books - unless you rip your books to sheets so that the printer can scan sheet by sheet of course.
2. What is the best book scanner?
There is no precise "best book scanner". This is mostly down to personal preference guided by a couple of criterions unique to each individual making their choice. That said, you can always go for scanners made by reputable brands although even this does not guarantee you buying the "best book scanner".
For instance, there are different common types of scanners viz
o flatbed scanners
o handheld scanners
o sheetfed scanners
o drum scanners
All of these have a wide array of scanners under them making the process of pronouncing one scanner overall best a very controversial task.
3. Can I scan multiple pages into a PDF on the book scanner?
Yes, you can. For this feature to work, you have to select the option that allows you to scan more pages or scan multiple pages at the same time.
For the most part, this can come as a button on your scanner itself or as an option on your scanner's scanning software.
4. Can I scan a paperback book into PDF?
Yes, that is the whole idea of buying a book scanner. One thing you should note though is that how fast you can scan a complete book into PDF depends a lot on the type of scanner and its scanning speed. So, ensure you don't pick a slow scanner when trying to scan an entire paperback book!
5. Will a book scanner work without a computer?
This mostly depends on the type of book scanner you are using. Certain scanner models are portable and do not require computers. Instead, they can directly scan to a memory card which you can then transfer or share.
Buy on Etsy, Walmart, eBay (subject to availability)
CZUR Shine Ultra Smart Document Scanner, USB Book Scanner with OCR Auto-Flatten & Deskew, - Walmart, Etsy, eBay
iCODIS Document Camera & Overhead Scanner X3: Portable 8MP High Definition Capture Size - Walmart, Etsy, eBay
iOCHOW S5 Document Camera & Book Scanner : 22MP High Definition USB Portable Auto-Flatten - Walmart, Etsy, eBay
IRIScan Desk 5 PRO A3 Large Color scanner, PRO A3 Document & Book Scanner, Auto-Flatten & - Walmart, Etsy, eBay
Fujitsu ScanSnap SV600 Overhead Book and Document Scanner - Walmart, Etsy, eBay
IPEVO V4K Ultra High Definition 8MP USB Document Camera — Mac OS, Windows, Chromebook - Walmart, Etsy, eBay
INSWAN INS-1 Tiny 8MP (4K 4:3) USB Document Camera with Auto-Focus and LED Supplemental - Walmart, Etsy, eBay
OKIOLABS OKIOCAM T USB Webcam & Document Camera 11″ x 17″ for Distance Learning, Remote - Walmart, Etsy, eBay
IPEVO VZ-X 8MP Document Camera, Easy Setup, 3 Modes of Connectivity — Wi-Fi, HDMI, and - Walmart, Etsy, Ebay
Conclusion for Book Scanner Buyers
There are a few things to keep in mind when purchasing a book scanner. First, consider what type of books you'll be scanning. If you plan on scanning frequently, it's important to choose a scanner that can handle high-volume scanning. Second, think about the quality of the scanned images. Some scanners produce better quality images than others. Finally, consider your budget and make sure to compare prices before making your final decision. With these factors in mind, you're sure to find the perfect scanner for your needs.