Gravity has this terrible habit of sending things crashing to the ground unless you have something sturdy to place expensive bits of technology on.
Today, we're taking a look at the best printer stands so that gravity doesn't leave you cursing its immense power with a destroyed printer at your feet.
Of course, it's not just printers that can use a decent stand or some storage space. We'll be seeing if we can find some products that will help keep your entire office space tidy.
So, let's see what's available and get to separating the extremely good from the absolutely dire.
Top Printer Stands by Editors
Comparison Chart Of Top 5 Printer Stand
IMAGE
PRODUCT
DETAILS

DEVAISE 3-Drawer Wood File Cabinet, Mobile Lateral Filing Cabinet, Printer Stand with Open Storage Shelves for Home Office, Black

★ OUR #1 PICK! ★

DEVAISE 3-Drawer Lateral File Cabinet

Style: Modern
Material: Wood
Dimensions: 32x16x26 inches (LxWxH)
Load Capacity: 150 pounds

Desktop Stand for Printer - Desktop Shelf with Anti - Skid Pads for Space Organizer as Storage Shelf, Book Shelf, Double Tier Tray with Hardware & Steel by HUANUO (Light Wood)

HUANUO 2 Tier Desktop Stand

Compatible Devices: Desktops
Material: Ally Steel
Dimensions: 17.31x11x11.6 inches (LxWxH)
Load Capacity: 44 pounds

Safco Products Deskside Wire Machine Stand 5207BL, Holds up to 200 lbs.,Black

Safco Deskside Machine Stand

Color: Black
Material: Metal
Dimensions: 20x24x27 inches (LxWxH)
Load Capacity: 200 pounds (total)

AMERIERGO Printer Stand with Drawer - 3 Tier Height Adjustable Printer Cart, Rolling Printer Stand with 4 Wheels, Mobile Printer Table with Storage Shelf & Cable Management for Printer, Scanner & Fax

AMERUERGO Printer Stand

Adjustable Length: Yes
Material: Plastic
Dimensions: 17.2×13.2×24.6 inches (LxWxH)
Load Capacity: 44 pounds per shelf

Safco Products Under Desk Printer/Fax Stand , Black Powder Coat Finish, Swivel Wheels for Mobility

Safco Under Desk Printer Stand

Color: Black
Material: Steel frame/Laminate top
Dimensions: 16x19x13.5 inches (LxWxH)
Load Capacity: 50 pounds per shelf
Cable Management: One Cable
Frequently Asked Questions (FAQ)
Which printer is best for printing books?
A printer for printing books requires a number of features that ensure speed and cost-effectiveness. Perhaps a laser printer is the best option.
For a start, the right laser printer will print far more quickly than an inkjet printer and will have a much higher duty cycle, meaning it can print in bulk every day of the year.
These printers also use toner cartridges that will last much longer.
However, if you are interested in printing picture-heavy, color children's books and are less fussed about the speed of printing, a high-quality inkjet printer will do a fantastic job.
Which printer is best for text?
If you want sharp, clear text, it is best to go with a laser printer offering at least a 1200×1200 dpi or a 2400×1200 dpi if you have the budget.
This will ensure that all the text you print has that extra professional look to it.
Brother is a brand known for making excellent office document printers.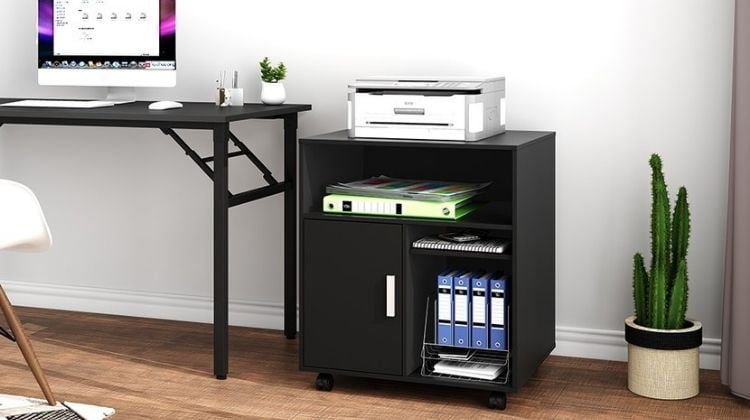 Which printer is most economical for ink costs?
For inkjet printers, an ink tank printer is the best option. Something like an Epson EasyTank saves you up to 90% on ink costs.
With laser printers, we often find that Brother printers are the most cost-effective for toner.
Top 5 Best Printer Stands Reviews
1. DEVAISE 3-Drawer Lateral File Cabinet | desktop printer stand with drawers
This stunning filing cabinet would look magnificent in any home office, with space and storage galore to keep the room organized.
On top of the cabinet, the surface area is enough to hold a home printer of up to 150 pounds in weight. You'll also have space enough to keep another device or a plant - whatever suits the overall aesthetic.
On the left-hand half of the cabinet are three drawers - two smaller drawers and one larger. The smaller drawers are handy for storing those office supplies with a nasty habit of getting lost when kept on an open-top. The bottom drawer is for your hanging A4 files.
To the right are two shelves. We think this is the place to store your printer paper and other print media, plus any binder folders you need to look at regularly.
This is a well-constructed home printer stand, unlikely to cause you any issues.
Highlighted features
Large enough to fit a printer and additional device such as a scanner
360-degree swivel casters for ease of movement around a room
This mobile printer stand has Large handles to open storage drawers easily
Storage shelves can be used to store office stationery and other office supplies
2. HUANUO 2 Tier Desktop Printer Stand | laser printer stand
Sometimes your office desk can seem like it is shrinking, especially if you have a printer taking permanent residence upon it. But if you don't have space for a large stand, what is the solution?
Taking very little space and an outstanding product for any streamlined office space, the HUANUO 2 Tier Desktop Printer Stand can fit snugly next to a desk as your printer's new home.
Your printer can sit atop the this modern printer stand, with the lower tier being used for document folders, your paper stash, or a plant. (We love plants, you may find this suggestion in each review).
This printer organiser stand will assemble in less than five minutes due to an uncomplicated design that only requires eight screws. It is a lot more sturdy than the photos would make it appear.
Don't worry if your office has laminate flooring. This mobile printer stand has anti-skid feet, so you won't see your printer suddenly flying around the room.
Highlighted features
Modern design suitable for any room, including an office
Heavy-duty frame and thick wooden boards hold up to 44 pounds
Fits nicely into a small space next to your office desk
Duel shelves increase the storage capacity.
3. Safco Deskside Machine Stand | printer organizer stand
If wooden design stands aren't to your taste, we now bring you a metal/laminate option that can take a heavy load across its frame.
The top table of this desktop printer stand with paper storage will take a 100lb printer, which means almost all home inkjets can sit atop. If you have a more compact printer, rather than a wide format one, there is even space to sit a plant.
The two storage shelves hold 50lbs each and are perfect for keeping your printing paper, spare cartridges or toner, and any other items that you'd rather not keep laying around the floor.
This inkjet and laser printer stand has a more professional office feel, with there being nothing homely about it in look, so it is most likely to go in a workplace.
Four swivel wheels make this stand easy to wheel, meaning you can take the printer and anything else on the stand to different rooms whenever needed.
Highlighted features
Suitable for use in a professional workspace
Laminate printer top resists scratching and chipping
Wheel locks ensure this good printer stand won't topple if knocked when stationary
This mobile printer has 27″ H desk size.
The Dual shelves provide ample storage space and it can be used to storing paper
4. AMERIERGO Printer Stand | desktop printer stand with paper storage
Should you not be a whizz at self-assembly, with screws and screwdrivers striking fear into you at their mere sight, then you'll love this simple plastic self-assembly stand from AMERIERGO.
This boasts a simple snap-together setup that leaves you with a three-tier storage cart in a matter of minutes.
Ideally, if your printer is more than 13.5 inches wide, you'll use the top shelf for the printer with other devices on the middle and bottom shelves. If the printer is compact, it can sit on the middle shelf, with a fetching plant on the top.
With each tier able to hold 44 pounds, this stand is ideal for keeping separate bits of tech or simply being used as storage space for files.
You can cart items around the house or office (its look is suitable for both), with 360 swivel wheels and brakes on two of them for a sturdy stationary position.
Highlighted features
Detachable legs let you determine shelf height to meet your needs
Slots to neatly keep cables from any devices on the stand
Small drawer ideal for keeping stationery like pens and pencils
Cable management is fantastic.
This rolling printer stand comes with a rise to use a DVD player
5. Safco Under Desk Printer Stand | printer table on wheels
This two-tier mobile printer stand is perfect for any professional workspace that requires a printer or other device to be quickly and safely moved from place to place.
With each shelf capable of holding 50 pounds, your printer can sit atop the stand like a monarch surveying the office. Below, the adjustable wire shelf can hold all the printing accessories needed to get through the day. We don't think there's space for a plant, but you can try.
Taking less than 5 minutes to assemble, thanks to some easy-to-follow instructions, you'll be delighted how easy this stand is to maneuver and how strong it feels.
The laminate top is scratch-resistant, and unless you intend to use it in some WWE-style fight, it should stay looking cool for a very long time.
We're sure you're going to love it placing next to your office desk.
Highlighted features
Thick laminate top with powder coat finish gives a professional look
Adjustable lower shelf can be set at one-inch intervals on the legs
Four wheels for easy movement
Two locking casters for extra stability
Conclusion
Every printer needs a home, and thus the best home printer stand is an essential item for anyone who doesn't have the desk space available.
We've found printer stands that come in all different shapes and sizes, with homely looks or a more professional feel. Choose from a small printer desk, a computer desk printer stand, a printer cart with drawers and a printer table on wheels.
And don't forget, these stands can be a place for more than just printers. So consider how many extra adjustable shelves or drawers you want in addition to the space atop the stand.
Remember, before buying any stand, check your printer's dimensions and weight to ensure these match up with your desired purchase!
Related posts: