"Ink cartridges are expensive and have that annoying habit of drying up and being unusable if you don't print frequently enough."
"Large photo printers are complicated to use, and I don't want a 13×19 inch photo anyway!"
"This wide format printer is really difficult to fit in my pocket."
If any of these statements or derivations of these statements have ever crossed your mind or come out of your mouth, then you desperately need the best Zink printer.
Not only do Zink Printers require ZERO ink cartridge changes, but they also print small photos and can fit in your pocket or at least in your bag.
Editors' Picks for Top Zink Printer 2021
Comparison Chart Of Top Zink Printer
IMAGE
PRODUCT

our Top Pick

HP Sprocket

Sheet Size: 2"x3"
Prints Per Charge: 35
Connectivity: Bluetooth 5.0
Weight: 6.1 ounces


Price Check

Polaroid Zip

Sheet Size: 2"x3"
Prints Per Charge: 25
Connectivity: Bluetooth
Weight: 6.6 ounces


Price Check

Lifeprint Portable Photo Printer

Sheet Size: 2"x3"
Prints Per Charge: 40
Connectivity: Bluetooth
Weight: 6.4 ounces


Price Check

Kodak Dock

Sheet Size: 4"x6"
Weight: 1.68 pounds
Standard Cartridge: 40 prints
Maximum Cartridge: 120 prints


Price Check

Brother VC-500W

Maximum Width: 2 inches
Maximum Length: 17 inches
Speed: 0.3 inches per second
Weight: 1.45 pounds


Price Check
Frequently Asked Questions (FAQ)
How long do Zink prints last?
Zink prints last between 8 years to 12 years when stored in an album.
Remember, these pocket printers have not been set up to produce photographs with a long archival life.
They are mainly there to have a bit of fun.
If you want a printer offering long-life photographs, you're best to go with a larger photograph printer that uses inks designed for longevity.
How does Zink paper work?
Unlike conventional printing that requires ink or toner to be transferred onto paper, everything you need for getting an image is in the Zink paper itself.
Essentially, there are layers of ink within the Zink paper. Your Zink printer applies pressure to the paper, which activates and mixes the ink to get your photo.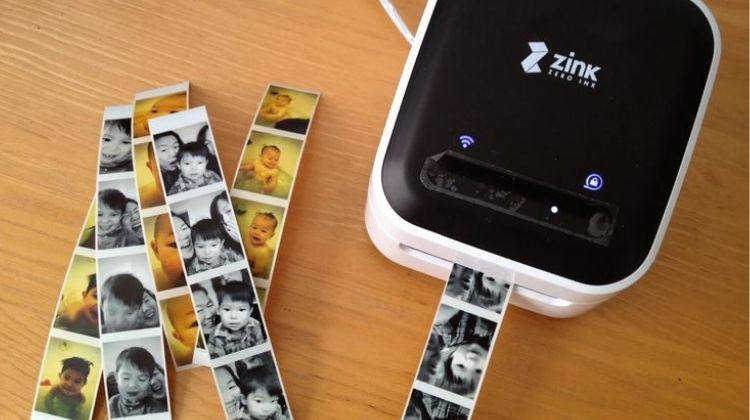 What is Zink?
Zink stands for 'Zero-Ink,' or zero ink technology and the name is derived from the fact that you'll never have to load the printer with an ink cartridge or find yourself unexpectedly out of ink.
The Zink paper has everything your printer needs to produce the image.
Top 5 Best Zink Printers Reviews
1. HP Sprocket | best zink photo printer
The HP Sprocket is as cool as Zink printers get. This compact device is fun and easy to travel with - an exceptionally great companion for a life spent on the go.
When you look at the price, you won't believe the incredible quality you get when the photos come out. If you were told that the photos came from a more expensive printer, you'd not be able to tell if they were true or not.
The best thing with Zink printers is that you aren't paying for expensive ink cartridges yet still are getting great quality.
Not only that, this pocket printer is so much easier to use than complicated photo printers. That's probably why it's so popular!
Carry the durable HP Sprocket around with you everywhere you go, and print smudge-proof 2×3 inch images with HP Zink photo paper. You'll be able to load up with ten sheets of photo paper at a time, so keep spares handy in your bag if needed.
Highlighted features
Sprocket stays connected to your devices for instant printing any time
HP Sprocket App allows you to customize photos before printing
Connects to multiple devices at once
2. Polaroid Zip | best inkless printer
The Polaroid Zip is another Zink Zero ink printer, and, remarkably, it is even more popular with buyers than the HP Sprocket (a product that in itself is close to 5-stars from near 2500 reviewers).
It's easy to see why this Zink printer is so popular, offering 2×3" paper prints with a sticky peel-back paper that prints in less than sixty seconds.
You don't need any computer to use the Polaroid Zip, with it connecting effortlessly to your mobile device or tablet. It will connect whether using iOS or Android, and both operating systems are compatible with the Polaroid App, which can be used to beautify and edit your snaps.
This sleek portable photo printer is so compact; it is barely noticeable when you travel with it. Overall, it would seem no different from carrying an extra smartphone around. You can also explore the polaroid mint pocket printer too.
On one charge, you'll be able to print 25 photos. You'll be able to charge with a micro-USB.
Highlighted features
Easy to load photo paper
Edit photos with Polaroid app and then print
Print from social media accounts such as Facebook and Instagram
3. Lifeprint Portable Photo Printer | best zero ink printer
The Lifeprint 2×3 Printer is not just a portable photo printer but a social media phenomenon that lets you send photos to other Lifeprint printers anywhere else in the world.
If your friend has a Lifeprint printer, you can send them a photo, and they will get a print. It's no different to sending a message using Facebook Messenger, WhatsApp, or other communication methods - except it's a photo instead of a text.
The Lifeprint has some nifty little features, including augmented reality which will change the way you perceive even the most basic images from now on.
Additionally, you can watermark your printed images, whether you are printing them from Facebook, Instagram, or any other social media site you use.
Lifeprint also provides you a full editing suite to make whatever changes you want to an image so that you never look anything less than your best.
With a quick charge time, you'll be more than happy with the printer that gives you up to forty prints per charge and a photo in a stunningly quick time of 30 seconds.
Highlighted features
Elegant lightweight design can slip easily into a pocket
Connect with the world with the Lifeprint global printing network
Bluetooth connectivity and compatibility with both iOS and Android
4. Kodak Dock
Now for something a little bit different - the Kodak Dock. Why is it different? That would be because it is not a 2×3 inch instant photo printer like the first three printers we took a look at.
The Kodak dock will print postcard-sized photos of 4×6 inches. So if you prefer something a little larger, this is the portable Zink photo printer you've been waiting for.
Obviously, if you are printing photos twice the size other devices can manage, you have to expect a difference in both size and weight. The Kodak Dock is larger and heavier. Unless you are a wizard with a large deep-pocketed cloak, you won't be slipping this in your pocket. A bag will be fine.
This printer works fine with iOS and Android devices, and when plugged in, can actually charge your phone or tablet while you print.
Kodak is known for image printing, so it's no surprise this is a fantastic printer. Just make sure you read the instructions first to get to grips with the functions of the device.
Highlighted features
Charge up to two devices at a time through the dock
Kodak App is a source of incredible photo editing
Postcard size pictures come out with amazing color and detail
5. Brother VC-500W | best portable photo printers
Of course, Zink printers are not just used for printing photographs. They are also great label makers as well.
If you are after a Zink printer that leans more to the label side of things, then you can't go wrong with the Brother VC-500W.
There's a reason why you often see Brother laser printers in busy offices. The brand is known for building high-quality, hard-working, long-lasting instant photo printers.
Just because this Brother printer is a lot smaller and uses Zink rather than toner doesn't mean all the Brother machine's promise has disappeared.
You can print photos or labels, in color, up to a size of 2×17 inches. Make sure you print on Brother branded roles to get the best results.
The connection is easy from any computer or device, utilizing Wi-Fi and Wi-Fi direct rather than Bluetooth. You can network a lot of devices to the printer at once.
Overall, this is a remarkable bit of zink technology.
Highlighted features
Color Label Editor app comes free and has thousands of designs, fonts, and backgrounds to choose from
Apple AirPrint compatible for iOS and macOS users
Prints quickly at 0.3 inches per second
Conclusion
It's not just going to be us saying we've found the best Zink printer. You'll be telling all your friends and family the exact same thing within minutes of printing your first photograph or label with one of these incredible devices.
With options to print 2×3″, 4×6″, or 2×17″, all you need to do now is decide the size of the photo or label you are after. Other considerations include the number of prints you can make on one charge, connectivity issues, and whether you'll benefit from any extra apps associated with the camera.
We're sure you'll get around to making an excellent choice and will be enjoying the benefits of your new Zink printer for a long time to come.
Related posts: