A great certificate will help you throughout your life, in jobs and promotions. Having a well-written and properly printed certificate is way more important than you think. Bad quality or faded writings can instantly drop the credibility of your certificate.
The best printer for certificate printing will stand the test of time while maintaining the high quality of the certificates. Focusing on the hardware aspects of certificate printing, we'll help you figure out the most perfect one based on your preferences, so you print long-lasting certificates of excellent quality.
Editors' Picks: Top Printer for Certificate Printing in 2023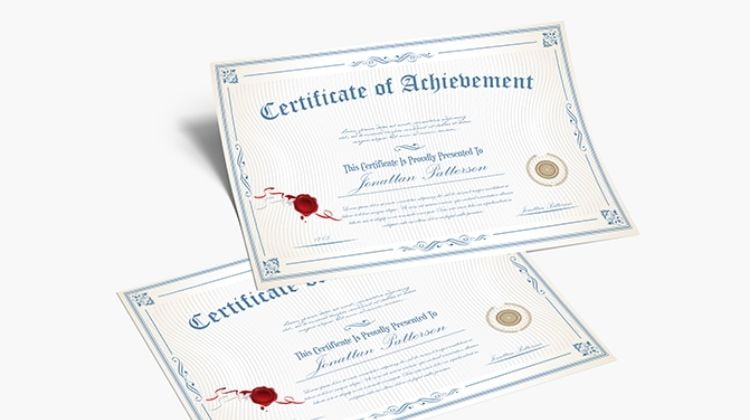 Comparison Chart Of Top Certificate Printers for Certificate Printing
IMAGE
PRODUCT
DETAILS

Most Versatile

Canon Office and Business MX922 Printer
Price Check


Speed (black): 15ppm
ADF: Yes (35 sheets)
Functions: Print, Copy, Scan, Fax.
Compatibility: Wi-Fi, USB, AirPrint, Google Cloud Print, Mobile Device Printing.

MOST RELIABLE

Epson Stylus C88+ Inkjet Printer
Price Check

Speed (black): 23ppm
Resolution: 5760×1440 DPI
Functions: Print
Type of Media: Plain paper, Card stock, Semi-gloss paper, Matte paper.

MOST DURABLE

Canon Pixma iX6820 Wireless Business Printer
Price Check

Speed (black): 14.5ppm
Resolution: 9600×2400 DPI
Size range: 4"x6" to 13"x19"
Compatibility: Wi-Fi, USB, AirPrint, Google Cloud Print, PPS, Ethernet.
What to Look for before You Buy a Certificate Printing Printers
There are several features you need to be aware of when buying the best printer for Certificate Printing. Here, we give a brief overview of what those are.
Detail Level
Depending on the type of certificates you are printing, the detail level could be important. That is especially true if printing color certificates with any kind of logo or complex graphics on them.
Therefore, you should look at the ink droplet sizes for a printer. The smaller the ink droplet size the printer can produce, the finer the detail and the better looking your certificate will be.
The Canon PIXMA iX6820 is capable of ink droplets as small as 1 picoliter, as is the Canon PIXMA MX922. Both can have their settings changed for larger droplets up to 5 picoliters when doing general printing.
However, if you don't need such fine detail, the Epson Stylus C88+ is an option for you, with a minimum 3 picoliter ink droplet.
Cartridge Configuration
If printing color certificates, it is better to go with a 4 to 5 cartridge configuration.
The Epson Stylus C88+ has a 4 cartridge configuration, while the two Canon printers we reviewed have a 5 cartridge configuration.
In the Canon's, the additional cartridge is a dye-based black cartridge. That means you will have two black cartridges and three color cartridges. The pigment-based black cartridge can be used for printing on normal paper (document work), while the dye-based black cartridge will give deeper blacks on other print media types such as glossy paper.
Resolution
Both Canon models offer a high color printing resolution of 9600×2400 dpi. This should ensure great detail levels when using a high-definition image on certificates.
The Epson Stylus C88+ comes with a 5760×1440 resolution which is higher than most standard printers, and so long as the images you use are of high quality, you will not be dissatisfied with the end result.
Paper Handling
All the printers we have looked at can handle print media types beyond the standard paper. However, if you want to use a special media type like glossy paper, check the Canon and Epson branded paper prices.
Both brands work best with their own products, so your decision on which printer to buy could come down to calculating your ongoing costs.
Top 3 Best Printer for Certificate Printing: Reviews 2023
1. Canon Office and Business MX922 Printer - Link
Highlighted features
ADF enables dual-sided printing with 35 sheets.
6 ink systems make certificates sharp and colorful.
Impressive printing resolution of 9600×2400 DPI.
Can also scan, copy and fax.
Canon has been in the electronics industry for a very long time now, and they're upgrading the printers to impressive standards with time. Their printers, like the Canon MX922, can print quickly and efficiently while also keeping the quality of the print at the highest level.
If you're printing large volumes of certificates in a short time, the MX922 can comfortably handle the pressure by printing 15 pages in a minute for you. This is way more efficient than other inkjet printers, and this efficiency is boosted more by the Automatic Document Feeder (ADF) feature.
Manually arranging the papers for certificates that have writings on both sides can be tiresome and time-consuming. The ADF makes it easier with the double-sided printing and scanning feature and saves you a lot of effort.
This inkjet printer provides great color quality with the CLI-251 XL ink tanks and printing at 9600×2400 DPI. You're in luck if your certificate contains colorful logos or designs, as these will stand out and make the certificate eye-catching. The PGI-250 Black ink tanks also enhance the sharpness of the writings.
Pros
High resolution 9600×2400 dpi printing resolution
Ink drop sizes as small as 1 picoliter
Dye-based black cartridge for printing on glossy paper
Printed certificates can last 300 years when stored properly
Can print borderless up to 8×10 inches
Compatible with both Windows and Mac
Cons
Very loud when printing
It takes up to 5 minutes to be ready to print
Canon Inks can be costly
2. Epson Stylus C88+ Inkjet Printer - Link
Highlighted features
DURABrite Ultra ink resists smudging and discoloration of certificate.
Can print in several different sizes, up to legal-sized paper.
Supports a wide variety of papers, like semi-gloss and matte paper.
Brilliant printing speed of 23ppm.
The Epson Stylus C88+ is the solution to your problems of certificates becoming smudged by ink, or discoloring and becoming faded. The DURABrite Ultra pigment ink cartridges produce vibrant colors over a wide CMYK spectrum, brightening up the colors on your certificates if any.
Moreover, the pigment-based ink brilliantly resists discoloration and fading quality. The ink doesn't smear or smudge either and prevents damage from water. This keeps your certificates in top quality and makes them look as good as new.
Although it doesn't come with the ADF feature, the C88+ can print much faster than our previous Canon printer, printing at a rate of 23 ppm.
You wouldn't need to change printers for printing certificates of different sizes; be it half-sized paper, or legal-sized paper, you can comfortably print certificates of several sizes.
Furthermore, the type of paper you use for your certificates won't cause you any trouble with this printer either. This color printer supports a huge variety of paper types, from card stocks to semi-gloss and matte paper.
Pros
5769×1440 dpi printing resolution is better than standard printers
High speeds for an inkjet printer of 14ppm in color
Certificates can last 100 years stored in optimal conditions
Can print up to 44 inches in length
Borderless printing possible up to 8×10 inches
Cons
No wireless connectivity options
Requires regular calibration
The minimum ink droplet size is three picoliters
3. Canon Pixma iX6820 Wireless Business Printer - Link
Highlighted features
FINE printing technology enhances gradation and sharpness.
1-picoliter technology provides excellent printing resolutions of 9600×2400 DPI.
Great range of compatibility with AirPrint, Google Cloud Print, and PPS.
Certificates can be printed in various sizes.
Invented in 1996, the Canon Pixma printer series has been coming with awesome printers with newer technology since.
The iX6820 is programmed with Full Photolithography Inkjet Nozzle Engineering (FINE) print head technology, which focuses on precise ejection and positioning of the ink droplets. This helps to enhance the gradation and details of your certificate.
Moreover, 1-picoliter technology and high-end inkjet technology deliver maximum resolutions of 9600×2400 DPI, making the certificates crisp clear.
This color printer can also help you print designs and symbols in the best colors possible with five ink tanks, showcasing the authenticity of your certificate.
Quality can make a printer so great; the printer becomes greater with its outstanding range of compatibility. You wouldn't need to go through the hassle of connecting to a PC, and conveniently print certificates from any Apple devices through AirPrint, and Google Cloud Print.
At a rate of 14.5 images in a minute, this amazing printer can deliver your certificates in several different sizes, from 4"x6" to the general 8.5"x11".
Pros
High 9600×2400 dpi color resolution
The minimum ink droplet size of 1 picoliter
Dye-based black ink option for printing on glossy paper
Prints borderless up to 13×19 inches
Handles paper types, including super high gloss
Multiple wireless connectivity options, including Apple AirPrint
Cons
Temperamental connection via Wi-Fi
Requires software downloads
It doesn't work with Linux
Buying guide for the Best Printer for Certificates