Do you enjoy baking for the family and would like to surprise them with their favorite picture on their dream birthday cake? Or are you a professional baker with a flock of customers wanting your beautifully baked cakes adorned with characters from their favorite animation movies?
We bring you today a list of the best edible printers for cakes that will not just make your cakes attractive but are also smart, multifunctional, easy to use, and affordable- perfect for pleasing cake connoisseurs and bringing joy to every occasion.
While the perfect cake bakes, let's check out our top takes

Editors' Picks: Top Edible Printer for Cakes 2021 the Ultimate Buying
Comparison Chart Of Top Edible Printer for Cakes
IMAGE
PRODUCT
DETAILS

★ OUR #1 PICK! ★

Canon Pixma iX6820
Price Check

Functions: Print
Recommendation: Icing Image
Weight: 17.9 pounds
Maximum Print Dimensions: 13 x 19 inch

Canon PIXMA G6020
Price Check

Functions: Print, Copy, Scan
Connectivity: Wireless, Wi-Fi, USB, Ethernet
Weight: 24.9 pounds
Maximum Print Dimensions: 8.5 x 14 inch

Canon TS8320
Price Check

Functions: Print, Copy, Scan
Dimensions: 14.7 x 12.6 x 5.6 inches
Weight: 17.41 pounds
Maximum Print Dimensions: 8.5 X 14 inch

Canon Pixma MG3620
Price Check

Functions: Print, Copy, Scan
Dimensions: 12 x 17.7 x 6 inches
Weight: 11.9 pounds
Maximum Print Dimensions: 8.5 X 14 inch

Canon Pixma TS6320
Price Check

Functions: Print, Copy, Scan
Dimensions:14.9 x 14.2 x 5.6 inches
Weight: 13.9 pounds
Maximum Print Dimensions: 8.5 X 14 inch
Frequently Asked Questions (FAQ)
Can I use a regular printer for edible ink?
You can use a regular printer as long as you a) only use the printer to print edible images and b) use a proper edible printer kit with edible ink cartridges.
The edible ink printers you will be producing your images from should not have been used for any other purpose except for food-grade printing, as this could lead to contamination and potential illness via poisoning.
What kind of printer do I need for edible images?
For food safe edible image printing, Canon and Epson printers are reliable as they support food safe edible ink cartridges.
Not many conventional brands make printers fit for edible printing, except Canon, which offers many affordable options compatible with edible ink print er kits.
A few specialized edible image printers, requiring edible ink, have been brought to the market by innovative brands.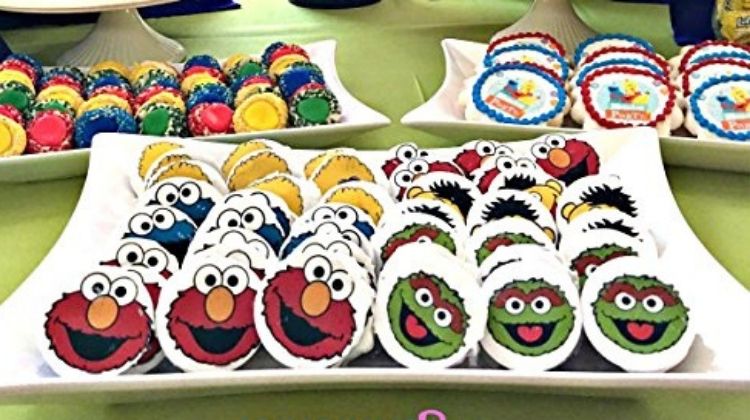 How do I make edible images for cakes?
Edible images can be easily printed with cake printers and edible ink by following a few simple steps:
With the frosting side up, place the frosting sheet i n the printer.
Set your edible ink printe r up with edible ink cartridges and frosting sheets of blank frosting, then issue the print command.
Dry the printed frosting sheet for 5-10 minutes and separate the image from the frosting sheet.
Edible Printer For Cakes Buying Guide
Paired with edible ink, the best edible printer for cakes can transform anything you've baked by adding stunning images that you may not have been able to create by hand. This buying guide will look at some features that will help you reach your cake decorating zenith.
Additional Functions
Additional functions beyond just printing are necessary. For example, an all-in-one printer that has a scanner can come to your advantage, especially if you find images from something like a magazine or if you want to replicate something you have drawn by hand.
If the idea of an additional scanner appeals to you, then three printers in our list come with that function. They are the Canon G6020, the Canon TS8320, and the Canon TS6320.
Of the three, the G6020 is the best scanner option due to the additional specs that come with it.
Print Sizes
Cakes come in all shapes and sizes, and therefore you need a edible ink printer that can print both small images and large images.
There are a few printers on the list that can print as small as 3.5×3.5 inches. Those are the Canon G6020, the Canon TS8320, and the Canon TS6320. The other two printers we reviewed have a minimum print size of 4×6 inches.
In terms of maximum print sizes, it one of those other two printers that win the day. The Canon PIXMA iX6820 prints the largest image at 13×19 inches.
With all others on the list, the maximum size you will get is 8.5×14 inches.
Connectivity
There are so many devices upon which we can now work and numerous apps on those devices that can help us with our designs. Having a printer with multiple connectivity options is a must for many.
All the printers we have looked at can be connected via Wi-Fi or Apple products via Apple AirPrint.
If you don't have a Wi-Fi network, you could opt for the Canon G6020, Canon TS8320, or Canon TS6320, which all have Wi-Fi Direct capability. These printers will create their own link with your devices, allowing you to print.
Finally, the Canon TS8320 has an additional way of edible printing, with a memory card slot available should you want to print that way.
Top 5 Best Edible Printer for Cakes Reviews
Canon Pixma iX6820 | best edible image printer
If you are looking for the best edible food printer, Canon is sure to have a solution to meet your needs.
This genuinely multifunctional Wireless edible printer is equipped with Fine print head technology using the full-photolithography inkjet nozzle engineering to make sure you get the best images for your baking.
The printer boasts of a wide range of operating systems compatibility across Windows as well as Mac OS.
Whether it is a small picture for cupcakes you want to print or images as big as 13" x 19", you can rest assured the Canon Pixma iX6820 food grade printer can do it all.
With a maximum print resolution of 9600 x 2400 dots per inch, the printer will deliver exceptional quality images every time.
Google Cloud Print and Pixma Printing Solutions (PPS) provide the perfect wireless printing from any device with no hassle.
Highlighted features
Ease of Use and a dedicated quiet mode
Auto Power On powers up the printer whenever you send a photo to be printed.
Wider prints up to 13" x 19"
Network-ready
Drawbacks
Wireless networks can be difficult to connect to
Difficult to set up with Mac
Canon PIXMA G6020 | best edible ink printers
The Canon PIXMA G6020 is an All-In-One Printer that will give you the freedom to scan and print your desired images from your smartphone, tablet, and computer with little hassle. What's more, Alexa can do the work for you with just a single voice command.
Like our first Canon printer, the PIXMA G6020 is one of the most brilliant cake printers around. It can print pictures from 3.5" x 3.5" square to 8.5" x 11" letter size.
These edible image art machines from the Canon Pixma series allow for vibrant and colorful images that are sure to please everyone.
The Canon PIXMA G6020 is a cost-effective printer featuring a high optical resolution, so all your edible images have crisp detail.
These edible image printers for cakes do not require additional apps to operate. Using your Apple or Android devices so that you can save space on your phone for more pictures.
Highlighted features
1200 x 2400 maximum color dpi
Wireless printing with Wi-Fi or high-speed Ethernet connection
Easy printing across Android and Apple devices
Drawbacks
Can experience clogged nozzles
Small LCD screen less user friendly
Canon TS8320 | edible image printers for cakes
The Canon TS8320 All In One Wireless Color Printer is equipped with a smart and wide 4.3" LCD touch screen that makes edible printing, copying, scanning, and operating the Pixma TS8320 a breeze.
This is a six-individual ink tank edible printer system that will let you get a fantastic array of colors onto any image you want to put on a cake.
Despite being lighter and smaller than our other two contenders, the Canon TS8320 can produce a wide range of imprints from 3.5" X 3.5" to 8.5" X 14".
Nifty features include the auto expandable output tray, which is always ready to catch prints even when powered down. A simple press on print activates the printer instantly and dishes out your sugar arts.
The best part of this cake decorating printer is that it is built with Bluetooth 4.0 LE, which means you will be saving energy and the planet while baking.
Highlighted features
Large 4.3" LCD Touchscreen
2.4 & 5.0 GHz dual-band Wi-Fi, Bluetooth
Integration with Google Assistant and Amazon Alexa
Easy printing from mobile devices with AirPrint, Mopria Print, and Canon Print app
Drawbacks
The software takes time to install
Very noisy when printing
Canon Pixma MG3620 | cake decorating printer
If you are looking for a compact and space-saving edible photo printer, the Canon Pixma MG3620 is perfect for its small size. It is the smallest and lightest in our list of the best food-grade printers with all the standard edible photo cake printers' features.
Like our other Canon edible printers, this inkjet all-in-one printer offers wireless printing and mobile device printing. Print all your edible art now from AirPrint, Google Cloud, PIXMA Cloud easily with just a tap on your device.
The PIXMA MG3620 is quick and easy to set up, with a maximum color resolution of 4800 x 1200 dots per inch. You can enjoy the same quality of edible cake arts with this Canon printer up to 8.5 X 14 inches.
With a printhead offering 2 picoliter ink drop size, you can guarantee a highly detailed image transferred onto your cakes. This is definitely the edible printer system for anyone looking to do some high end decorating.
Highlighted features
Scan images and then print them on cakes
Easy Wi-Fi Setup
Mobile Device Printing means no computers required
Drawbacks
Troubleshooting issues
Difficult to set up with Mac
Canon Pixma TS6320 | food grade printer
The last edible photo cake printer on our list is the Canon Pixma TS6320. This edible printer system is perfect for pairing with edible ink, getting photos, cartoon characters of grand designs onto a cake.
With a 1.44" OLED display and LED status bar, you will easily be able to navigate your printer status. If you have toddlers or pets keeping you busy, the LED status bar provides printer status information that can be read even from across the room.
The five individual ink system standard to Canon printers allows for vivid color cake decoration of exceptional quality.
Connect your mobile devices to print images using Bluetooth or Wi-Fi. If you don't have a Wi-Fi connection, you don't need to worry as the printer also operates via Wi-Fi Direct.
Additionally, Apple AirPrint is available for iOS users.
Highlighted features
1200 x 2400 maximum color dpi
Easy printing across Android and Apple devices
Wide Prints up to 8.5" x 14"
Effective Wireless Connectivity
Drawbacks
Setup instructions difficult to follow
It doesn't always recognize print media
Conclusion
Have you made your up mind about which printer you want?
The edible printer options we brought to you are convenient to use and easily accessible with multiple devices. Yet, all in their way can claim to be the best edible ink printer for cakes.
The Canon edible printer bundle enlisted here are sure to provide you with the best edible images as Canon is a brand you can trust for its top-notch edible printers and innovative designs.
What will be the next cake you are decorating? A cartoon character for the child's birthday? Or a picture of Leonardo Di Caprio?
Hopefully, this article made it easy for you to make your pick.
Related posts: