Do you enjoy baking for the family and would like to surprise them with their favorite picture on their dream birthday cake? Or are you a professional baker with a flock of customers wanting your beautifully baked cakes adorned with characters from their favorite animation movies?
We bring you today a list of the best edible printers for cakes that will not just make your cakes attractive but are also smart, multifunctional, easy to use, and affordable- perfect for pleasing cake connoisseurs and bringing joy to every occasion.
While the perfect cake bakes, let's check out our top takes

Editors' Picks: Top Edible Printer for Cakes 2023 the Ultimate Buying
Comparison Chart Of Top Edible Printer for Cakes
IMAGE
PRODUCT
DETAILS

★ OUR #1 PICK! ★

Canon Pixma iX6820
Price Check

Functions: Print
Recommendation: Icing Image
Weight: 17.9 pounds
Maximum Print Dimensions: 13 x 19 inch

Canon PIXMA G6020
Price Check

Functions: Print, Copy, Scan
Connectivity: Wireless, Wi-Fi, USB, Ethernet
Weight: 24.9 pounds
Maximum Print Dimensions: 8.5 x 14 inch

Canon TS8320
Price Check

Functions: Print, Copy, Scan
Dimensions: 14.7 x 12.6 x 5.6 inches
Weight: 17.41 pounds
Maximum Print Dimensions: 8.5 X 14 inch

Canon Pixma MG3620
Price Check

Functions: Print, Copy, Scan
Dimensions: 12 x 17.7 x 6 inches
Weight: 11.9 pounds
Maximum Print Dimensions: 8.5 X 14 inch

Canon Pixma TS6320
Price Check

Functions: Print, Copy, Scan
Dimensions:14.9 x 14.2 x 5.6 inches
Weight: 13.9 pounds
Maximum Print Dimensions: 8.5 X 14 inch
Top 5 Best Edible Printer for Cakes Reviews 2023
Canon Pixma iX6820 | best edible image printer
If you are looking for the best edible food printer, Canon is sure to have a solution to meet your needs.
This genuinely multifunctional Wireless edible printer is equipped with Fine print head technology using the full-photolithography inkjet nozzle engineering to make sure you get the best images for your baking.
The printer boasts of a wide range of operating systems compatibility across Windows as well as Mac OS.
Whether it is a small picture for cupcakes you want to print or images as big as 13" x 19", you can rest assured the Canon Pixma iX6820 food grade printer can do it all.
With a maximum print resolution of 9600 x 2400 dots per inch, the printer will deliver exceptional quality images every time.
Google Cloud Print and Pixma Printing Solutions (PPS) provide the perfect wireless printing from any device with no hassle.
Highlighted features
Ease of Use and a dedicated quiet mode
Auto Power On powers up the printer whenever you send a photo to be printed.
Wider prints up to 13" x 19"
Network-ready
Drawbacks
Wireless networks can be difficult to connect to
Difficult to set up with Mac
Canon PIXMA G6020 | best edible ink printers
The Canon PIXMA G6020 is an All-In-One Printer that will give you the freedom to scan and print your desired images from your smartphone, tablet, and computer with little hassle. What's more, Alexa can do the work for you with just a single voice command.
Like our first Canon printer, the PIXMA G6020 is one of the most brilliant cake printers around. It can print pictures from 3.5" x 3.5" square to 8.5" x 11" letter size.
These edible image art machines from the Canon Pixma series allow for vibrant and colorful images that are sure to please everyone.
The Canon PIXMA G6020 is a cost-effective printer featuring a high optical resolution, so all your edible images have crisp detail.
These edible image printers for cakes do not require additional apps to operate. Using your Apple or Android devices so that you can save space on your phone for more pictures.
Highlighted features
1200 x 2400 maximum color dpi
Wireless printing with Wi-Fi or high-speed Ethernet connection
Easy printing across Android and Apple devices
Drawbacks
Can experience clogged nozzles
Small LCD screen less user friendly
Canon TS8320 | edible image printers for cakes
The Canon TS8320 All In One Wireless Color Printer is equipped with a smart and wide 4.3" LCD touch screen that makes edible printing, copying, scanning, and operating the Pixma TS8320 a breeze.
This is a six-individual ink tank edible printer system that will let you get a fantastic array of colors onto any image you want to put on a cake.
Despite being lighter and smaller than our other two contenders, the Canon TS8320 can produce a wide range of imprints from 3.5" X 3.5" to 8.5" X 14".
Nifty features include the auto expandable output tray, which is always ready to catch prints even when powered down. A simple press on print activates the printer instantly and dishes out your sugar arts.
The best part of this cake decorating printer is that it is built with Bluetooth 4.0 LE, which means you will be saving energy and the planet while baking.
Highlighted features
Large 4.3" LCD Touchscreen
2.4 & 5.0 GHz dual-band Wi-Fi, Bluetooth
Integration with Google Assistant and Amazon Alexa
Easy printing from mobile devices with AirPrint, Mopria Print, and Canon Print app
Drawbacks
The software takes time to install
Very noisy when printing
Canon Pixma MG3620 | cake decorating printer
If you are looking for a compact and space-saving edible photo printer, the Canon Pixma MG3620 is perfect for its small size. It is the smallest and lightest in our list of the best food-grade printers with all the standard edible photo cake printers' features.
Like our other Canon edible printers, this inkjet all-in-one printer offers wireless printing and mobile device printing. Print all your edible art now from AirPrint, Google Cloud, PIXMA Cloud easily with just a tap on your device.
The PIXMA MG3620 is quick and easy to set up, with a maximum color resolution of 4800 x 1200 dots per inch. You can enjoy the same quality of edible cake arts with this Canon printer up to 8.5 X 14 inches.
With a printhead offering 2 picoliter ink drop size, you can guarantee a highly detailed image transferred onto your cakes. This is definitely the edible printer system for anyone looking to do some high end decorating.
Highlighted features
Scan images and then print them on cakes
Easy Wi-Fi Setup
Mobile Device Printing means no computers required
Drawbacks
Troubleshooting issues
Difficult to set up with Mac
Canon Pixma TS6320 | food grade printer
The last edible photo cake printer on our list is the Canon Pixma TS6320. This edible printer system is perfect for pairing with edible ink, getting photos, cartoon characters of grand designs onto a cake.
With a 1.44" OLED display and LED status bar, you will easily be able to navigate your printer status. If you have toddlers or pets keeping you busy, the LED status bar provides printer status information that can be read even from across the room.
The five individual ink system standard to Canon printers allows for vivid color cake decoration of exceptional quality.
Connect your mobile devices to print images using Bluetooth or Wi-Fi. If you don't have a Wi-Fi connection, you don't need to worry as the printer also operates via Wi-Fi Direct.
Additionally, Apple AirPrint is available for iOS users.
Highlighted features
1200 x 2400 maximum color dpi
Easy printing across Android and Apple devices
Wide Prints up to 8.5" x 14"
Effective Wireless Connectivity
Drawbacks
Setup instructions difficult to follow
It doesn't always recognize print media
Buying Guide for the Best Edible Printer For Cakes
Paired with edible ink, the best edible printer for cakes can transform anything you've baked by adding stunning images that you may not have been able to create by hand. This buying guide will look at some features that will help you reach your cake decorating zenith.
Additional Functions
Additional functions beyond just printing are necessary. For example, an all-in-one printer that has a scanner can come to your advantage, especially if you find images from something like a magazine or if you want to replicate something you have drawn by hand.
If the idea of an additional scanner appeals to you, then three printers in our list come with that function. They are the Canon G6020, the Canon TS8320, and the Canon TS6320.
Of the three, the G6020 is the best scanner option due to the additional specs that come with it.
Print Sizes
Cakes come in all shapes and sizes, and therefore you need a edible ink printer that can print both small images and large images.
There are a few printers on the list that can print as small as 3.5×3.5 inches. Those are the Canon G6020, the Canon TS8320, and the Canon TS6320. The other two printers we reviewed have a minimum print size of 4×6 inches.
In terms of maximum print sizes, it one of those other two printers that win the day. The Canon PIXMA iX6820 prints the largest image at 13×19 inches.
With all others on the list, the maximum size you will get is 8.5×14 inches.
Connectivity
There are so many devices upon which we can now work and numerous apps on those devices that can help us with our designs. Having a printer with multiple connectivity options is a must for many.
All the printers we have looked at can be connected via Wi-Fi or Apple products via Apple AirPrint.
If you don't have a Wi-Fi network, you could opt for the Canon G6020, Canon TS8320, or Canon TS6320, which all have Wi-Fi Direct capability. These printers will create their own link with your devices, allowing you to print.
Finally, the Canon TS8320 has an additional way of edible printing, with a memory card slot available should you want to print that way.
What Types of Things Edible Printers Can Make
It's no secret that cake decorating has become one of the most popular craft hobbies over the past few years. From fondant-covered cakes to sugar flowers, baking and decorating cakes has never been more fun! A relatively new but revolutionary trend in this realm is edible printers, which can help you get your creative juices flowing with some awesome designs on your delectable desserts (and other baked goods). If you're curious about what types of things these devices can make, check out our list below!
1. Anniversary Cake with MMF Monogram & Rose Image
This epic cake features a fondant monogram consisting of the letters S and C, which stand for Susan and Chris. The lettering is done in white, while the rest of the decoration is made using purple roses for an elegant touch.
2. Baby Carriage Birth Announcement MMF Image
An edible printer can make even birth announcements seem like a treat rather than a hassle! Just add fondant and some pretty blue fondant lettering, and you've got yourself all kinds of sweetness to celebrate the new arrival.
3. 3D Printed Fondant Image
This adorable cake is decorated with a 3D printed fondant image of two little girls holding hands. To make the process as easy as possible, these images come in a multi-layered format that you can simply assemble and place on your cake.
4. MMF Monogram Cake
For those that love pink, this fondant monogram cake is ideal for a bridal shower or other special celebration. The pink lettering says "MMF," which stands for Maid of Honor, while the white embellishments on the sides add an extra touch of elegance.
The Benefits of Using an Edible Printer for Cakes
The cake as a centerpiece of any function has been an integral part of weddings, birthdays, anniversaries and even more special occasions. Many people choose to go for extravagant designs that can cost hundreds if not thousands of dollars for their cakes. However, with the advent of technology in the food industry, many companies have come up with edible printers which allow for printing on cakes at a fraction of the cost and hassle.
Allow One to Print Out Designs in Frosting Using Edible Ink Onto the Cake Itself
These printers allow one to print out designs in frosting using edible ink onto the cake itself, rather than icing it on. Not only does this make cleaning up easier, but allows for more intricate designs without killing your wallet or wasting all that sugar!
Allow One Can Print Out Your Own Designs Onto the Cakes
An added benefit of having an edible printer is that one can print out your own designs onto the cakes. A cake decorated with family photos or children's illustrations can be re-created on a cake for birthday parties or occasions. People are also coming up with creative ways of using this technology, ranging from printing out QR codes on their cakes to link to home videos made by grandparents or even writing messages in frosting to the birthday child!
The edible printer is one of the most innovative ways of creating fun cakes for all occasions. They provide an easy, cost-effective way to do so without sacrificing on quality or creativity!
Types of Edible Printers Available on the Market
The advancement of technology has increased the usage of edible printing in various fields, from food to advertising. Edible printers vary in their construction and capabilities. No longer is a standard inkjet printer sufficient for printing on cakes or cookies through using icing sheets, gels or frosting dough. There are several types of edible printers available on the market: Dye-sublimation printers are designed for printing images on frosting sheets, while piezoelectric systems are used to print onto cookie dough.
Dye-Sublimation Printers
One method of printing edible images is using dye-sublimation printers. This technique uses specially coated glossy paper consisting of three layers: the heat-sensitive coating contains dye crystals; the white undercoat provides a bright background; and the clear overcoat protects both layers.

When heated, the dye crystals turn into gas and are absorbed by the underlayer, leaving only the clear portion on top, which results in a full color image being transferred to icing sheet or frosting dough.

This method has many advantages, one being print resolution up to 1440x720dpi. But it is time-consuming in the sense that printing onto frosting sheets does not happen instantly when connected to a computer. Because heat must be applied carefully for each sheet, large quantities of paper are needed when printing many different images at once. This type of printing system is best used by professional bakers and caterers.

Piezoelectric Printers
Another way to print images onto frosting sheets or cookie dough is using piezoelectric printing systems, which use a nozzle to eject icing in much the same way that an inkjet printer sprays ink onto paper. Piezoelectric printers may be used with pre-coated or pre-frosted icing sheets or dough, allowing for much faster printing speeds when compared to dye-sublimation systems.

It is also possible to print images on directly to the surface of cakes and cupcakes. The printer can use either a standard USB interface or network connection in order to link itself directly to the computer that has the image ready for printing. Image resolution using this method is at 300x300dpi, but increases in quality are visible in frosting sheet usage when directly applied onto food items versus being placed in frosting sheets first before transfer onto food items.
However, piezoelectric printers are typically less expensive than other types of edible printers. But they are typically clunky in build, with loud noises and much vibration. They also produce poorer quality images than dye-sublimation printers do, but this problem can be resolved by adding higher quality ink or frosting sheets to the printer itself.

Buy them at eBay, Walmart, Etsy (subject to availability)
Cake Printer Bundle Package - Cake Image Printer, Ink Cartridges, Frosting Sheets, - Walmart, Etsy, eBay
Canon Pixma iX6820 Wireless Business Printer with AirPrint and Cloud Compatible, Black, - Walmart, Etsy, Ebay
Icinginks Cake Printer Bundle System - Includes Wireless Photo Printer, Set of 5 Ink - Walmart, Etsy, eBay
Canon TS6120 Wireless All-In-One Printer with Scanner and Copier: Mobile and Tablet - Walmart, Etsy, Ebay
Icinginks Exclusive Cake Printer Package - Cake Wireless Image Printer, 10 Flexible - Walmart, Etsy, eBay
FAQs about Edible Printers
Can I use a regular printer for edible ink?
Yes, you can use a regular printer for edible ink. However, you will need to purchase an edible ink kit, which includes an edible ink cartridge and an edible paper. The kit will also include instructions on how to set up your printer for printing with edible ink.

What kind of printer do I need for edible images?
There are a few different types of printers that can be used to print edible images, but the most common and popular type is an inkjet printer. Inkjet printers use a special type of ink that is compatible with food-safe inks, so you don't have to worry about your images being toxic. You will need to purchase special edible paper or frosting sheets in order to print your images, which can be found at most craft stores or online retailers.

Once you have your printer and supplies, simply follow the instructions that came with your printer and frosting sheets to print out your desired images. Keep in mind that the quality of your prints will depend on the quality of your printer, so it's important to choose a good quality printer if you want your images to look their best. Also, be sure to allow your prints to dry completely before applying them to your cakes or cupcakes, as moisture can cause the colors to run.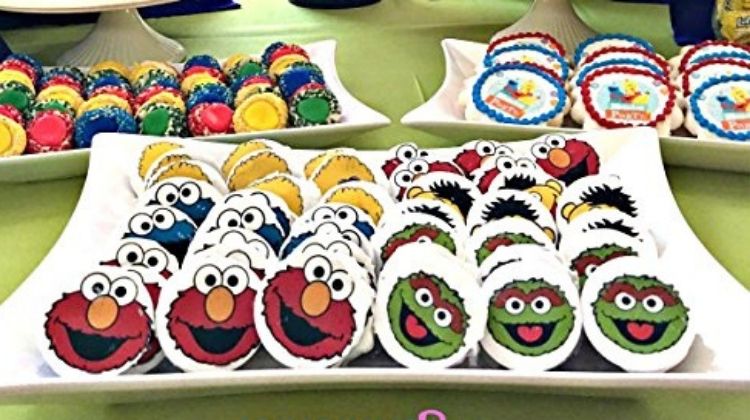 How do I make edible images for cakes?
Edible images can be easily printed with cake printers and edible ink by following a few simple steps:
Preheat your oven to 350 degrees Fahrenheit.
Line a baking sheet with parchment paper and lightly dust with flour.
Roll out your fondant or gum paste to about 1/8 inch thick.
Use a sharp knife or cookie cutter to cut out shapes from the fondant or gum paste.
Place the shapes on the prepared baking sheet and bake for 6-8 minutes, or until they are firm but not browned.
Allow the shapes to cool completely before decorating your cake!
If you want to make edible images for cakes, you will need to preheat your oven to 350 degrees Fahrenheit. Line a baking sheet with parchment paper and lightly dust with flour. Roll out your fondant or gum paste to about 1/8 inch thick. Use a sharp knife or cookie cutter to cut out shapes from the fondant or gum paste. Place the shapes on the prepared baking sheet and bake for 6-8 minutes, or until they are firm but not browned. Allow the shapes to cool completely before decorating your cake!

Conclusion for Cake Edible Printer Buyers
Have you made your up mind about which printer you want?
The edible printer options we brought to you are convenient to use and easily accessible with multiple devices. Yet, all in their way can claim to be the best edible ink printer for cakes.
The Canon edible printer bundle enlisted here are sure to provide you with the best edible images as Canon is a brand you can trust for its top-notch edible printers and innovative designs.
What will be the next cake you are decorating? A cartoon character for the child's birthday? Or a picture of Leonardo Di Caprio?
Hopefully, this article made it easy for you to make your pick.
Related posts: