The Silhouette Cameo is taking the market by storm with its precise cutting ability of all kinds of materials, and helping you make brilliant DIY stickers, cards, fabric patterns, and whatnot!
But, would you be as satisfied with the Silhouette Cameo if your design became smudgy, or the colors of your print didn't stand out? That's why having an excellent printer along with your awesome portrait cutting machine is important.
Now, you might be worried that you don't know which would be the best printer for Silhouette Cameo. There's no need to be tensed because today, we will help you find the best friend to your electronic cutting machine, so you can go and create the most beautiful designs and prints and show your talent to the rest of the world!
Comparison Chart Of Top Printer for Silhouette Cameo
IMAGE
PRODUCT
DETAILS

★ OUR #1 PICK! ★

HP OfficeJet Pro 9015 All-in-One Wireless Printer

Functions: Print, Copy, Scan, Fax
Speed (black): 22ppm
Types of Media: Plain Paper
Connectivity: Wi-Fi, Ethernet, USB

Epson Stylus C88+ Inkjet Printer

Functions: Print
Print resolution: 5760×1440 DPI
Types of Media: Plain Paper, Envelopes, Card stock, Photo paper.
Speed (black): 23ppm

Canon Pixma iX6820 Wireless Business Printer

Functions: Print
Print resolution: 9600×2400 DPI
Types of Media: Glossy Photo Paper
Connectivity: Wi-Fi, Ethernet, USB, AirPrint, PPS.

HP Photosmart 6520 Wireless Color Photo Printer

Functions: Print, Copy, Scan
Automatic Document Feeder: Yes
Types of Media: Plain Paper, Envelopes, Card stock, Transparencies.
Connectivity: Wi-Fi, USB, Memory Card, Web Connect

Epson Stylus Photo 1400 Color Inkjet Printer

Functions: Print
Print resolution: 5760×1440 DPI
Types of Media: Glossy Photo Paper
Speed: One 4"x6" photo in 1 minute.
Frequently Asked Questions (FAQ)
What kind of computer do you need for a Silhouette Cameo?
You need a well-functioning computer to use the Silhouette Cameo at its peak performance. You don't require a special kind of computer but certain specifications are required.
You must have an updated OS with stable internet connectivity, preferably 8.1 or higher for Windows, and OS X 10.10 or higher for Mac. A minimum RAM of 4GB and a 2 GHz processor is required for your PC to support the Silhouette Cameo, along with a free hard disk space of 2GB.
USB 2.0 port or higher is needed to connect the cutting machine to your PC.
Do you need a printer for Silhouette Cameo 3?
A printer is needed for Silhouette Cameo 3. The Cameo 3 comes with this great feature where you can directly plug in the USB and start cutting, without a computer.
In that case, you'll need to create your design or prints in the Silhouette Studio. You'll then copy it to your USB memory stick and connect the memory stick to the cutting machine.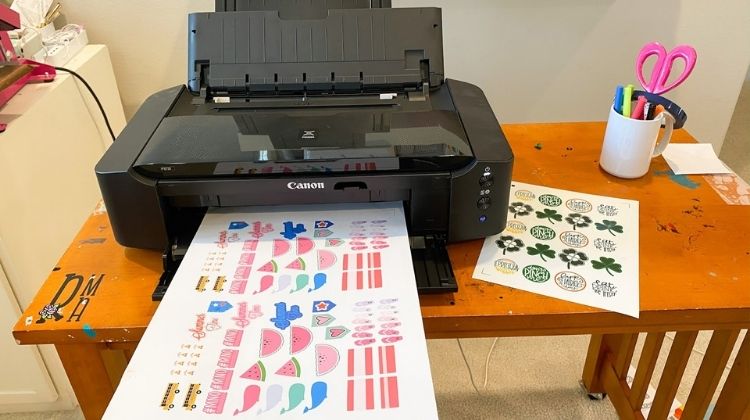 Can you print on a silhouette cameo?
Yes, you can. Silhouette Cameo comes with the Print and Cut feature. You can easily create your design for stickers or labels in the Silhouette Studio, with the help of different templates.
Next, you can easily print it from your printer, and cut the design after loading the printed output directly to your Silhouette machine.
Top 5 Best Printers for Silhouette Cameo Reviews
1. HP OfficeJet Pro 9015 All-in-One Wireless Printer
Highlighted features
Ability to scan, fax, and copy besides printing.
Prints at an efficient 22 pages per minute.
Has the ADF feature, with dual-sided printing technology.
A small touchscreen makes printing easier and helps access Google Drive.
Imagine being able to scan a fabric print you created from your phone and printing it out exactly the way you want it? The HP OfficeJet Pro 9015 brings you just that with the HP Smart app! It makes it so much easier for you to print your work out while also being able to copy and fax it as well.
This inkjet printer prints at 600 X 600 DPI quality, giving a great quality, colorful output. You can print multiple copies very efficiently, as the 9015 can print 22 pages in a minute!
The Automatic Document Feeder (ADF) feature will make life easier for you if you're printing in huge numbers. The printer will automatically follow the instructions you give perfectly, along with printing on both sides of the paper.
For faster printing, this smart device comes with both Ethernet and wireless internet capabilities. A small touchscreen helps you to command functions faster, and also helps you access online file storage services, like Google Drive, where you can store your artwork.
Pros
Prints borderless up to 8.5×11 inches
Black and color printing is rapid (32ppm)
Capable of high workload with a 25,000-page monthly duty cycle
Handles print media between 3×5 inches to 8.5×14 inches
Can handle thin paper as low as 50gsm
Wireless connectivity options
Cons
Maximum media weight of 105gsm
Small display screen
2. Epson Stylus C88+ Inkjet Printer
Highlighted features
Prints at the excellent quality of 5760X1440 DPI.
Can print on a huge range of media types.
DURABrite Ultra Pigment ink ensures color doesn't become dull or damaged.
Free editing software helps you improve and enhance your work.
You may create various types of designs and patterns to go on stickers, different types of cards, and labels. What if you could print all of these out with only one printer?! That would be productive and cost-effective for you, which is exactly what the Epson C88+ brings you!
With a maximum printing quality of 5760 X 1440 DPI, this printer can give you brilliant and vibrant outputs. Moreover, the DURABRITE Ultra Pigment Ink comes in individual ink tanks, which ensures the colors of your design catch the eye and prevent discoloration.
To make cutting with the Silhouette Cameo more efficient, this inkjet printer enables you to print in various sizes, with or without borders.
The Epson C88+ also comes with user-friendly editing software that can help you to add a few last touches and enhance your artwork even more!
While supporting printing through USB ports, this printer is compatible with various versions of Windows to make it easily usable for a huge number of users.
Pros
Higher resolution than similarly priced printers
Large maximum printable area of 8.5×44 inches
It can be used with a variety of print media, including photo paper
Highly reliable printer if used frequently
Works with Windows and osMAC
Cons
No wireless connectivity
Drains ink quickly
3. Canon Pixma iX6820 Wireless Business Printer
Highlighted features
FINE technology and 5 ink cartridges give colorful and bright outputs.
ChromaLife100+ prevents pictures from discoloring or damaging.
9600 X 2400 DPI print resolution gives detailed and sharp output.
Easy wireless printing possible with AirPrint and Google Cloud Print.
To print and showcase your creativity perfectly to everyone, the Canon Pixma gives an output of excellent quality, at 9600 X 2400 DPI resolution. Coupled with the inkjet technology, this increases the sharpness and precision of the output greatly.
The five separate ink cartridges and FINE technology work together with more than 5000 nozzles to boost the color features and saturations. They make the printed output brighter, enhancing the quality.
The ChromaLife100+ technology incorporated in the printer ensures your hard-worked prints don't discolor or become damaged by water or dust.
You can print your pictures at a decent speed of 14.5 images per minute. Like the previous printer, it can print and work with 150 sheets automatically with proper instructions.
This wireless printer comes with additional features to save you time and effort. It's greatly compatible with AirPrint and Google Cloud Print. You can just as easily create patterns for your sticker on your iPad and directly print them using AirPrint!
Pros
Capable of incredible print detail
Extra dye-based black cartridge works better with glossy paper
Borderless printing up to 13×19 inches
Multiple wireless connectivity options, including Apple AirPrint
Great value for a wide-format printer
Cons
It can be difficult to set up wireless connectivity
Works best with Canon inks which are costly
4. HP Photosmart 6520 Wireless Color Photo Printer
Highlighted features
Works with various kinds of paper, like labels, cardstock, and envelopes.
Can work as a copier and scanner as well as a printer.
Enables printing on both sides of a page, saving time and paper.
Functions are easily executable from small LCD touchscreen.
The HP Photosmart 6520 comes with an amazing feature like the OfficeJet Pro 9015 which lets you copy and scan alongside printing. But, it's better! The 6520 can carry out the same functions for a much larger range of media, like card stocks, envelopes, and labels.
You can carry out all your crafting work with just one printer and Silhouette Cameo! The original HP ink brings out the optimal performance of the printer, producing outputs with brighter color features and enhancing your print quality.
The Automatic Document Feeder (ADF) feature enables you to be very productive as it can automatically carry out several functions with a proper set of instructions. It also helps to print on both sides of the sheets, saving you time and paper.
All the functions are made very simple and straightforward with the inclusion of the small LCD screen on the printer. You can give various commands just by a few clicks on the screen.
Pros
Wireless connectivity and memory card options
Borderless printing up to 8.5×14 inches
Can print on a wide range of print media, including transparencies
Separate input tray for photo paper
Quick ISO print speeds for an inkjet
Cons
A low monthly duty cycle of 500 pages
Quite loud, especially when starting
5. Epson Stylus Photo 1400 Color Inkjet Printer
Highlighted features
Epson's technology makes output brighter and more detailed.
Claria Hi-Definition Ink enhances the quality and prevents discoloring of output.
Huge range of sizes to print on, from 4"x6" to 12"x12".
Editing software provides retouching and enhancing options.
Known for the high-quality photos it can print, the Epson Stylus 1400 inkjet printer is also excellent for the Silhouette Cameo. It produces photos of the most amazing quality and will make your creativity stand out, with the incredible printing resolution of 5760 X 1400 DPI.
Moreover, Epson has integrated its DX5 Micropiezo technology in the printer to work along with Claria Hi-Definition Ink which enhances each feature of the output and makes it look exactly how you intend it to be, with sharpened and brightened characteristics.
To add to these amazing features, the Claria Hi-Definition Ink also ensures your hard work doesn't go to waste, as it prevents the pictures from discoloring or becoming damaged by water. You have lots of options of sizes you want to print on, starting from 4" X 6" to 12" x 12", which can be helpful while cutting with the Silhouette Cameo.
Free editing software by Epson gives additional options to boost different features of your artwork.
Pros
Prints stay good up to 98 years in optimal conditions
Borderless printing up to 13×19 inches
Supports a range of print media types used in crafting/artistic work
Works with both Windows and osMAC
6 cartridge set up for an incredible color range
Cons
No wireless connectivity options
Expensive ongoing ink costs
Printer for Silhouette Cameo Buying Guide
If you're into crafting and you own a Silhouette Cameo, you need a printer that matches the quality of your cutting machine. In this guide, we will give you a brief overview of the features you should be on the lookout for.
Print Resolution
The print resolution will determine how much detail you get in your prints and the accuracy of your print.
Of course, you can guarantee getting great, detailed print by using high-definition images, but sometimes that is not possible.
In terms of printers on our list, by far, the best resolution you will find is the Canon PIXMA iX6820 with a color print resolution of 9600×2400 dpi. This high resolution is also backed up by a minimum ink droplet size of 1 picoliter. That is a guarantee of a stunning print.
Other notable print resolutions are Epson Stylus C88+ with a print resolution of 5760×1440 dpi (with a three-picoliter minimum ink droplet size) and the Epson Stylus Photo 1400 with a 5760×1440 dpi (and 1.5 picoliter minimum ink droplet size).
Cartridge Configuration
The more cartridges you have in your printer, the better the quality of color reproduction in your prints. This better reproduction comes because the printer can produce a wider color palette and better shades.
Of the printers we looked at today, you get the best configuration from the Epson Stylus Photo 1400, which has six cartridges. This includes a light cyan and a light magenta.
If you plan to work with blacks, or glossy paper, consider the Canon PIXMA iX6820 with its five cartridge configuration. That extra cartridge is a dye-based black, which helps create better shading, especially on special print media.
The other three printers on our list are four cartridge printers. These will still give you a good color reproduction and are better than using a two cartridge printer with a tri-color cartridge.
Connectivity
Connectivity options matter, especially if you are working from devices other than a laptop or computer. With so many apps available to work with from a smartphone or tablet, you want a printer that will connect easily to just about anything.
While both Epson Stylus printers on the list boast good specs, with the Epson Stylus Photo 1400 being especially good, you need to be aware that neither connect wirelessly. You will need to use a high-speed USB with the printer.
The Canon PIXMA iX6820 has wireless connectivity options, with Apple AirPrint available and the PIXMA Printing Solutions App if you are using other operating systems.
The HP OfficeJet Pro comes with AirPrint and Wi-Fi Direct, so you don't need to have a wireless network to use it.
However, the best printer for connectivity is the HP Photosmart 6520, which offers you all the other printers' wireless options and has a memory card slot from which you can direct print.
Conclusion
You need a well-performing printer to print your creative designs and print them out at the best quality before cutting them in your Silhouette Cameo so that your artwork stands out.
Finding the right printer can be a confusing decision as different printers come with a huge range of features to differentiate from.
That's why, we've carried out extensive research focusing on the most important features and brought to you a list of the best printer for Silhouette Cameo, which you can use to showcase your DIY stickers and cards to the rest of the world.