With the technological advancement of the world, these days we get to witness things we never imagined we would be able to see. Back in the days, the fact that a mass amount of pages could be printed at once using a printer seemed like the most fascinating idea whereas now, we have reached the point where printed products can be consumed by people. All you will require is edible ink, edible paper, and a printer that supports edible printing.
Things Required To Print On Edible Paper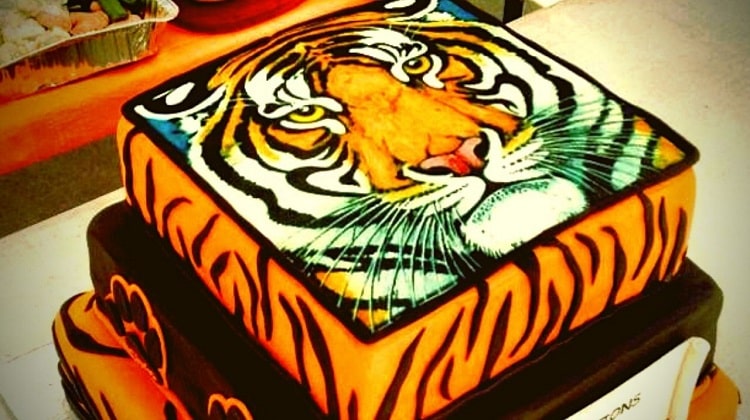 Edible Ink:
Edible ink, usually made of clean water and other organic products (these chemicals are usually found in food coloring) is perfectly suitable for digestion. You can search for edible ink cartridges that are suitable for your printer (i.e. if your printer supports edible printing) online or in any electronics stores near you.
Edible Paper:
Edible papers are of two types: frosting sheets and wafer paper (sometimes known as rice paper).
Frosting sheets are made by spreading frosting onto plastic, making them paper-thin. They don't need to be refrigerated and can be stored for one year max, given that they are placed in a sealed container so that they don't harden.
Wafer papers are made off of starch and are very lightweight and soft. If kept away from dampness, it can be stored for two to three years.
As frosting sheets offer superior quality prints, enhanced images can be printed on them, making them suitable befitting for cake décor. Wafer paper doesn't allow sharp line and thus, are mostly used for making leaves and flowers which then can also be used for cake décor. They are also used for wrapping spring rolls, sushi, etc.
Edible Printer:
Most Canon and Epson printers are suitable for edible printing although you need to clean out your printer heads properly before printing to ensure the prints aren't toxic in any way. Due to this, those using Canon printers are at an advantage as the printer heads can be easily detached, unlike Epson printers, which give the user a tough time when it comes to cleaning.
Procedure Of Printing On Edible Paper
Printing On Frosting Sheets:
The plastic on the back of frosting sheets need not be removed before printing. Put the blank frosting sheets inside the feeder and after selecting your image or text, input your printing commands.
Once it is printed, wait for 10 minutes to allow the ink to dry. Now, you can remove the backing sheet from the frosting sheet. This can be done by heating the baking sheet for a few seconds and then letting it cool down before attempting to remove it again. After removing the backing sheet, you can stick the sheet to your cake using frosting, edible glue, or corn syrup.
Printing On Wafer Paper:
Being awfully delicate means wafer papers have a hard time passing through the printer's roller. If your printer has a feeder on the back, it is a good idea to insert paper through there, since it will not have to pass through a roller. Some wafer papers are thicker and more flexible thus allowing them to pass through the rollers, so if your printer doesn't have a back feed, you need to browse for those.
One side of the paper is perfectly even and the other side is rough in texture. It is important to insert your paper in a way that ensures that the smooth side is the side being printed upon.
The printing process is the same as the normal printing process - select a design, image, or text that you want to be printed on your wafer paper, give the print command and insert the wafer paper through the feeder. The wafer paper can then be stuck to your cake either using a bit of water (sometimes corn syrup is also used).
Following the steps above can help you make your own personalized, flamboyant dishes that are bound to attract everyone's attention. So, waste no time and get to printing!
Expert Tips for Printing On an Edible Paper
If you want to print on an edible paper, there are a few things you need to know in order to get the best results. Here are some expert tips to help you get started:

1. Choose the right type of edible paper.
There are different types of edible paper available on the market, so it's important to choose one that is compatible with your printer and ink. Otherwise, you may end up with smudges or streaks on your final product.

2. Use high-quality ink.
When printing on edible paper, you need to use high-quality ink in order to prevent smudging or fading. Otherwise, your prints will not look as good as they could be.

3. Be careful when handling the paper.
Edible paper is delicate and can be easily damaged. Therefore, you need to handle it with care in order to avoid any accidents.

4. Print on a clean surface.
Make sure that the surface you're printing on is clean and free of any debris or dirt. Otherwise, your prints may not come out as clean as you'd like them to be.

5. Follow the manufacturer's instructions.
When using edible paper, it's important to follow the manufacturer's instructions carefully in order to get the best results possible. Otherwise, you may end up ruining your project entirely.

With these expert tips, you should be able to print on edible paper like a pro! Just remember to take your time and be careful, and you'll be sure to produce beautiful prints that everyone will love.

Conclusion for Ways to Print On Edible Papers
As you can see, there are a few different ways that you can print on edible paper. Each method has its own set of pros and cons, so it's important to choose the one that will work best for your needs.

If you need to print high-quality images, then using an edible ink printer is the way to go. However, if you're just looking to print simple text or designs, then using a regular printer with edible ink cartridges is a more cost-effective solution.

Whatever method you choose, make sure to test it out on a small piece of paper first so that you can make sure it works before printing on your cake or cupcakes. With a little bit of practice, you'll be a pro at printing on edible paper in no time!

Related posts: