How annoying is it when you need to print a huge number of loan documents but your printer's as slow as a tortoise?! As a signing agent, printing large volumes of vital loan documents is something you need to do every day, and not having a well-performing printer is a grave mistake.
The enormous range of features that printers come with can make it puzzling for you to choose the best printer for notary signing agents. What speed do you go for? Do you go for a laser printer or inkjet printer?
Well, there's no need for you to feel so lost because we've carried out a comprehensive analysis of the best printing devices for people like you, and today, we'll help you decide on the best printer for yourself.
Comparison Chart Of Top Printer for Notary Signing Agents
IMAGE
PRODUCT

our Top Pick

HP Color LaserJet Pro M283fdw Laser Printer

Functions: Print, Scan, Copy, Fax
Paper Tray Capacity: 250 sheets
ADF: Yes
Connectivity: Wi-Fi, USB, Wi-Fi Direct, HP Smart Print app

Canon ImageCLASS LBP113w (2207C004) Wireless Laser Printer

Functions: Print.
Paper Tray Capacity: 150 sheets
Maximum Print Volume: 1500 pages/month
Connectivity: Wi-Fi, USB, AirPrint, Google Cloud Print, Wi-Fi Direct.

Brother Monochrome Laser Printer, DCPL2550DW

Functions: Print, Scan, Copy.
Paper Tray Capacity: 250 sheets
Toner Print Volume: 3000 pages
Speed: 36ppm

Brother Compact Monochrome Laser Printer, HL-L2350DW

Functions: Print.
Duplex-printing: Yes.
Speed: 32ppm
Connectivity: Wi-Fi, USB, AirPrint, Google Cloud Print.

Canon ImageCLASS LBP6030w (8468B003) Laser Printer

Functions: Print.
Duplex printing: No.
Maximum Print Volume: 5000 pages/month
Speed: 19 ppm.
Frequently Asked Questions (FAQ)
What supplies do you need as a notary signing agent?
To start it off, you'll require a notary journal or diary, which will contain all the notary information for each loan document.
A well-functioning laser printer, letter-sized, and legal-sized papers are needed to print out the documents.
You should also have a thumbprint ink pad, which you'll use to take thumbprints of your clients on your journal and notary stamps of your particular state. You can carry all of these in a small bag.
What's the difference between a notary and a signing agent?
Signing agents do more work than the normal notary public. The notary public just acts as the witness to signatures made in the loan agreements.
On the other hand, a signing agent does the same as the notary public while also helping out and instructing the borrower or lender throughout the whole process.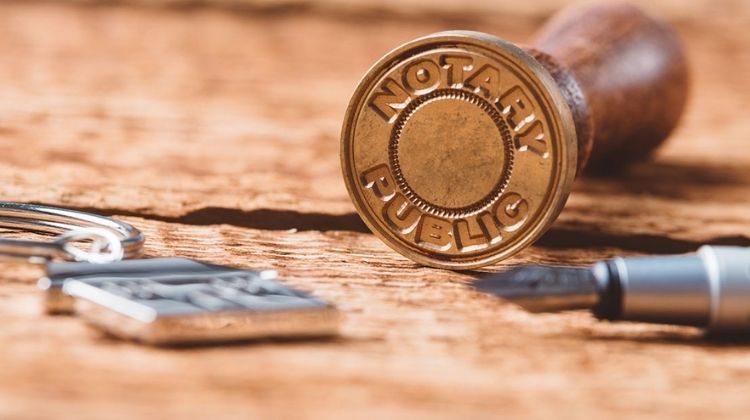 Are notary signing agents in demand?
Yes, notary signing agents are in high demand. The businesses and marketplace are growing all around us, with transactions and loan agreements taking place at an increasing level every day.
Signing agents are essential in these loan agreements, and once you get a good number of clients, it can become a huge source of income.
Top 5 Best Printer for Notary Signing Agents Reviews
1. HP Color LaserJet Pro M283fdw Laser Printer | best laser printer for notary signing agents
The HP M283fdw is an excellent choice for notary signing agents because of the number of features it comes with. Apart from printing, you can conveniently copy, scan, and even fax documents using this laser printer.
This multifunctional printer can be incredibly efficient for you, as you can receive the loan documents through fax or scan them and directly start printing them.
Printing at a rate of 22 pages per minute (ppm), the laser technology of this printer produces a sharpened and clear output, which is essential for an official document.
HP focuses on increasing your work rate to a maximum. They've integrated the Automatic Document Feeder (ADF) feature with the ability to take 50 pages at a time.
This feature can save you lots of time and effort, as the printer can carry out various functions automatically, including printing on both sides of the sheet or duplex printing .
Official notary documents may have to be printed in various paper sizes. The HP Color LaserJet Pro keeps you covered from this aspect as well by supporting different paper formats, from legal-size to A4.
Highlighted features
Ability to copy, scan, and fax besides printing.
ADF feature takes 50 pages altogether, saving time and effort.
Decent printing rate of 22 ppm.
Supports printing on a wide range of paper sizes.
Cons
HP toner can be costly
Set-up instructions can be difficult to follow
2. Canon ImageCLASSLBP113w (2207C004) Wireless Laser Printer | best printer for signing agents
Ruling the electronics world from 1937, Canon has come with an amazing business laser printer that's perfect for loan signing agents. It prints at an efficient speed of 23 ppm, which is great for printing large documents quickly.
The monochrome Toner Cartridge 047 coupled with laser technology makes the written document clean and clear. The high-end technology also fuses the output perfectly with the paper and prevents the writings from smudging.
To make it even better, you can print a whopping 800 pages with the given toner and don't have to change the toner cartridge constantly after a few days.
The LBP113w can hold around 150 pages in its tray and has a maximum printing volume of 1500 pages a month! This impressive characteristic makes it even greater for notary agents since a huge amount of printing is required.
The Canon wireless printer is compatible with a wide range of connectivity options. It's easily compatible with AirPrint and Google Cloud Print; you can directly print important documents from your Apple or Android device.
Highlighted features
The Toner Cartridge 047 can print around 800 pages.
Great compatibility with AirPrint and Google Cloud Print.
Holds 150 pages in the paper tray at a time.
23 ppm speed makes it very efficient.
Cons
Low recommended monthly duty cycle
Wireless connection is weak
3. Brother Monochrome Laser Printer, DCPL2550DW | dual tray laser printer for notary
Wouldn't it be great for you if could print more than 10 average loan documents in under a minute? The Brother L2550DW printer brings you just that with its amazing printing speed of 36 ppm! You can print also print large documents in a very short time.
The huge paper tray lets you work with half a ream of paper at a go, enabling you to print in a flow without having to refill the paper tray from time to time.
You can boost your efficiency, even more, using the ADF tray of the printer, which can work with 50 sheets at a time, and helps to print on both sides of the paper if required.
You can conveniently create multiple copies of the legal documents using this Brother device, as it also functions as a scanner and a copier, hugely increasing productivity.
The L2550DW's compatibility to work with different sizes of paper, like the legal-sized paper, letter, and A4s makes it even more useful for legal purposes in the notary.
Highlighted features
Handles half a ream of paper in the paper tray, leading to lesser refills.
ADF feature enables double-sided printing and scanning.
Also works a copier and scanning machine.
Prints on various sizes of paper, like legal-sizes and letter-sizes.
Cons
Small LCD
Disconnects from wireless network when sleeping
4. Brother Compact Monochrome Laser Printer, HL-L2350DW | best printer for loan documents
Brother laser printers produce outputs of the best and sharpest quality; the L2350DW is no different! It will print as many as 32 pages for you in the blink of an eye, and bring super-fast efficiency to your work.
Like the previous Brother printer, this monochrome printer supports 250 pages in its paper tray and duplex printing, leading to lesser refills.
You can print documents endlessly without any worries of replacing the toner since the one they provide with this printer, the TN760 can comfortably print around 3000 pages without any loss in color or quality whatsoever.
This laser printer is programmed with smart features that will alert you you're your toner is dying; it can even order toner from Amazon automatically, which can be a huge help for you amid your busy schedule.
Printing can be conveniently done by AirPrint, Brother iPrint, and Google Cloud print as well. Furthermore, you can control the printer functions using voice commands with Alexa as well!
Highlighted features
Toner TN760 can print up to 3000 pages at high-quality.
As many as 32 pages can be printed in a minute.
The smart feature alerts you in low toner levels, and can automatically order.
Alexa enables controlling printer functions with voice commands.
Cons
Won't allow 3rd party toner cartridges
Installation via CD
5. Canon ImageCLASS LBP6030w (8468B003) Laser Printer
A stunning maximum printing volume of 5000 pages a month sets the Canon LBP6030w a class apart from the other dual tray printers. This ability to print such a huge amount of paper makes it a great laser printer for notary signing, as high volumes of hassle free printing are needed to be done daily.
If you're working with documents with one page only, you can print them in as little as 8 seconds! The printer overall prints 19 pages in a minute. Even though it's not the highest printing speed, it maintains efficiency in your work.
The Cartridge 125 toner in this LBP6030w laser printer can print an incredible 1600 pages at maximum quality. You can work without having to be concerned about changing the toner frequently.
This dual tray printer for notary signing comes with foldable trays, which you can easily customize to fit the size of paper you're using. On this laser printer legal and letter, both sizes of paper are supported along with A4, A5, and executive-size papers.
Highlighted features
Can print a maximum of 5000 pages/month.
The first page can be printed in less than 8 seconds.
Double trays can fold out and fit a wide range of paper sizes.
Cartridge 125 toner can print in high-quality up-to 1600 pages.
Cons
Not easy to use with Apple products
Less than 20ppm print speed
Printer For Notary Signing Agents Buying Guide
Notary signing agents need a fast printer that can handle a lot of work and also deliver a professional-looking document. In this buying guide, we look at the features that will help you in your work.
A. Print Resolution
Professional-looking documents require sharp text. Yes, the 600×600 dpi printers we have recommended will print a good, clear document, but for that bit extra that helps you stand out above the competition, consider going for a printer that offers 2400 dpi when printing in black.
If that idea sounds good to you, then your options come down to the Brother DCP-L2550DW or the Brother HL-L2350DW. Both outstanding printers that give you a little bit more than the others we listed.
B. Print Speed
As a notary signing agent, you have a lot of printing to get done, and you don't want an inefficient printer eating into your work time. That's why we have recommended a range of laser printers, as these get print jobs done quickly.
Should speed be your priority, then the top 3 printers you can get for speed are:
Brother DCP-L2550DW – 36 pages per minute
Canon imageCLASS LBP113w – 23 pages per minute
HP Color LaserJet Pro m283fdw – 22 pages per minute
Clearly, the Brother DCP-L2550DW is the fastest printer by far; however, that speed is only in monochrome.
If you require a fast printer with black and color printing, you require the HP Color LaserJet Pro m283fdw. Its 22ppm speed is for both types of print job.
C. Input Trays
Legal work can require printing documents that have different size pages or different paper types within one document.
If you print such type of work, it is better to have a printer with two input trays. Having two trays will allow you to load the printer up with two paper types, meaning you won't need to change what is loaded constantly. The printer can simply select the paper it requires. Therefore, the HP Color LaserJet Pro M283fdw becomes a highly desirable option with its two trays.
Another reason the HP Color LaserJet Pro is a great printer is the 250-sheet paper input capacity. This capacity is matched by the Brother DCP-L2550Dw, and the Brother HL-L2350DW.
The Canon printers on our list come with a 150-sheet input capacity.
D. Monthly Duty Cycle
By a huge margin, the printer that you can work the hardest is the HP Color LaserJet Pro M283fdw with a monthly duty cycle of 40,000 pages. Nothing else comes close. Therefore, if you are extremely busy or, multiple users in an office will use the printer, this is the one for you.
Both Brother printers we review allow for a maximum of 15,000 pages per month. However, you could start experiencing issues after 2000 pages as this is the recommended limit.
Conclusion
Working as a notary signing agent can become very convenient and comfortable if you have a good printer by your side. Printing out important documents is a safer and simpler method for you and your client.
While the best printer for notary signing agents can make your life easier, the wrong printer can truly mess your experience up. To save you from all those troubles, we've brought to you a list of the most perfect printers for your job, and help you make the right choice in choosing your printer.