The post-Covid era has seen a serious surge in the demand for online courses. Course providers such as EdX and Udemy hand out digital certificates to students that successfully follow through with their courses till the very end.
Are you one of the people who has finished an online course, and received a digital certificate as an accolade for completion? And are you looking for a way to get a hard copy of your certificate? If so, get strapped, because in this post we will be covering just that!
What Paper Is Used To Print Certificates?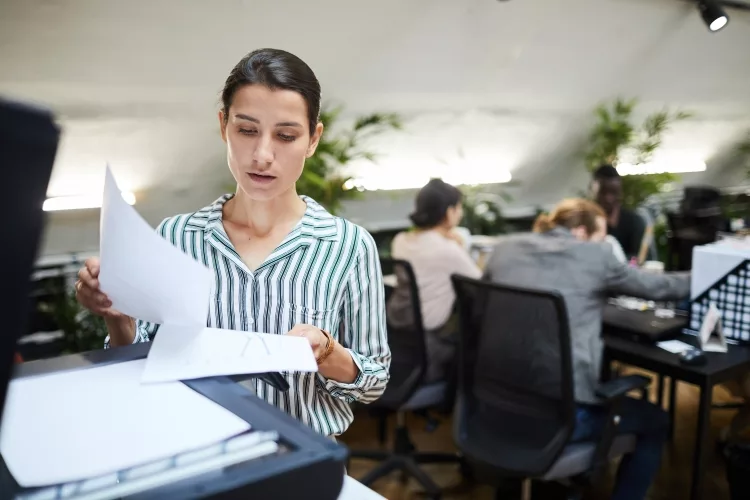 Linen Paper
Linen paper is usually not so shiny and has an embossed texture. Printing your certificate on such a paper will give it a rich look, and will make it appear rather dignified. Linen paper is popularly used to print Restaurant Menus, Wedding Invitation Cards, Business Cards, and of course Certificates.
Granite Paper
Unlike Linen paper, Granite paper has a smoother but matte texture. You can mostly find granite paper being used in restaurant menus and letterheads.
Parchment Paper
Parchment paper is most popularly used for printing certificates. It is thick and hard and has a vintage look to it. While most other specialized papers cannot be used to print using everyday printers, parchment paper is versatile, and can be printed using inkjet and laser printers, copiers, and also typewriters!
Which Paper Size Is Used For Certificates?
Certificates can come in a variety of sizes ranging from A4 and Letter to AS and A7. The most printer-compatible size however is A4 and Letter comes second.
How To Download And Print A Certificate (Step-By-Step)
Step 1
Find the certificate that you would like to print.
Step 2
Download the certificate in JPEG format or PDF format. If you have downloaded a PDF of your certificate, a new window will open automatically on your browser.
Step 3
If you are using a laptop or a computer, press "Cntrl" + "P". This is a shortcut for printing. If for some reason this doesn't work, you can find and click the button with a Printer icon on the top right corner of your screen.
Step 4
Set the number of copies you would like to print and make sure all other relevant options are set to your liking.
Step 5
Print the certificate!
FAQ
How to print certificates in Word?
Microsoft offers a range of templates for creating certificates on Word.
To create a certificate design on Microsoft Word, click on "file" followed by "new". Upon clicking on "new", you will be presented with a variety of formats. Find your desired format and start designing your certificate. When finished, press "Cntrl" + "P" and then press "Print".
How do I print a PDF certificate?
Once you have downloaded the PDF of your certificate, a new window opens up in your browser. On the top right corner of your screen, find and click the Printer icon. Make sure all the options are set to your liking, and then press "Print".
Can I print my digital certificate?
Of course, you can print your digital certificate! You can do so in several different ways. You can either follow the steps above to download a PDF of your certificate and then proceed to print it, or you can just directly print the certificate if the website has a "Print Your Certificate" option.
On the other hand, if you want to create your certificate, you can do so too using Microsoft Word by following the instructions given above.
Related posts: