Did you accidentally type your letter on a legal-sized page? Fretting over how to change it to letter size without affecting your work?
Well, do not worry, because this is the kind of mistake that can be effortlessly rectified within a couple of seconds.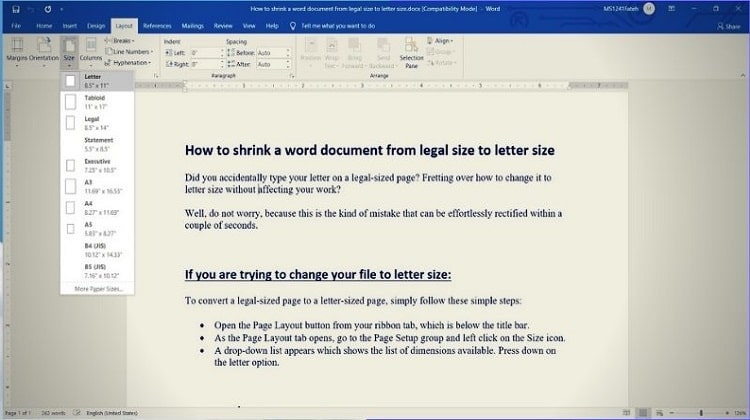 If You Are Trying To Change Your File To Letter Size
To convert a legal-sized page to a letter-sized page, simply follow these simple steps:
Open the Page Layout button from your ribbon tab, which is below the title bar.
As the Page Layout tab opens, go to the Page Setup group and left click on the Size icon.
A drop-down list appears which shows the list of dimensions available. Press down on the letter option.
You Can Also:
Open the File tab from the ribbon tab.
Click on the Print button.
The Settings contain various buttons used to alter page settings; click on Legal and change it to Letter from the drop-down menu.
By following these simple steps, you can convert your legal-sized word document to letter size. Keep in mind that even though no changes will be made to the content of your document, the number of pages may change as the legal-sized paper is 3 inches longer than letter-sized papers. In order to shrink your work into a page, you can change margins or decrease font size and line spacing.
Hope this is helpful to you. If you still need help, feel free to ask us in the comment section.
Related posts: