Getting hold of text messages from an iPhone or an Android is a reasonably simple process that requires knowledge of how to take screenshots.
However, getting hold of text messages from old button phones from Nokia or Motorola is very different.
This article will tell you how you can get printed text messages from cell phones, old and new.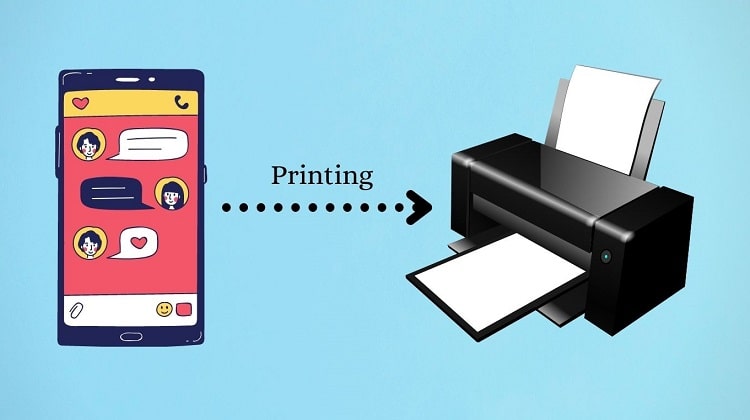 A. Smartphone Screenshots (IPhone, Android)
Getting printed text messages from an iPhone or an Android is quite similar. Follow these steps.
Take a screenshot of the messages that you want to get printed.
Note: The method for taking a screenshot quickly regularly involves the holding of two buttons together. However, the process can differ from phone to phone, so check user manuals or YouTube guides if the quick explanation below doesn't work with your phone.
1. iPhone Screenshots
Newer iPhone
Locate the side button and the 'volume up' button. Press them at the same time. Next, release them together to produce the screenshot.
Older iPhone
On the older iPhone models, locate both the side button and the 'Home' button. Press them at the same time and release them together to produce the screenshot.
2. Android Screenshots
Older Android Smartphones
Locate the power button and the 'volume down' button. Press them at the same time to produce the screenshot.
Newer Android Smartphones
There is a trend for removing features to make phones as sleek and stylish as possible. Android phones are getting rid of buttons except for the volume buttons.
Should you have one of these phones, you can find a screenshot option in the notifications bar. Simply tap on "screenshot" to take the screenshot.
2. After you have done any of the above for iPhone or Android, the screenshot will be saved to your photo gallery as a JPG image. Locate the screenshot.
3. You now have two options.
Transfer that JPG image to your computer and then print that image using a printer.
Use a Bluetooth printer or a printer that supports Wi-Fi connectivity to print the image from your iPhone or Android directly.
Note:The screenshot method can be used to make copies of individual messages. For iPhone, if you want to print multiple messages, you will need to take multiple screenshots.
If you wish to print entire conversations for Android phones, you can download an App such as Droid Transfer. This app can download entire conversations, save them as a PDF, and allow you to print that PDF.
B. Older Button Phones (Nokia, Motorolla)
Unfortunately, we don't have screenshot options on the old button cellular phones? The solution may require something much different.
You will need to contact your phone network company – the company whose SIM you are using. They have a record or a transcript of all the calls you have made and the sent texts. Just ask for the record of the texts from a particular date or a range of dates.
The network company can send you copies of printed texts to your address (this may cost money) or send a PDF to download and print yourself.
C. Third-Party Message Applications
If you are using third-party applications on your mobile, such as WhatsApp,Instagram and Facebook Messenger, you can use the screenshot method.
Some apps, such as Messenger, may allow you to download a log of saved messages in the app.
However, once messages have been deleted with these apps, you will not be able to retrieve or print them via any method.1.
Related posts: