Vellum, a type of semi-transparent paper, has an elegant look and feel to it which can be printed upon when in need to add some amazing features to certain pieces; it is also used to add alayer of details on artworks or images. If you are somebody who is regularly involved in card making, crafting, or scrapbooking, vellum must serve as a great deal of help when it comes to beautifying your work. With this article, we hope to ease your process of printing on vellum by providing some tips and tricks.
Printing On Vellum: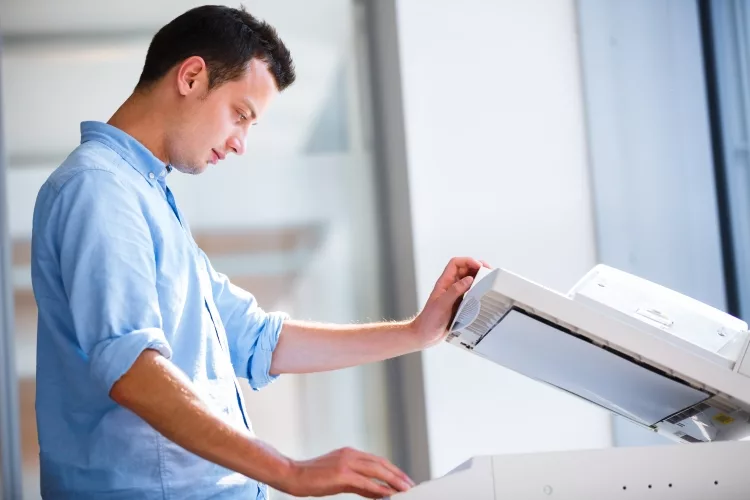 Important Tips And Tricks:
Make sure you are printing on the right side. The sides of vellum paper differ i.e. one side is more permeable than the other; you need to print on the side that is more permeable to make sure your color sets properly. Dampen your finger and rub it on the sides of your vellum paper to see which side is stickier (which one sticks to your damp finger). The stickier side is more absorbent and should be printed upon.
Once you are done printing, dry your vellum paper. You can air dry them by leaving them out in the open for a while, or you can use a hairdryer, given that you do not hold it too close to the paper.
Feed one paper at a time. Otherwise, the ADF will print out papers constantly and they may overlap on the output tray, smearing ink all over each other.
Buy authentic HP ink. If your printer supports HP ink, you should switch to using that as it has smear-proof and water-resistant features.
Check out different brands of vellum paper. Vellum papers from different brands might differ in thickness and permeability. Thus, trying out which brand best suits your printer would be a very good idea that will assist you in making superior quality prints.
Leave spaces between your words.Doing so decreases the possibility of your prints being a blurred mess of ink.
Pick light-toned images that do not have too much shading. The transparent or white color of vellum papers doesn't do well with dark images.
Leave some space on the sides. Margins allow you to easily hold the paper after printing and also allow your printer to grip the page without causing any smears.
Print out a template on normal paper. Doing so helps you identify any errors and lets you eliminate them without having to waste your pricey vellum paper.
Check for any spelling errors. If your print includes writing, then check to see if the spelling is correct. This eliminates the need to re-print your works.
Both laser printers and inkjet printers can be used for printing on vellum but due to different functionality, they require different settings to ensure good quality prints.
Tips For Printing Using Laser Printer:
Change the paper thickness settings to light. This, in turn, causes a change in feeding speed preventing paper jams that are likely to cause wrinkles on your work and ruin its appearance.
Tips For Printing Using Inkjet Printer:
For paper types, change the default settings to either fine art, glossy photo paper, or transparency to get the best quality result. The experience of printing on vellum paper differs due to several factors, including the type of vellum paper, the printer, the ink, etc. Thus, it is best to experiment with printing using different paper types to see which will suit your work the best.
After printing, allow your printed paper to dry as inkjet printers use wet ink which cannot be absorbed easily by vellum paper's non-porous surface.
Change the mode to draft or quick as they use less ink. Drying time and chances of smearing are decreased due to this.
Print in small batches to ensure zero smudgings or wrinkling. Patience is the key!
Do not set your printer to high-quality prints settings as that would require the usage of more ink and in turn lengthen your drying time.
Some printers allow the option to shorten drying time by using less ink. If your printer supports this setting, it would be wise to use it.
FAQ
Which Side Of Vellum Do You Print On?
The two sides of vellum differ in texture like most papers used for crafting. One side is more absorbent than the other. Vellum is non-porous, increasing the difficulty in printing as the ink doesn't easily set on plastic-like surfaces. Thus, we need to use a more permeable surface to make the printing journey smoother for us.
The more permeable side tends to be stickier and you can easily identify it after dampening your finger and seeing which side better sticks to it.
How Do You Print A Picture On Vellum?
Things you will need:
Vellum paper
Laser or inkjet printer
A suitable photograph
Method:
Insert one of your vellum papers into the feed tray.
On your device, select the image you are going to print. As vellum is semi-transparent, and you need to use less ink while printing, it is better to use less flashy images to get good outcomes.
Adjust all the printer settings by following the tips mentioned above.
Check the preview to make sure you are okay with the size. Do not forget to leave a margin!
Using normal printing procedures, print your image on the vellum paper.
Lay it down softly on a flat surface and let the ink dry to avoid smudges.
Can You Heat Press Vellum Paper?
Yes, you can heat press on vellum using an iron or heat press machine. The iron has to be set to low heat or your paper might bubble up as it is really light. Heat transfer pens can also be used, although if you are printing out a large batch of items, using the pen might be time-consuming.
Many use gold or silver foil to add intricate details to their cards. The process is very simple, you will not need to shed sweat and the result is needless to say, amazing!
Related posts: