Due to advancements in printing technology, people can use prints to decorate their surroundingsto make them more appealing. One can use customized stickers, images, printed covers, printables, etc. to add their own unique touch to their personal belongings. Do you need to print planners, digital arts, lesson plans, artworks, or design for your bullet journals so that you can add some fun to your day-to-day life? If the answer is yes, you are at the right place as we plan on letting you know about how to print free printables that will for sure brighten up your surroundings!
What Is A Printable?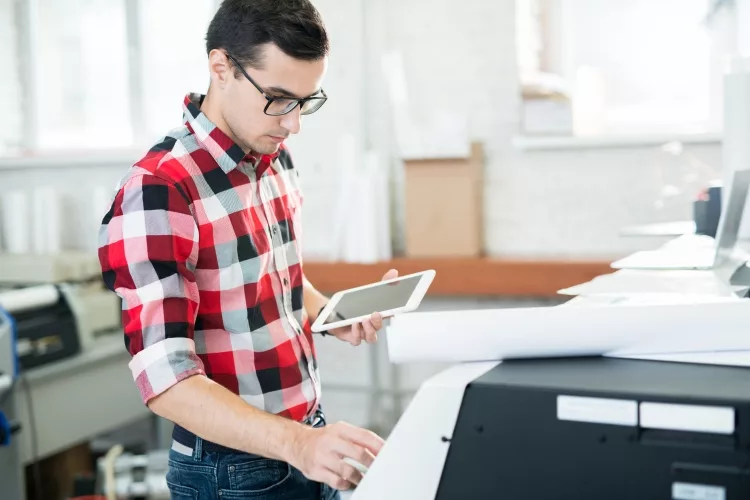 When a piece of digital art, scanned copy of hand-drawn art, designs for planners or any digital files are available for downloading and printing whenever required, it is termed as a printable. They are posted by bloggers and artists who wantworks to be put to use by their audiences. Some printables are free for downloading while others come at a small expense. How much a printable is worth depends on the artist who created and designed it; if users do not pay the expected fee and still decide to print, they may be charged for plagiarism due to the artist's copyrights.
What Does Free Printables Mean?
Free printables are at times published by bloggers or artists. They can be easily downloaded by their audience or anyone who stumbles upon them without requiring them to make any sort of payment. Those who download it are then allowed to utilize it as long as they don't claim it as their own (it is always safer and nicer to acknowledge artists for their work).
How To Print Printables?
Things you will need:
A printer (all printer types are suitable)
A suitable site
The right type of paper
Step 1: Finding The Right Place
Different sites offer different types of printables. For choosing the one with a color palette and theme that suits your tastes, you need to look at works of different bloggers and artists. Pinterest – the land of artworks – will also have a wide range of choices to offer.
Step 2: Download
Once you have decided on a printable, make sure to download it in either pdf format or jpeg format to a designated location.
Step 3: Adjustments
When printing printables, one needs to make proper adjustments just like when printing normal documents. Choose the correct paper size, orientation, and type of paper before making the prints.
While fixing the paper size, make sure not to squeeze the printable; choose a size that has a similar ratio to maintain the printable's quality; you can also reshape it using Photoshop or any other editing app. Make sure to adjust the color quality according to the paper type.
Step 4: Paper
The type of paper you use depends on where and why you need to use the printable. When printing planners, checklists, or similar items that need not be stored for a long time, you can use normal printing papers. However, if you require something more permanent, switch to glossy photo paper or cardstock paper immediately. When changing paper type, remember to adjust thickness. If you want waterproof prints that you can put outside, then you can use vinyl or any other water-resistant papers that you might have.
Step 5: Printing
Now that everything is ready, you can finally continue with printing. As we have mentioned before, all types of printers are suitable as long as they provide the required quality output. Laser printers, inkjet printers, solvent printers are all suitable picks.
When your printer is ready and so is your printable, give the necessary print commands on the software that you are using. Make sure all your adjustments are perfect one last time and then press down on the print button to finally get a hard copy of your printable. Before touching, make sure the ink has dried (depends on the printer).
Tips On Printing Printables
Now, for a little extra help to ensure our audience can get the best quality printables:
If your printer doesn't do a good job, you can try printing from a trustworthy printer shop to achieve the best quality output.
If you are not fully acquainted with your printer's settings and output quality, try doing test prints.
When printing on normal pages, use "Draft Quality" settings.
When printing something with the hopes that it be permanent, change the setting to "Best Quality" mode. You should do this when printing on glossy paper.
Try experimenting to see which type of paper is most suitable for your printer.
Try borderless printing for printing planners, checklists, images, etc.
Know your suitable paper type; glossy photo paper is usually used for printing images or paintings for home décor, plain paper for temporary stuff (although once frames, you can keep it for a long time), and cardstock is mainly used for making cards, tags, etc.
Remember to adjust the paper thickness to avoid paper jams.
Use a cutter to get professional looking cuts.
Where Can I Get Free Printables?
Lots of bloggers offer free printables on their site; after a little bit of browsing, you might be able to stumble into someone who offers artworks that perfectly suit your taste. You can also look into other sites such as Pinterest and search using a keyword to be able to get the right type of printables for yourself. Sites like Pixabay, Unsplash, Pexels, Met Museum Collection, Kaboompics, Stocksnaps, etc. offer a large bank of photos from professionals that you can choose from.Printables can also be brought on Etsy. When in search of space related images, NASA's image gallery will have much to offer.
What Is A Printable Download?
Printable downloads are digital copies of images or artworks that can be downloaded by internet users upon meeting required conditions such as payment of a certain amount or membership. Once you have downloaded the. You can print them per need and use them for decoration, designing, planning, making cards, etc.
Now that you are fully acquainted with the process of printing printables, we hope you can easily print them when in need of adorning your surroundings.
Related posts: