Other than just reading or listening to music, some in their free time enjoy scrapbooking- using scrapbook paper to create things or decorate stuff. From doing origami to decorating walls, scrapbook paper has very popular since the 80s and 90s. There are even scrapbook paper diaries available to store your favorite pictures or quotes from books and movies.
You will be glad to hear that Scrapbook paper hasn't gone extinct even in 2023 when everything has gone digital. In fact, scrapbook paper manufacturers have gotten more creative, making scrapbook paper with increasingly innovative and wonderful designs.
In today's article, we will answer all sorts of questions you might have about Scrapbook paper. From the weight of a usual scrapbook paper to what you can do using scrapbook paper, we will try our best to clear any confusion you have.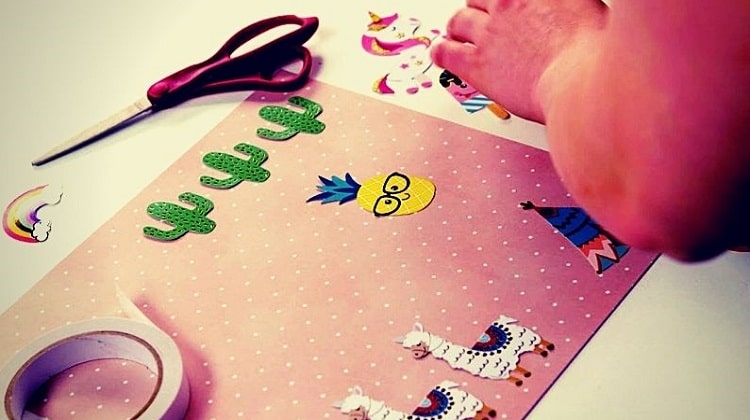 What Is Scrapbook Paper ?
Scrapbook papers come in different varieties, suiting the needs of all sorts of scrapbook enthusiasts out there. No matter the type of scrapbook paper, all these types are widely available at stationery stores and online retailers around the world.
1. Plain Cardstock
The most common type of scrapbook paper used is Cardstock. This is a heavy-weightprint media that comes in many colors.
You will be amazed to hear that Cardstock comes in every single color that exists in this world. That means you will never run out of colors and can create endless design ideas.
Usually, Cardstock is used to create a background for photos or other types of artwork. But it can also be used to make shapes and create art.
2. Patterned Papers
After Cardstock, the next type of scrapbook paper that comes into mind is a derivative of the Cardstock.
Patterned papers are also acid-free, like Cardstock. The only difference between Cardstock and the patterned paper is that patterned paper comes with unique designs already on the paper. Plain Cardstock requires you to create your own designs.
3. Vellum Paper
Recently, a new type of scrapbook paper has become really popular. This scrapbook paper will simply blow your mind. We had mentioned before that scrapbook paper manufacturers are taking things a step forward. And they have certainly done that with the new 'Vellum' paper.
Vellum paper is a translucent paper that can come in a variety of textures and colors. This type of paper is perfect for being used as layers over other things such as pictures, text, or colors that are bolder and darker. You can also use it for stamping and embossing. Best of all, you can also print on it!
4. Transparent Paper
Just like cardstock paper, transparent papers are also very common. Although, they have only one use, which is being used as overlays and windows.
5. Die-Cut Paper
Lastly, we have another modern kind of scrapbook paper. This is Die-cut paper. Instead of having just printed plain colors or patterns, Die-cut papers have objects and shapes like footballs, cupcakes, and stars printed on them.
This print media can be used to create large backgrounds and even for decorating a whole room. For example, you can stick your favorite football players' photos on a large background of die-cut paper which has football shapes printed on it.
Benefits of Using Scrapbook Papers
There are many benefits to using scrapbook papers. They are a great way to add personality and style to your scrapbook pages. Scrapbook papers come in a wide variety of colors, patterns, and textures, so you can find the perfect ones to complement your photos and other page elements.
Scrapbook papers can also help you create unique and interesting layouts. By layering different papers, you can add dimension and interest to your pages. You can also use them to create borders, backgrounds, or even cut out shapes to use as embellishments.

In addition to their visual appeal, scrapbook papers can also be used to protect your photos and other page elements. Acid-free papers will help ensure that your photos and other materials will not yellow or fade over time.

If you are looking for a unique way to add personality and style to your scrapbook pages, consider using scrapbook papers. With their wide range of colors, patterns, and textures, they offer endless possibilities for creativity. Plus, they can also help you protect your photos and other page elements. So start exploring the possibilities today!

How Much Does A Scrapbook Paper Weigh ?
A packet of 500 sheets of scrapbook paper can weigh anywhere from 60 pounds to 110 pounds.
Lightweight scrapbook paper can weigh somewhere around 60 pounds
Mid-weight scrapbook paper weighs from 70 to 80 pounds
Heavy-weight scrapbook weighs 90 pounds or even more, up to 110 pounds
The more durable and less prone to damage you want your scrapbook paper to be, the heavier you should purchase.
Whichever scrapbook paper you do choose, ensure your printer can handle it. All printers have a minimum and maximum paperweight they can handle. Should you go outside these parameters, you risk paper jams and permanent damage to a printer.
What Are The Dimensions Of Scrapbook Paper ?
Unlike art paper or poster paper, scrapbook papers aren't that large. In some ways, it can be an advantage as it takes less accommodating space. But larger sizes can be handy for hardcore scrapbooking enthusiasts.
Scrapbook papers are mostly found in two common sizes. These two sizes are 8.5 x 11 inches and 12 x 12 inches. Usually, scrapbookers cut these papers to smaller sizes if they want to put them inside a small diary or an album.
However, you can also avoid the hassle of cutting scrapbook papers into smaller sizes. That's because scrapbook papers are now available in smaller variants as well. You just have to be lucky to arrive at a good stationery store to find them.
Some of the smaller variants that are available are:
6 by 6 inches
8 by 8 inches
4.5 by 6.5 inches
5.5 by 7.5 inches
These smaller variants also have their own uses. For example, the 6 by 6 inches or the 8 by 8 inches paper can be inserted inside smaller scrapbook albums such as a holiday album.
And lastly, the 4.5 by 6.5 inches and the 5.5 by 7.5 inches ones can come in handier for photographers or 'Instagram influencers'. That's because these mini scrapbook papers are used as decorative mats or backgrounds for photos. Since the standard size of printed photographs is 4 by 6 inches or 5 by 7 inches, these papers provide at least a quarter of an inch of border to give an overall amazing look.
Are There Thick Scrapbook Papers ?
Earlier above, we had mentioned the weights of scrapbook papers. Now we are going to talk about the thickness of scrapbook papers. It's very simple to understand because the weight is of a scrapbook is connected with the thickness of the scrapbook paper.
The more the weight of the scrapbook paper is, the thicker the paper is. That means that the scrapbook paper that weighs 110 pounds is the thickest in the market. Likely, the scrapbook paper weighing 60 pounds is the least thick.
Can You Do Personal Scrapbooking ?
Of course, scrapbooking is something that you do personally at home.
There are many reasons why you should try scrapbooking by yourself. As a beginner, it's not necessary that you have to make your own artwork using a bunch of scrapbook paper. You can simply use it for the background of your photographs. Plus, if you were a stamp collector during your childhood, you can recollect them from your old album and put them inside a scrapbook album. These days the scrapbook albums can be used to put coins as well.
If you aren't that creative as a person or don't have any hobbies, scrapbooking is a nice and simple hobby that you can start immediately. All it takes is scissors and papers and maybe gum as well.
If printing out photos and sticking them to an album isn't your thing, scrapbooking can still be relevant for you. These days designed phones are widely available. But the ones with cooler designs can be very expensive. So, why not use a scrapbook paper and a normal plastic case to create a cheap but beautiful phone case?
No matter what you do with scrapbook paper, we highly encourage you to do something creative with it. Doing so will relieve you from stress and increase your body's dopamine levels, making you a happy, cheerful person.
Can You Buy Custom Scrapbook Paper ?
Custom scrapbook papers were very rare back in the 80s-90s. Even in the 2000s, getting your hands on a custom scrapbook paper was something of a feat. Plus, those custom papers could put a dent in your bank balance.
You will be very happy to hear that the internet has made things much easier.There are several websites that take orders for custom-made scrapbook papers and will deliver a high-quality paper right to your doorstep.
We have made a list of websites that might satisfy your need to purchase a nice custom scrapbook paper. And these websites are:
Scrapyourtrip
Zazzle
Scrapbookcustoms
Scrapbook
Expert Tips for Choosing Scrapbook Papers