UPS labels are professional labels with address validations that help shipments and parcels travel from city to city around the world safely. But without the correct printer, printing shipping labels can be problematic.
Don't worry! Thermal printers are here to the rescue. Commonly used for printing dreadfully long receipts at shops, these printers are also used for creating shipping labels, barcodes, and wayfinding markers.
So, just like a thermal printer, let us heat things up with some of the thermal printers for UPS labels in the market suitable for printing UPS labels flawlessly.
List Of Top Thermal Printer For UPS Labels
Comparison Chart Of Top Thermal Printer For UPS Labels
IMAGE
PRODUCT
DETAILS

★ OUR #1 PICK! ★

MUNBYN Upgrade 2.0

Function: Prints labels
Print Resolution: 203dpi
Print Speed: 72 labels per minute
Thermal Technology
Print width: 4.3 inches

DYMO Label Writer 450

Functions: Print labels and barcodes
Print Resolution: 600×300 dpi
Print Speed: 51 labels per minute
Thermal Technology

Arkscan 2054A

Functions: Print labels and barcodes
Print width: 4.25 inch
Print Speed: 5 inches per second
Thermal technology

Comer CX418

Functions: Print labels
Print Resolution: 203 dpi
Print Speed: 83 labels per minute
Thermal technology

Brother QL-1100

Functions: Print labels and barcodes
Print Resolution: 300×300 dpi
Print Speed: 69 labels per minute
Print width: 4 inch
Frequently Asked Questions (FAQ)
What thermal printer works with UPS?
All the thermal printers mentioned on the list are compatible with UPS. You can print without any worries as well as being able to print labels for other companies as well. But there are also other printers available on the market, such as excellent Zebra printers for UPS labels.
How do I print a UPS thermal label?
Printing a UPS thermal label is thankfully very simple, and a process almost anyone can manage.
Go to the shipment page first. Then select the Ship Now option. The labels will print through your thermal printer.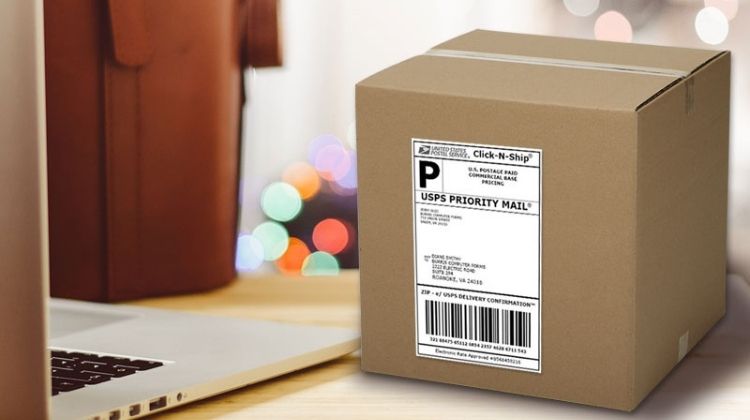 How do I print a UPS label from home?
UPS has an Internet Shipping Feature. For the price that suits you, you will be able to select any available shipping options.
After completing an online form, you can print out your selected label and affix it to your package.
Top 5 Best Thermal Printers For UPS Labels Reviews
MUNBYN Upgrade 2.0 | ups compatible thermal printers
Thermal printers are known for being small and compact. And the MUNBYN Upgrade surely lives up to that standard by being one of the lightest thermal printers in the market. Weighing only 3.08 pounds, this device can print up to 700 sheets continuously, pausing only 5 minutes in between to protect itself.
What's more? This printer doesn't require any ink cartridges at all. Plus, it has a printing speed of 150mm/s. So print fast while not even worrying about emptying your pockets.
The upgraded version includes a unique USB disk with the printer drivers and manuals. It also includes the one-click installation program that saves you from any issues. With a 3-step process for Windows and a 5-step for Mac Os, you will ready within seconds to start printing.
Furthermore, MUNBYN will also reduce your tension about keeping the documents securely as it provides you with a 2 in 1 stack holder for stack and roll labels. So do not worry about your labels scattering around the room.
Lastly, it has "Super Compatibility" as MUNBYN states, since it's compatible with all the famous shipping platforms such as UPS, FedEx, eBay, Esty, Shopify, etc.
Highlighted features
Industrial-grade heat dissipation increases the heat dissipation function of the first piece of aluminum plate to achieve continuous printing.
Four Non-slip mats on the bottom to prevent the printer from skidding.
Comes with a button to adjust the paper size
No restriction on label height
DYMO Label Writer 450
Only 2.2 pounds, the DYMO Label Writer 450 is the lightest printer on our list. Being tiny in size, this printer requires minimal space to function. The DYMO label writer is certainly going to keep you tension-free.
Even though it's tiny, this mini-beast has a 2 in 1 feature. Along with shipping labels, it also lets you print barcodes with a print resolution DPI: 600×300. To save you from being broke, the fantastic thermal technology of DYMO Label Writer requires no ink or toner to function.
While we can print pre-customized labels from major shipping label companies like UPS, this printer allows its users to create labels from Microsoft Word and then print. But to unleash the full performance of this godly printer, users are recommended to use the Authentic DYMO mailing address and shipping labels.
Users will be impressed with its consistent printing speed; whether it's a shipping label or a name badge, the printer prints 51 labels per minute.
Highlighted features
DYMO Label software to quickly creates and prints address, file folder, and barcode labels.
Prints 4-line standard address labels at up to 51 labels per minute.
Prints crystal clear barcodes and graphics.
Arkscan 2054A
Just like the previous thermal printers mentioned, the 2054A can efficiently print 4×6 labels and works without refilling ink toner again. But it has a lot more to offer to its loyal customers than just printing labels.
This thermal printer allows you to print any text and image on thermal paper from your Windows application or Mac's applications. Certainly, it's a great addition to the workplace since it might stop you from buying an extra printer.
To make things easy, this printer provides its users with a two-way paper rolling process. While it supports roll paper loaded inside the printer, it also has a fanfold paper loaded from the back of the printer.
To make printing stress-free, the Arkscan 2054A comes with free software 'BarTender UltraLite Label Design Software Tool (Windows Only)' to print product labels, warehouse label that contains the most frequently used label-design print features.
But what makes this printer unique? Arkscan offers 5-star U.S.-based real-time tech support via Phone, Live Chat & Remote Access. Running into a difficulty? Arkscan will come to the rescue.
Highlighted features
Able to print minimum of 0.75″ & maximum of 4.25″ in width, minimum of 0.4″ & maximum of 90″ in length.
The printer supports Arkscan's labels, Zebra compatible labels, and Dymo compatible labels without pre-printed logo and text on back.
About 1 second to print one 4×6″ shipping label.
Comer CX418
Does your office get dusty very often? Don't worry. While being a powerful thermal printer, the CX418 is also quite robust to always function in a small dusty office or a gigantic warehouse.
Even though it is the heaviest thermal printer on this list, weighing 3.74 pounds, Comer CX418 is a commercial-grade printer and lives up to that standard to its users by printing 83 labels per minute. It definitely supports UPS labels. But what's more, it prints labels from 1.57 to 4.3 width.
Besides having a high printing speed of 150mm/s and a dynamic resolution of 203 dpi, the printer has a few other cool tricks up its sleeve. Firstly, the printer's Auto Label Identification feature can catch the label in a snap and feed it to the printer. Secondly, the printer can also automatically prevent paper jams, leading to fewer headaches for its users.
The CX418 isn't your typical traditional thermal printer with thermal technology and black and white printing, making it essential buying.
Highlighted features
Only need 5 minutes to install.
This label printer only has 1 button.
Works 24 hours without any worrying about damage.
Brother QL-1100 | ups worldship compatible printers
Bad with computers? The QL-1100 might be the thermal printer for you then. The "Plug & Label" feature lets you create and print labels without the need to install software on your computer.
Equipped to print wide-format labels, this printer can print up to 4″ wide labels, which is perfect for printing mailing, address, and postage labels for packages along with visitor and name badges.
Get additional help with QL-1100's USB host interface, which allows us to connect peripheral devices like a scanner. With the option to connect more devices, this printer will surely boost printing all those UPS labels.
Unlike most thermal printers on the market, Brother QL-1100 also comes with an automatic crop function that identifies labels and barcodes from A4 size paper and prints each label at a time.
However, this printer's most astonishing thing is the mobile printing via "iPrint&Label" app on Android devices. Now users can print UPS labels on the go.
With a printing resolution of 300 dpi and a tremendous speed of printing 69 labels per minute, this printer might be the permanent solution for your shipping needs.
Highlighted features
Geared towards your online shopping needs.
Auto Crop Function.
Increases Shipping productivity.
Conclusion
All of these five printers are great for printing shipping labels. To make things better, they are all UPS shipping label machines.
Though each of these printers has its own versatility, you must choose the one that fits your needs and gets the job done.
Certainly, these printers are the best, and your investment won't be a waste at all.