Like everything Apple produces, the Mac is a beautiful product both to look at and to use. The macOS is an interface that many people prefer because it's just so much nicer and user-friendly than Windows.
Macs also have an extremely impressive array of incredible apps, either installed or downloadable, and these usually work across your Apple devices.
Thus you could take a picture on your iPhone and then edit it using Mac software. But to top it off, you need the best photo printer for Mac to ensure the picture is done the justice it deserves.
Comparison Chart Of Top Photo Printer for Mac
IMAGE
PRODUCT

our Top Pick

HP ENVY 6055

Functions: Print, Scan, Copy
Print Resolution: 4800×1200 dpi
Borderless Printing: 8.5×11 inches
Configuration: 2-individual cartridges

Canon Pixma iX6820

Functions: Print
Print Resolution: 9600×2400 dpi
Borderless Printing: 13×19 inches
Configuration: 5-individual cartridges

HP OfficeJet Pro 8025

• Functions: Print, Scan, Copy, Fax
• Print Resolution: 4800×1200 dpi
• Borderless Printing: 8.5×11 inches
• Configuration: 2-individual cartridges

Canon Pixma TR150

Functions: Print
Print Resolution: 4800x1200dpi
Borderless Printing: 8.5×11 inches
Configuration: 5-individual cartridges

Epson Expression Premium XP-7100

Functions: Print, Scan, Copy
Print Resolution: 5760×1440 dpi
Borderless Printing: 8.5×11 inches
Configuration: 5-individual cartridges
Frequently Asked Questions (FAQ)
What printer works best with Mac?
We're not sure that there is one specific printer that we can say 'works best with Mac'.
We know for sure that almost every printer made on the planet now works with a Mac because of the popularity of the Apple brand.
For ease of use, you want to get yourself a printer with Apple AirPrint. This will allow your Mac to connect with no need for any driver installation.
In terms of what printer works best with Mac, you need to consider what you need the printer for. Is it for photos? Documents? Light work? Heavy work? Or do you want one that does a bit of everything?
Does any printer work with Mac?
It is rare to find a modern printer that doesn't work with Mac. It is simply not in the interests of the manufacturers. They have to ensure their printers are compatible with the macOS; otherwise, they will lose business.
The majority of printers should connect to a Mac without any problem, especially if they have Apple AirPrint.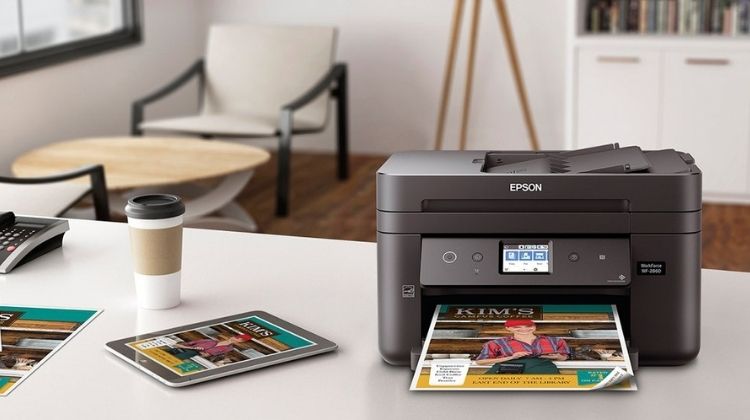 What printers are compatible with Mac Catalina?
macOS Catalina (version 10.15) is the successor to macOS 10.14 Mojave. All the printers we have listed for you today are compatible with this operating system.
Certainly, all printers created since October 7th, 2019, will work with this OS.
Top 5 Best Photo Printers for Mac Reviews
1. HP ENVY 6055
The HP ENVY 6055 is an entry-level, all-in-one printer that also lets you scan and copy. The scanner is especially useful if you have old photos that you wish to preserve in digital form.
This is a printer that can produce good photos from your Mac, but it is built more for infrequent use, which is why it comes with a 2-cartridge configuration and a monthly duty cycle of 1000 pages. You won't be printing hundreds of photographs a day with it.
You'll be getting a color print resolution of 4800×1200 dpi. This will need to be combined with the best photo paper you can find, and we recommend using HP branded ink if you want the best photographs possible.
Should you prefer printing smaller-sized images, this printer can handle a minimum 3×5 inch photo paper. Not all printers go that low.
Finally, you can use thicker, more durable photo paper up to 300 gsm if you wish to create long-lasting photos.
Highlighted features
Get up to 8.5×11 inch borderless prints
Apple AirPrint compatible, meaning your Mac connects automatically
Operates with HP Instant ink so that you never run out of ink
2. Canon Pixma iX6820
Canon printers were built to please those who love printing photographs at home, and this printer is right up there with the very best.
With a 9600×2400 dpi printing resolution, every photo you print from your Mac will look like a professional photographer took it, and a professional print lab printed it.
The setup includes a five-ink cartridge configuration, which includes a pigment black ink. Pigment black improves photograph quality, providing deeper shades that stay darker much longer over the life of a photo.
You can print large, borderless images up to 13×19 inches, which makes huge photos to do on the wall a possibility.
A range of print media can be used with this printer. You'll be able to print your photos of matte, semi-gloss, glossy, and super high gloss photo paper.
Finally, you will benefit not just from all the apps that Mac has to offer, but all the Canon benefits, such as 'My Image Garden; and 'Creative Park Premium'.
Highlighted features
Prints borderless 4×6 inch color photographs in 36 seconds
Small ink droplets of 1 picoliter for incredible color detail
Using Canon inks and photo paper, your photos can last 300 years
3. HP OfficeJet Pro 8025
If you're looking for a printer that will meet both your photo and document printing needs, then look no further than the HP OfficeJet Pro 8025. This printer has been set up to do both forms of printing very well, and with its high monthly duty cycle, you can give the printer a heavy workload.
Featuring a 4800×1200 dpi resolution and a 4-individual cartridge set up, you'll get decent photos from your Mac. The 4-cartridge setup is especially useful for those who print regularly and may have one color used more than others in the photo prints. You can replace that cartridge individually and have less waste.
There are indeed better-dedicated photo printers out there for your Mac. Still, if you are looking for a printer that does everything really very well without being spectacular (and thus expensive), the HP OfficeJet Pro 8025 is the one for you.
Highlighted features
Fast ISO print speed of 10ppm in color
Get uninterrupted connection for all your Apple products through self-healing Wi-Fi
Print hundreds of photos per day with a 20,000-page monthly duty cycle
4. Canon Pixma TR150
We're throwing in this portable Canon printer because we know that some of our readers may be traveling between home and university a lot or may want a printer to use for events now and then. This would be ideal for a photo booth at a party.
Though it is small, the Canon Pixma TR150 wireless printer is packed full of quality.
Like all the best photo printers, you'll find pigment black ink as part of the 5-cartridge setup. The total number of cartridges will ensure spectacular colors in the photos you print.
This printer will do borderless printing up to a size of 8.5×11 inches, so you have the option of postcard prints to almost double the size.
105gsm photo paper can be used, and ideally, you won't be printing more than 500 photographs per month. Print any more than that, and the printer may start experiencing jamming problems.
We recommend buying this as your dedicated Mac photo printer.
Highlighted features
Get 4×6 inch borderless photos printed in 53 seconds
Buy an optional battery pack to use this printer on the go.
Extremely lightweight for transporting, only 2.04 kg
5. Epson Expression Premium XP-7100
Epson is another brand known for photo printers for Mac, and they understand there are three things needed for the perfect photo – high resolution, extra ink cartridges, and tiny ink droplets.
The Epson Expression Premium XP-7100 gets all of these perfectly balanced.
You'll find a 5760×1440 dpi printing resolution, combined with 5-individual ink cartridges and a 1.5 picoliter ink droplet size.
For the money you're paying for this machine, you won't find any better setup.
Borderless printing is possible up to an 8.5×11 inch size, but you can also go as small as 3×5 inches for the type of photos you'd stick on your refrigerator or put into a scrapbook.
The additional benefit you get from this all-in-one printer is that it is as good of an office printer as it is a photo printer.
In terms of value for money there is no better photo printer you can buy for your Mac.
Highlighted features
Micro Piezo technology is used to create images with stunning detail and color
High ISO print speed of 11 images per minute in color
Comes with dedicated 20-sheet photo tray
Conclusion
Your Mac will work perfectly with any of the printers we've listed here today.
All printers offer something unique, either in terms of photo quality or how they can also operate as your standard home office printer.
All you need to do is decide which of the printers is the best photo printer for Mac when considering your own printing needs.
Will you go for something with a higher resolution and more ink cartridges? Or would you prefer a printer that can give a higher output but with a lesser configuration?
The choice is now yours.