If you want to print exceptional photos regularly in the comfort of your own home, then consider buying the best photo printer under 200 dollars.
That's right; you don't need to spend a fortune to print all your photos!
There are some incredible photo printers on the market now, all at a very affordable price. That's the advantage of the ever-improving printing technology – devices that once seemed out of reach to the ordinary consumer are now very much within our grasp.
So, if you want photos without the wait for a third party to process them, take a look at our list.
List Of Top Photo Printer Under 200
Comparison Chart Of Top Photo Printer Under 200
IMAGE
PRODUCT
price

our Top Pick

HP ENVY Photo 7155

Functions: Print, Scan, Copy
Printing Resolution: 4800×1200 dpi
Borderless Prints: 8.5×11.7 inches
Configuration: 2 ink cartridges

Canon Selphy CP1300

Functions: Print
Printing Resolution: 300×300 dpi
Borderless Prints: 4×6 inches
Control Panel: 3.2" LCD

Canon MAXIFY MB2120

Functions: Print, Scan, Copy, Fax
Print Resolution: 600×1200 dpi
Print Speed: 19ipm (black), 13 ipm (color)
Configuration: 4- individual cartridges

HP Envy 6055

Functions: Print, Scan, Copy
Print Resolution: 4800×1200 dpi
Borderless Prints: 8.5×11 inches
Configuration: 2 ink cartridges

Canon PIXMA TR4520

Functions: Print, Scan, Copy, Fax
Print Resolution: 4800×1200 dpi
Borderless Prints: 8.5×11 inches
Configuration: 2 ink cartridges
Frequently Asked Questions (FAQ)
What is the best printer for printing photos at home?
If we are strictly talking printers for less than $200, then you need to ask yourself three questions. Do I want high-resolution printing? Do I want better coloration and contrast? Do I want a printer that does office work as well?
Most entry-level printers will offer you a 4800×1200 dpi resolution, but you can get away with a lesser resolution printer. The key factor in photo quality is the resolution of the digital image itself.
Coloration-wise, it is always better to go for more ink cartridges. But, when shopping on a budget, a higher configuration is difficult to find, without the printer having another feature lessened in quality.
If you want a printer that does office work as well, then an all-in-one option is best for you.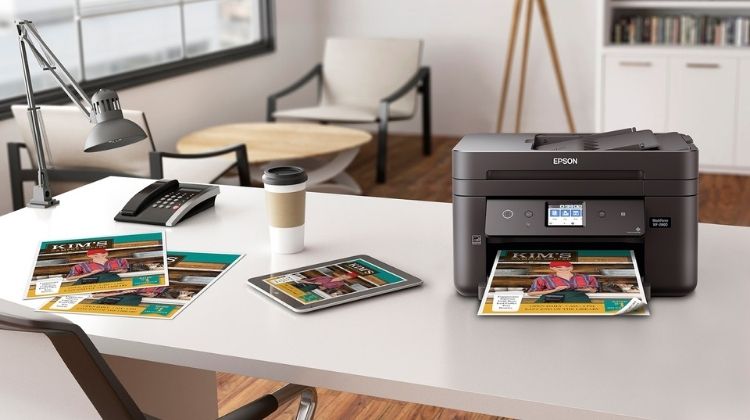 What is the best printer under $200?
From our list, we would choose the Canon MAXIFY MB2120.
As we said before, a high-resolution printer isn't necessary if you have a high-resolution camera in the first place.
The Canon MAXIFY MB2120 has a 4-cartridge setup, which will lead to better gradation in the photos.
It also has a high printing speed for doing office printing.
Which printer is good for photo printing?
As a brand, we think Canon and Epson are the best for photo printing, just because they are brands associated with photography more so than a company like HP. However, HP printers are still worth considering, always providing immense quality.
Top 5 Best Photo Printers Under 200 Reviews
1. HP ENVY Photo 7155
With the HP ENVY Photo 7155, you'll be able to print photos from 3.85×5 inches to 8.5×14 inches in size. Borderless prints can be created up to 11.7 inches in length. You'll also benefit from a 15-sheet photo tray, meaning you can print off your photos in batches.
So long as you are using high-resolution images, which are possible from even moderately priced smartphones and cameras, the printer's 4800×1200 dpi print resolution will ensure clarity, and all the important details are there in the printed image.
For an affordable inkjet photo printer, the printing speeds are good, with a print speed of 9 pages per minute in color.
This brilliant printer comes with two cartridges – black and tri-color. To ensure you never run out of ink and can print photos whenever you wish, you can sign up for HP Instant Ink.
Highlighted features
Print up to 1000 photographs per month
Print your photos directly from an SD, SDHC, or SDXC memory card
Direct printing options let you print straight from your smartphone
Scan your old prints, repair them in editing software, and then reprint
2. Canon Selphy CP1300
Compact photo printers are great for those who want to travel and print photos. If you have no document printing needs, then this is a perfect companion.
Additionally, you don't have any worry about ink cartridges. This photo printer works with photo paper cassettes that print the images through thermal transfer. All the color you need is in the paper and just needs heat to activate.
The range of connectivity options is endless. You can connect the Canon SELPHY CP1300 to your smartphone through Wi-Fi and apps for iOS and Android.
If you have an expensive camera, you can even connect this directly to the printer through wireless PictBridge. SD cards are also compatible.
While you won't be able to print larger photos, this device will give you perfect postcard size images with a glossy surface finish that you'll be delighted with.
Highlighted features
Print photos between 2.1×2.1 inches and 4×6 inches
Prints a 4×6 inch photo in 47 seconds
Photos should last 100 years if stored correctly
Optimize images and apply effects on the 3.2″ LCD Screen
3. Canon MAXIFY MB2120
This Canon printer is perfect for anyone looking for an affordable printer that meets every printing need they may have.
As a photo printer, you benefit from 4-individual ink cartridges meaning the images you print will have better tone and gradation than a 2-cartridge set up.
While the resolution appears on the low side (600x1200dpi), it is actually a bit of a myth that you need a high-resolution printer for incredible photo printing, especially if the majority of your printing is on smaller 4×6 inch print media.
If you combine this printer with high-quality inks and the right photo paper (you should stick with Canon for a Canon printer), then your photos will come out looking fantastic.
The printer will handle media of 8×14 inches. However, it doesn't print borderless, so you'll need to invest in a decent photo cutter to ensure the photos are cut straight.
Highlighted features
Perfect for photo printing and office work
High monthly duty cycle of 20,000 pages allows for a high workload
All-in-one printer featuring a scanner for digitizing old prints
4. HP Envy 6055
This all-in-one printer, scanner, and copier is similar to the HP Envy Photo 7155 we looked at earlier.
As with the 7155, you'll be getting a printer with a high 4800×1200 dpi for photograph printing. The ink for the photographs will be coming from an individual black and an individual tri-color cartridge.
Additionally, you can print borderless photos up to 8.5×11 inches in size.
Should you wish to print on photo paper that is thicker than the standard usually used, then this printer caters to that need.
Print Media up to 300gsm can be used, making this ideal for a stronger, sturdier photo paper.
Finally, with this being an all-in-one, the scanner gives you the option to take photos from the time before digital cameras and make a digital copy. These can then be saved as JPEG, edited to remove the damage of time, and reprinted.
Highlighted features
Prints small 3×5 inch photos and other sizes up to 8.5×11.7 inches
Connectivity options allowing you to print photos from any device
Use with HP Instant Ink to ensure you never run out of ink
5. Canon PIXMA TR4520
We now come to an entry-level Canon printer that falls well below the $200 budget that has been set for our search today.
This will sit neatly on anyone's desk, ready for use to print photos and documents when needed, whether printing from a laptop or any wireless device such as a smartphone or tablet.
With a 4800×1200 dpi, you're getting enough print resolution to ensure a quality print. Don't forget, most dedicated portable photo printers run at between 300×300 dpi to 600×600 dpi, and you don't get any complaints about photo quality with those products.
You can print large photos up to 8×14 inches. If you want borderless photographs, then the size is slightly less at 8×11 inches.
Remember, this is a Canon printer, and they are always great at photo printing. While this may not be a dedicated photo printer, you'll still get wonderful photos when printing them every now and then.
Highlighted features
Prints a 4×6 inch photo in just 70 seconds
Uses a Hybrid Ink System for higher quality prints
All-in-one printer suitable for home office needs and photo printing
Conclusion
It's possible to find great printers on a budget, and we've sourced some outstanding machines for today's list.
The Canon Selphy is a wonderful little portable printer for those wishing to print photos on the go – great for scrapbooking especially.
Alternatively, the HP ENVY Photo 7155, the HP Envy 6055, and the Canon PIXMA TR4520 are excellent 4800×1200 dpi printers combining photo printing qualities with those also needed for office work.
Finally, if you think the best photo printer under 200 dollars needs individual color cartridges, the Canon MAXIFY MB2120 is your ideal printer.