With many people preferring to work with laptops rather than a computer fixed to one location, finding compatible wireless printers is becoming more important.
The best printer for laptops will allow connection through multiple options and have compatibility with a range of operating systems.
Other features a printer need depends on how you intend to use the machine.
In this article, we will look at four very different printers to find one to meet your requirements.
Top Printer for Laptops by Editors' Picks
List Of Top Printer For Laptops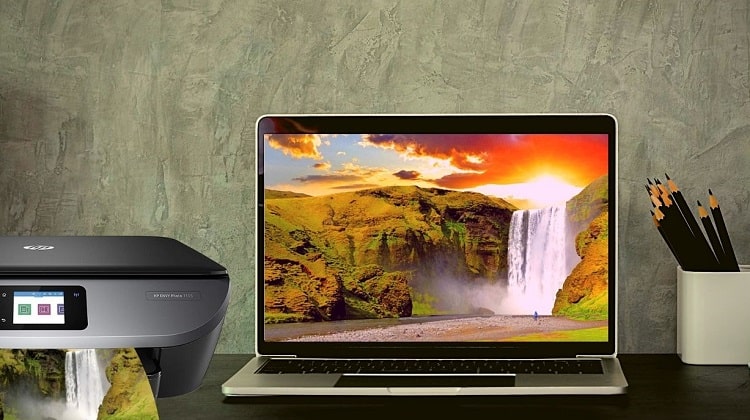 Comparison Chart For Printers For Laptops
| IMAGE | PRODUCT | Functions | Print Speed | Connectivity | price |
| --- | --- | --- | --- | --- | --- |
| HP OfficeJet 3830 All-in-One Wireless Printer, HP Instant Ink, Works with Alexa (K7V40A) | HP OfficeJet 3830 | Print, Scan, Copy, Fax | Black (ISO) 8.5 ppm, Color (ISO) 6 ppm | Wi-Fi, Wi-Fi Direct, USB 2.0, Apple AirPrint, Android | |
| HP DeskJet 3755 Compact All-in-One Wireless Printer, HP Instant Ink, Works with Alexa - Stone Accent (J9V91A) | HP DeskJet 3755 | Print, Scan, Copy | Black 8 ppm, Color 5.5 ppm | Wi-Fi Direct, USB Type-B, Apple AirPrint, HP ePrint | |
| HP OfficeJet Pro 8025 All-in-One Wireless Printer, Smart Home Office Productivity, HP Instant Ink, Works with Alexa (1KR57A) | HP OfficeJet Pro 8025 | Print, Scan, Copy, Fax | Black 20 ppm, Color 10 ppm | Wi-Fi, Wi-Fi Direct, USB Type-B, Apple AirPrint, HP Smart App, HP ePrint, Mopria | |
| Canon 2986C002 PIXMA TS6220 Wireless All In One Photo Printer with Copier, Scanner and Mobile Printing, Black, Amazon Dash Replenishment enabled | Canon Pixma TS6220 | Print, Scan, Copy | Black 15 ipm, Color 10 ipm | Wi-Fi, Wi-Fi Direct, Bluetooth, Apple AirPrint, Android Mopria | |
FAQ
Can You Use Any Printer With A Laptop?
If you have a newer printer and a newer laptop, then the laptop will, in 99% of cases, function perfectly with whatever printer you are using.
So long as you have either a wired or wireless connectivity option, and the printer is compatible with your operating system (most are compatible with Windows and Mac, but you may need to check for Linux), you will be able to print.
For older printers with a serial connection port, you will need to get a USB adaptor for that port type to connect to a laptop.
How Do I Know What Printer Is Compatible With My Laptop?
Always check the specifications of the printer you want to buy to check that it works with your operating system and has a connectivity option that works for you.
One of the best ways to do this is to visit the printer manufacturer's website, where you will find all the details you need concerning compatibility.
Do Wireless Printers Work With Laptops?
Absolutely. If your laptop has wireless options available, it can connect to a wireless printer. A connection can possibly come through your wireless network, through a connection directly with the printer (Wi-Fi Direct), Bluetooth, or Apps you can download to your laptop.
Mac users can connect to a printer through Apple AirPrint if the printer is AirPrint enabled.
What Kind Of Printer Do I Need For An HP Laptop?
The type of printer you need depends on what you intend to print and how much you need to print. Knowing this will guide you to the best printer for your specific needs.
In terms of brand, if you have an HP laptop, we think you should stick with an HP printer. These printers are designed to work perfectly with other HP products.
4 Best Printers For Laptops Reviews
1. HP OfficeJet 3830
Highlighted Features
Comes HP Instant Ink ready, which can save you money
All-in-one printer that includes faxing as well as scanning and copying
Borderless printing options for those who print photos
Multiple wired and wireless connection options
HP OfficeJet 3830 is a laptop-compatible printer best suited for a home office, where you will infrequently be printing and rarely in huge batches. We say this because the recommended monthly duty cycle is 250 pages, with the maximum duty cycle being 1000.
As a printer for laptops being infrequently used, this model is ideal due to the reduction of ongoing costs you will find. The two-cartridge setup (black & tri-color) means that you won't need to spend a lot of money on cartridge replacement. It may be best to use HP Instant Ink in this instance, as they have subscription packages to suit the infrequent printer.
This printer is better for documents than for photos, but thanks to the way It has been set up, you get a print resolution (4800×1200 dpi) to ensure clear printing.
Pros
Works with a range of print media, including photo paper
Wi-Fi Direct and Apple Airprint mean easy wireless connection
ENERGY STAR qualified and therefore less electric consumption
High-speed draft mode (20ppm black, 16ppm color)
Cons
Not suited for a heavy monthly workload
Not ideal for creative print work
2. HP DeskJet 3755
Highlighted Features
The compact printer takes little space on a desk
HP Instant Ink ready
The input tray can handle print media up to 385 gsm
Wired and wireless connectivity options
Light, compact, and stripped of many features that even the HP OfficeJet 3830 has, the HP DeskJet 3755 is suited to those who need a smaller laptop-compatible printer on their desk quickly available when the rare need to print arises.
You'll want to use this as a document printer, as no borderless printing option is available.
When printing your documents in black, you'll find a resolution of 1200×1200 dpi, which is perfect for the text. You won't get the fuzzy writing you find on inferior printers.
Color printing comes at 4800×1200 dpi, so images, graphs, and charts printed on documents will be clear and understandable.
Despite this being a small, basic printer, you won't wait long for prints. The printer takes less than 20 seconds to start up and get printing and comes with print speeds that give you color pages in just under10 seconds.
Pros
Affordable no-frills printer
Wi-Fi Direct means connection to multiple devices at once
Easy connection for Apple users via Apple AirPrint
ADF helps ensure alignment when scanning
Cons
Can't be connected to by your own wireless network
No borderless printing
3. HP OfficeJet Pro 8025
Highlighted Features
Borderless printing (8.5 x 11 inches)
Automatic duplex printing assists with efficient workflow
Large paper tray for 225-sheet page input
High 20,000-page monthly duty cycle
The HP OfficeJet Pro 8025 is the laptop printer you need to do regular bulk printing or connect multiple users.
With a 20,000 monthly duty cycle, you would need to print 650+ pages per day to come close to the limit the printer handles.
This printer is great for color document printing thanks to a four-cartridge setup - this allows a greater range of color to be used than the basic tricolor cartridge. Any images, logos, charts, and graphs you require will come out with a 4800×1200 dpi resolution.
You can print photos or material on basic glossy print media if you need to. However, the thicker print media that you can use on printers more suited to photo printing or craftwork won't go through this machine.
However, for pure office-based, business-related work, you won't find many better HP printers to pair up with your laptop.
Pros
Fast print speeds allow for bulk printing
Great for both document and photo printing
Wide range of connectivity options
Uses 4-cartridges enhancing color prints
Cons
Not suited to craft printing work
The output tray holds just 60 sheets
4. Canon PIXMA TS6220
Highlighted Features
5-cartridge setup for a wider range of tones in your printing
Borderless printing (8.5×11 inches)
Dual input trays holding 100 sheets each
Automatic duplex printing saves time and money
More than any other printer on the list, the Canon PIXMA TS6220 has been made for photo printing. But that doesn't mean it isn't an excellent document printer as well.
The inclusion of two different black ink types means you get a black for printing sharp text on documents and another black ink that is better for photo printing thanks to the extra longevity it provides due to UV resistance.
You'll find this printer also comes with impressive print speeds - 15 images per minute in black and 10 images a minute in color mean large batches of photos or documents can be completed in no time at all.
Connectivity comes with options for all the common operating systems, and this isn't just a printer for your laptop. You'll find this printer will connect with all your devices with supreme ease.
Pros
Two black inks - one for text and one for photos
3-inch touchscreen increases easy usability of printer
Full range of wireless options
Cons
No duplex scanning function
Canon inks can be expensive
Conclusion
For an entry-level printer that prints good documents, opt for the HP DeskJet 3755. However, if you want a printer with a few extra features while not needing a workhorse machine, the HP OfficeJet 3830 is a better option for you.
The HP OfficeJet Pro 8025 is a fantastic printer to meet multiple needs and can be worked hard, making it the best overall printer for laptops.
However, consider the Canon PIXMA TS6220 as the best laptop printer with photo printing as its main upside.
Related posts: