The right business card can capture the attention and make a great immediate impression. While some may tell you that business cards are less important nowadays, they are, and you can quote us on this, 100% wrong in their assertion.
As a marketing tool for both yourself and your business, printing business cards are highly effective. The handing over of a business card is still an impactful way to build a strong and lasting relationship with a potential customer or client.
Printing business cards can be a very smooth task for you if you own the right business card printer.
But you don't need to spend ridiculous amounts of money to get your cards made. Instead, you can invest in the best printer for business cards .
Top Printers for Business Cards 2021 by Editors
List Of Top Printers for Business Cards
Comparison Chart Of Top Printers for Business Cards
IMAGE
PRODUCT
DETAILS

★ OUR #1 PICK! ★

Canon TS9521C
Price Check

Functions: Print, Scan, Copy
Print Resolution: 4800×1200 dpi
Configuration: 5-individual cartridges
Duplex Printing: Yes

Canon Pixma ix6820
Price Check

Functions: Print
Print Resolution: 9600×2400 dpi
Configuration: 5-individual cartridges
Duplex Printing: No

Epson WorkForce WF-7710
Price Check

Functions: Print, Scan, Copy, Fax
Print Resolution: 4800×2400 dpi
Configuration: 4-individual cartridges
Duplex Printing: Yes

Canon Pixma Pro-100
Price Check

Functions: Print
Print Resolution: 4800×2400 dpi
Configuration: 8-individual cartridges
Duplex Printing: No

HP ENVY 6055
Price Check

Functions: Print, Scan, Copy
Print Resolution: 4800×1200 dpi
Configuration: 2-individual cartridges
Duplex Printing: Yes
Frequently Asked Questions (FAQ)
What kind of printer makes business cards?
For business cards, buy an inkjet printer. These are better at producing colorful business cares with nice sharp text.
Ideally, you will be getting a printer that can take a thick cardstock, as you want your business cards to survive the printing process and a life often in someone's wallet, purse, or coat pocket.
How can I make business cards at home for free?
In terms of designs, there are plenty of resources online that will help you make your business cards for free.
With some of the printers, for example, from Canon, you will even find software with free templates and help for creating wonderfully professional-looking cards.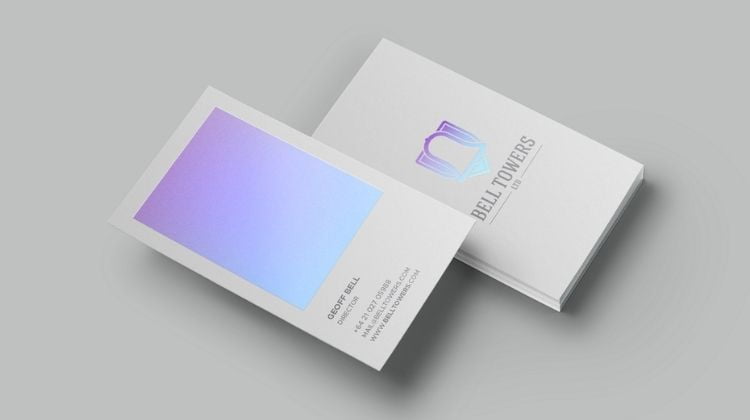 How do I make professional business cards?
When making your cards at home, make sure you have changed the printer properties to have them set to the custom print media you are using.
It is best to use a heavier cardstock if you want your business cards to look professional. Additionally, consider a cardstock that is glossy as this will help everything stand out.
Can A Laser Printer Print Business Cards?
The majority of business card paper is made for a specific printer, inkjet, or laser printer. Make sure that the paper you purchase is compatible with the type of printer you have. However, laser printers are preferable to inkjet printers for printing business cards
Top 5 Best Printers for Business Cards Reviews
1. Canon TS9521C | best printer for greeting cards
One of the first things you need to know about a printer that can print business cards is that it can handle cardstock of a certain thickness. That's why we're recommending the Canon Pixma TS9521C All-In-One Craft Printer.
Because it is a craft printer, it has been created to be versatile and handle all sorts of print media, including the media that you would print business cards on.
Many people like to print on both sides of the business card. It makes sense to use both sides and not waste the space instead of giving more information. Therefore, the duplex printing feature will come in handy.
Just remember, if printing duplex, ensure you buy a cardstock think enough that the ink won't bleed through to the other side.
This printer has a print resolution of 4800×1200 dpi and comes with 5-individual cartridges. You'll be able to create intricate designs with vivid colors and have them come out wonderfully.
Invest in a good cutter if you want to cut your cardstock down to a perfect business card size post printing.
Highlighted features
Prints on a minimum 3.5×3.5 inch print media
Borderless printing up to 12×12 inches
Direct printing available through Apple AirPrint, Android, Mopria, and more
2. Canon Pixma iX6820 | best printer for card making
The Canon PIXMA iX6820 is a printer for business cards printing that cannot be spoken too highly of, as it is quite simply amazing, making it difficult to do it justice in just a few hundred words.
With a printing resolution of 9600×2400 dpi any images, graphics, or designs you choose to have on your business cards will look so breathtakingly good, you may get people offering money to produce high-quality business cards for them.
This stunning quality is aided by ink droplet sizes of 1 picoliter and the inclusion of a pigment black cartridge as part of a five cartridge setup.
Not only will the images and coloration be incredible, but all the text you have on your business card will look sharp and ultra-professional.
You'll be able to use apps and software from any of your devices to make your business cards and then print them directly on the Canon PIXMA iX6820. Apple AirPrint for macOS and iOS users is available.
Highlighted features
Compatible with a range of cardstock, including super high gloss or matte
Super small ink droplet sizes produce impressive graphics
Benefit from Canon extras such as 'Creative Park Premium' to help design your cards
3. WorkForce WF-7710 | best printer for business cards and flyers
As a brand, Epson is right up there with Canon in terms of printer quality. They also have an incredibly helpful customer service team in case anything ever goes wrong with your printer.
However, with the Epson WorkForce WF07710, you are unlikely to experience problems when printing business cards.
For a start, this is a printer designed for a busy office where workflow is important. It has to be able to withstand a lot of punishment and has been built to be sturdy and robust. You will print a lot of business cards before even the tiniest bit of trouble.
Secondly, Epson has recognized that you may need a printer for work other than printing on standard paper.
Therefore, they have incorporated a second input tray into which you can put your thicker cardstock. With this set up for specialized print media, you can be sure your printer isn't going to jam or chew the cardstock up.
With 4800×2400 dpi print resolution, four ink cartridges, and duplex printing, you've the perfect setup for printing business cards.
Highlighted features
4.3" touchscreen to help you understand the printer status
Manual input tray for specialized print media
Hard working printer with 20,000 page duty cycle
4. Canon Pixma Pro-100 | best printer for printing greeting cards at home
We are really going to the high-end of the market now with a printer that is more than likely being used by the websites you've ordered your business cards from in the past.
If you have some really great, creative business card ideas, then you need a wireless printer that will match your imagination, and that is what the Canon PIXMA PRO-100 Wireless Professional Inkjet Photo Printer is.
With 8-ink cartridges, including three that are dedicated to producing monochrome images, you are assured that whatever design you create will come to life in spectacular fashion. Whether image or text-heavy, your business cards are going to live long in the memory.
You'll even be able to use some really thick, high-quality cardstock with this printer, thanks to the manual feed 1-sheet input tray designed to take specialty print media.
Find the right cutting tool, and you can print multiple cards on 13×19 inch print media, to save yourself time with this speedy inkjet printer.
Highlighted features
Compatible with a huge number of print media types
• Print Studio Pro software works well with image creation/editing software such as Photoshop
• Wireless connectivity to just about any device, including iOS systems and Chromebooks
5. HP ENVY 6055 | best printer for card makers
The final printer we are looking at is a nice option for anyone looking to meet the needs of a small office while having the option for quality business card printing.
With a 4800×1200 dpi print resolution and a 2-cartridge configuration, you can ensure lovely looking business cards, printed in duplex if you so desire.
However, just be wary that this is a printer for more infrequent use, so you don't want to be pushing out a thousand business cards at a time. That is especially true, considering this printer has a 1000 page a month duty cycle.
On the plus side, despite the low duty of the printer, when you do need a couple of hundred cards printed, you will be able to use cardstock of 300gsm.
That is actually much better than some higher priced printers that cannot handle such thick print media.
We recommend this printer for its quality, but only if your overall print output is on the low side.
Highlighted features
Can be used with an instant ink program to ensure you never run out
All-in-one printer designed to meet all your office needs
This printer has both Wired and wireless connection, including the HP Smart App
Conclusion
Business cards are vital, and the best printer for business cards is a necessity for anyone wanting to create such a valuable marketing tool.
We've found printers ranging from high-end image printers to entry level home office machines, all of which can produce excellent business cards. It's really just down to your specific needs.
If printing infrequently and not particularly complex designs, the entry level option could be best.
But if wanting to really impress, then the more feature heavy option is a must.
Related posts: