If your printer is making a grinding noise, it could mean that one or more of its parts are wearing out. In this blog post, we will explain how to fix a printer making a grinding noise and provide some tips on how to prevent it from happening again. Keep reading to learn more!

Different Ways To Fix A Printer Making A Grinding Noise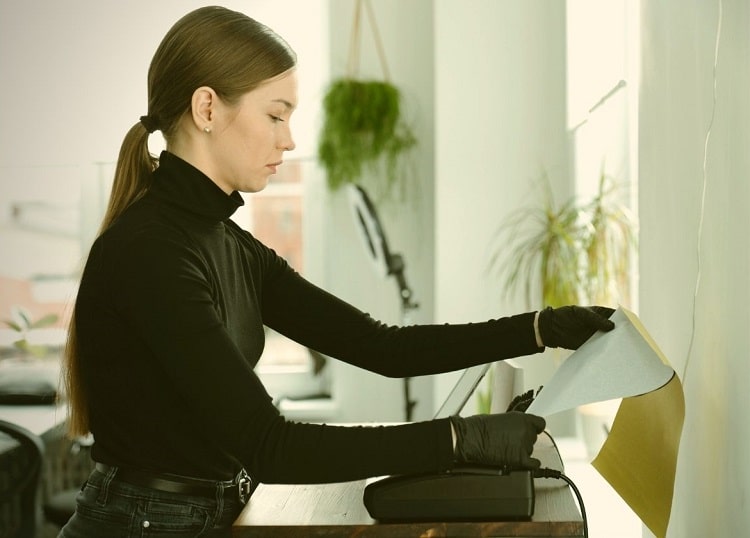 Reset The Printer
You'll be surprised how often something as simple as turning the printer off and on will solve the issue.
With your printer turned on, remove the power cable.
Remove any additional cables connected to the printer.
With the printer now off, press down the power button and hold it for at least 15 seconds.
After releasing the button, plug the printer back in.
Turn the printer back on.
Let the printer settle. Once it is silent, attempt a print and see if the grinding noise has gone.
Update Firmware
Ensure the printer is connected to your computer and that it is turned on.
Go to your manufacturer's customer support website.
Identify the printer model you are using and select it.
Choose the correct operating system (i.e., Windows 10 or whatever you are using).
Select 'Firmware' and Download.
Run the installation process, and update your printer.
Click 'OK' once the installation is finished.
Restart the computer.
Try to print and see if the grinding noise has gone.
Use The Troubleshooter
Click 'Start' and go to 'Settings'.
Click 'Update and Security'.
Click 'Troubleshoot'.
On the right, you should see 'Printer'. Click the 'Run the Troubleshooter' icon.
Wait as Windows scan for any issues. Once Windows is done, it will recommend any fixes that are required.
Check The Cartridges
If nothing has worked so far, check if there is any issue with the printer cartridges.
Ensure you turn off the printer, and then pull the printer cartridge/cartridges out. Check if the cartridges are damaged.
If the cartridges are undamaged, place them back in the printer and attempt to print.
Clean The Rollers
The method for doing this can differ from printer to printer.
Rollers can accumulate dirt over time, and this could be a reason why you are hearing a grinding noise.
Follow the manufacturer's instructions to clean the rollers if this is required.
Ensure You Are Using The Correct Cartridges
While third-party cartridges may be cheaper, they aren't always the best fit for your printer.
A perfect example of this is Brother, which manufacturers printers that work best with Brother cartridges.
Your grinding issue could be down to the cartridges being used not being the best for your printer.
Take The Printer For Servicing
If, after everything, you are still having issues with your printer such as a printer making a ratcheting noise, get your printer serviced professionally. Don't try anything that involves opening up the printer yourself, as this could void your warranty.
Expert Tips for Preventing a Printer Making A Grinding Noise
If your printer has started making a grinding noise, it's important to take action as soon as possible to prevent further damage. Here are some expert tips for preventing your printer from making a grinding noise:

1. Check the paper feeder
One of the most common causes of a printer making a grinding noise is a misaligned paper feeder. To fix this, simply open up the paper tray and realign the paper so that it feeds smoothly into the printer.

2. Clean the rollers
Another common cause of a grinding noise is dirty or debris-covered rollers. To clean the rollers, simply remove them from the printer and wipe them down with a soft, damp cloth. Be sure to completely dry the rollers before reinserting them into the printer.

3. Replace the toner cartridge
If your printer is making a grinding noise when printing, it could be due to a low toner level. To fix this, simply replace the old toner cartridge with a new one.

4. Update the printer driver
Outdated or corrupted printer drivers can often cause printing problems, including strange noises. To update your printer driver, simply download and install the latest version from the manufacturer's website.

5. Clean the print head
Another common cause of a grinding noise is a dirty or clogged print head. To clean the print head, simply remove it from the printer and soak it in warm water for several minutes. Then, use a soft brush to remove any debris that may be stuck in the print head.

By following these expert tips, you can prevent your printer from making a grinding noise and keep it running smoothly for many years to come.

Conclusion for Ways to Fix a Grinding Noise from a Printer
As you can see, there are several ways to fix a grinding noise from your printer. We hope that this article has helped you troubleshoot the issue and get your printer running smoothly again. If you have any other questions or concerns, please feel free to contact us. We're always happy to help!

Related posts: