Making a scrapbook is a fun way to use your time. Through this type of craftwork, you can preserve your memories to look at some time again in the future.
Whether it's a scrapbook to keep for yourself or one to gift to your loved ones, there are so many unique designs you can use. You are literally creating a work of art from scratch.
In this article, we are going to help you plan your scrapbook project so that you can focus on simply being as creative as possible.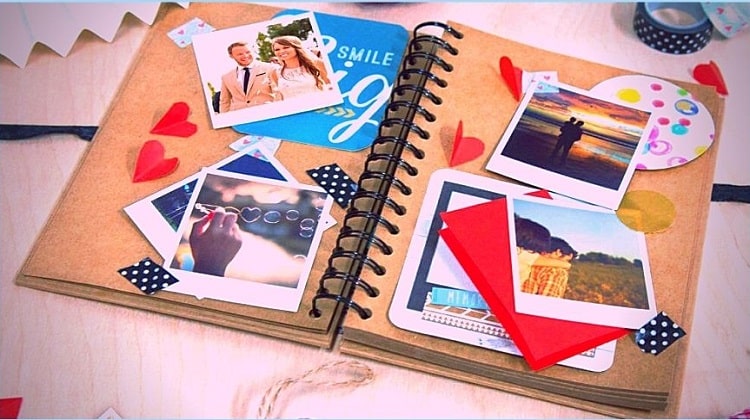 A. Scrapbook Design
STEP 1: Ideas And Materials
Scrapbooks tend to have an ongoing theme throughout them. Therefore, the first thing to decide is what the theme of the scrapbook is going to be.
Remember: You can create multiple scrapbooks, so be selective and make each scrapbook you do theme-specific.
Examples of themes are Family, Pets, Holidays, Birthdays, School, Weddings, etc.
STEP 2: Draft A List Of What Will Go In The Scrapbook
With your theme decided, you'll now have an abundance of ideas and stories that come flooding to you relating to that theme. You can't possibly remember everything. So that you don't forget something important, take a notebook and jot down all the memories that come into your head. This can be in note form or be descriptive.
Once you have done this, decide how many pages your scrapbook will have. Start arranging the ideas you've come up with and work out how many pages will be dedicated to which idea and order you will put things.
STEP 3: Select Photos And Items For The Scrapbook
Now that you have a clear plan for your scrapbook start going through your photos and old memorabilia to see what can be put onto the pages.
If you already have the photos printed, you can start putting them into a folder. If they are to be printed, you can separate them according to the pages you will put them on by creating different folders on the computer.
STEP 4: Choose Your Paper And Other Materials
Decide the colors you want for your scrapbook and any extras like ribbon, foils, and other such embellishments.
To ensure the scrapbook looks amazing, select items that match a specific color family.
When buying paper, try to find acid-free paper. Additionally, if you use a thicker cardstock, this will last a lot longer.
Finally, don't forget you will need items like scissors for completing this process.
STEP 5: Choose A Scrapbook Album
Your main consideration here will be the size. As you've already planned what is going into your album, you should have no trouble making this decision.
Your options include:
12 x 12-inch scrapbook - This large size is ideal for people who want to put multiple images on a page, store larger bits of memorabilia, or even add text under everything.
8.5 x 11-inch scrapbook -If you don't need the huge scrapbook, and are looking to use one to two images per page, then this size is ideal for you.
8 x 8-inch scrapbook - This size is perfect for one image per page, with a nice decorative border and some writing.
6 x 6 or 5 x 7-inch scrapbooks - Perfect for one image per page.
Additionally, pay attention to the type of binding being used. Test each type of binging to see if it is strong and allows you to move the pages around easily.
B. Creating The Pages
STEP 1: Layout
Create multiple layouts and decide which ones work best. Put everything on the page as you think it should go, and see how it looks before you stick anything.
It may help to take photos of your planned layouts, so you can look at them all again later and then replicate the best ones.
STEP 2: Stick Your Items
With layouts finalized, start trimming anything that requires an alteration before being stuck. The easiest way to trim or crop items is to lightly mark them on the back so that you have a guide to follow.
After cropping images, you can create borders using paper, ribbon, or fabric. These can then be stuck to the image with glue and then stuck to the scrapbook page.
STEP 3: Add Titles
Create brief titles for each page so that those looking at your scrapbook understand what they are seeing.
You can do this by writing on the scrapbook, creating stickers, using stencils, and much more.
STEP 4: Label Your Entries
Each photo and each bit of memorabilia should have a caption, even if brief. Captions can be the names of people, the dates photos were taken, and the locations they were taken in. It can be a description of some memorabilia and the brief story behind it.
If you have a larger scrapbook (12×12), you can add longer descriptions, including quotes, and makes your captions more like a journal entry.
When doing this, it is best to plan what you are going to write. Do a draft of any writing, as errors made on the scrapbook may be hard to fix.
Remember, you can always type the text, print it, and stick it if you feel your handwriting is not up to scratch.
STEP 5: Add Final Embellishments
With the photos, main designs, and any text all in place on your pages, now is the time to add any extra decoration to the page, especially any areas that may look a little blank.
You don't need to do over the top, but some decorative stickers, bits of fabric or ribbon, or maybe even some card cut in a funky pattern will add some additional character to your scrapbook pages.
C. Putting It All Together For Storage
STEP 1: Place Pages into Protectors
Scrapbooks are all about the preservation of memories; therefore, it is important to offer the paper and the photos as much protection as possible.
You can do this by adding each page of your scrapbook, once dry, into a page protector.
Remember, when buying page protectors, they need to match the size of the pages being used and the size of the album you'll be storing them in.
We personally prefer protectors with a non-glare finish so that we can see everything more quickly when going back to look at the scrapbooks.
STEP 2: Add Pages To The Album
Now that you've protected everything goes back to your initial plan. Remember, you already noted down which page will show what.
Use this plan to put the protected pages into your do-it-yourself scrapbook album in the right order.
STEP 3: Store The Scrapbook
Scrapbooks need to be kept in a dry place. You also want that place to be cool as well.
The best thing to do is buy a box that will do the job of keeping your scrapbook preserved as it sits in a cupboard or a drawer.
Conclusion
A DIY scrapbook gives you the chance to be as creative as you want, creating spectacular designs that wow you every time you go back to them.
There's something extra special about a scrapbook where you stick things in yourself - it's old school, traditional scrapbooking that has that extra personal touch.
If you are short of design ideas, remember there are plenty of craft websites and YouTube channels for you to take inspiration from for homemade scrapbook ideas.
Related posts: