The default setting for most documents and things we print with text involves a margin. This leaves a blank gap around the edge of the page.
However, home printers now do so much more than just print documents. Photos, business cards, posters, and other types of print media can all be printed at home. These media types can require a borderless print, meaning you have to print to the edge of the paper or print media being used.
In this article, we look at whether all printers allow you to print to the edge of the paper and how to get perfect borderless prints even if you don't have expensive graphic design software.
How To Print To The Edge Of Paper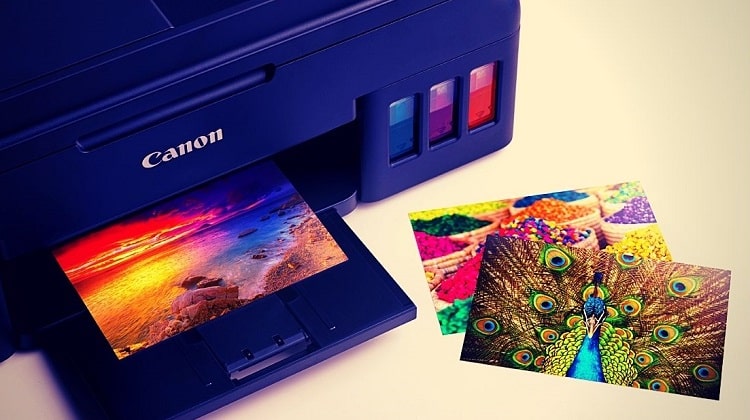 A. Can The Printer Do Borderless Prints?
Borderless printing is not standard on all printers. To find out if your printer can manage borderless prints, check the specifications.
In some cases, you may find that the printer can do borderless prints but that there is a size limit to which it can print borderless.
Therefore, check the specific borderless size your printer can do.
If you are unable to find the printer specs, you can check via your computer.
Go to Start>Devices and Printers.
Right-click on your specific printer and go to 'Printing Preferences'.
From there, you should see the 'Layout' option. If you see an option to set the margins to zero, this means your printer can print borderless.
B. Printing Borderless From Ms Word
MS Word gives all your work a default 1-inch margin. If you want to print borderless documents, you will need to change this.
Within MS Word, click 'Layout'. Next, click 'Margins'. Then, click 'Custom Margins'.
Once on the 'Custom Margins' screen, change all the margins to zero.
You may see a warning pop up telling you that the margins are set outside the printable area of the page. This warning means that your printer cannot print borderless.
If you click 'Fix', MS Word will reset the margins to the smallest the printer can manage, and you will get everything printed on your page within the new set margins.
Should you click ignore, then MS Word will allow your file to print, but anything in the unprintable margin area will not appear on your page.
C. Print On Larger Page Than Required
If you don't have a printer that can print borderless, you can get around the problem with this little cheat.
Print your file on a larger pager than you need, and trim it down to size.
IN MS WORD
Go to File, followed by Page Setup.
Locate Paper Size, and from the menu, choose 'Custom Paper Sizes'.
Create a page size with at least an extra 1/8 inch around the page than what you actually need. For example, if you want to create a borderless 8.5" by 11-inch document, your custom page size should be 8.75" by 11.25".
You can then create your work on this custom page size, but keeping everything within the 8.5 by 11" parameters, as the extra space will be trimmed.
IN GOOGLE DOCS
Go to File, then Page Setup, followed by Paper Size.
The paper size you choose should be larger than the document size you want post trim.
If you want an 8.5 by 11-inch borderless document, set the paper size to B4. After that, create left and right margins of 0.545 inches and top/bottom margins of 1.325 inches.
Work within these margins so that you can create a trimmed borderless document from the final print.
D. Create Crop Marks Via Pdf
MS Word and Google Docs do not let you create printable crop or trim marks.Therefore, if using the method above, you would have to measure the trim area by hand before trimming.
However, the way around this is to export your Word or Google Docs to PDF.
To do this, go to your file, click File>Export>Adobe PDF.
Ensure you save the file as a high-quality PDF.
After saving as a PDF, open the PDF.
Find 'Marks and Bleeds'. In this section, select 'Crop Marks'. Use crop marks 0.125 inches around the whole document. Then print.
This will give you a guide for cutting so that you have a borderless print.
Conclusion
You can print borderless media two ways - either through a printer with a borderless function or by doing some DIY work.
The second option may be a bit time-consuming but will be necessary if you aren't looking to buy a new printer any time soon.
Related posts: