Whether it is a label you want to use for your art supplies, put an inspiring quote on your wall or stick cartoon characters to decorate your child's stationery, clear stickers are a fun way to add color and art to everything.
You may be wondering about how to print clear stickers using your trusty printing equipment. Luckily for you, most regular printers are capable of transparent sticker printing. Labels, stickers, memorable quotes- whatever it is you wish to print, we will tell you how to print on clear sticker paper. But, before that make sure you have the labels which are compatiblewith both inkjet and laser printers.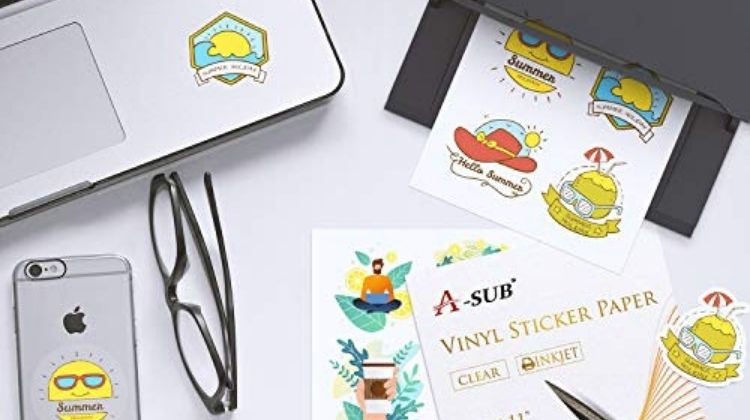 Step-By-Step Guide To Help You Print Transparent Stickers
Before we get into the nitty-gritty about how to print on clear labels, we need to first find out if our printer is a laser or inkjet printer. Both use different technology and suit only specific, transparent sticker paper. You should easily find which printer you own from the printer's front panel or instruction manual.
Now that you have found out about your printer's type, you will have to look for what self-adhesive clear sticker paper works best. You may need to purchase specific laser or inkjet clear sticker paper depending on your printer's specifications. However, some brands may work well with any self-adhesive transparent paper.
Also, you will have to decide what shapes you will be needing. Transparent printable sticker papers can come in various shapes, including circles and rectangles. If the stickers are for book covers, rectangle sheets will be best suited.
Once you have decided on the design and got the appropriate transparent sticker printing paper, you can feed the sticker paper into your printer's paper tray, typically face down.
Time to get excited! The document or image you would like to print needs to be correctly set as per your printing surface and imaging needs. If it is an image, adjust the image to fit the paper's size and desired positioning on the photo editing software. You can also print documents such as addresses for envelopes or even labels. Be sure to properly space the contents and size them according to the paper's dimensions or the instructions provided with the transparent adhesive paper.
For printing on clear sticker paper, you will also need to set the printer to transparency or a clear film setting which should be present in your printer's driver. This will prevent some smearing as well as make your prints look better.
You are ready to print clear stickers at home now. Click on the Print icon on the application toolbar or use the Print command on the File menu given on the program's menu bar.
As the prints get dished out, check if your printer was able to print on clear, translucent adhesive paper properly. If not, you will need to repeat step 5 again, this time with a little more attention to the positioning of the sticker.
Now that you have printed your own clear stickers, allow them to dry before handling them.
If your print was not on a modified or specifically shaped adhesive transparent paper, you could cut out the stickers once they are dry using a handy pair of scissors as per your liking.
Be mindful of a few things while printing on self-adhesive clear printer paper.
Run a test print to see if the print is of the desired quality. You could also do it on a plain piece of paper so that your image or document is positioned correctly.
If you are worried about how to print on clear labels without smearing, simply setting the print quality to low may help prevent smudging.
Consider what colors you will be using for your print. Clear inkjet stickers may use up copious amounts of ink depending on your print.
Don't forget to dry your stickers for a good few minutes thoroughly. Place the newly printed sheet on a flat surface in such a way that no other surfaces come in contact with the print on the clear paper. The ink used for printing on self-adhesive clear printer paper typically takes several minutes to completely dry.
Have fun printing!
Related posts: